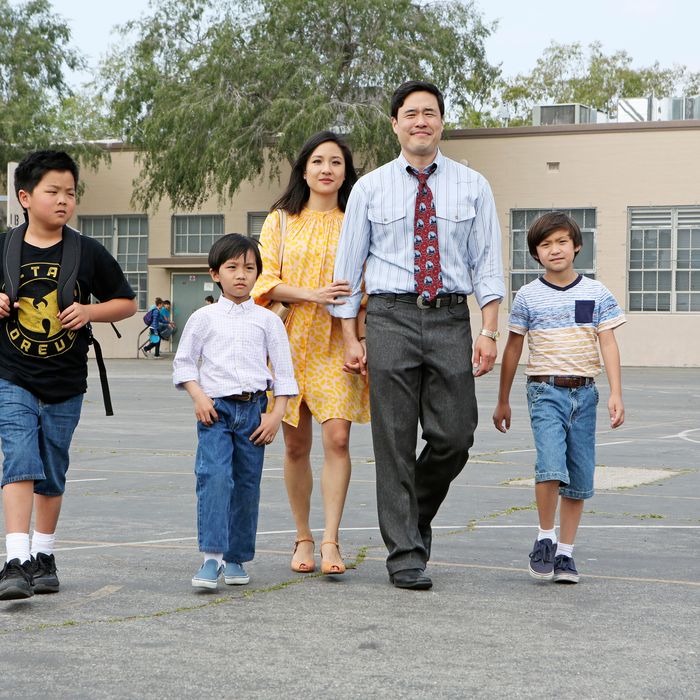 FRESH OFF THE BOAT - Pilot (ABC/Gilles Mingasson) HUDSON YANG, IAN CHEN, CONSTANCE WU, RANDALL PARK, FORREST WHEELER
Photo: Gilles Mingasson/ABC
Chef and author Eddie Huang wrote in New York about his deep frustrations and conflicts with adapting his memoir Fresh Off the Boat for television. Those same frustrations are front and center in this weekend's New York Times Magazine, where a profile of Huang finds him comparing the show's executive producer to a pedophile. I'll grant that the TV show Fresh Off the Boat is not a faithful adaptation of Huang's book or experiences. But it is a successfully funny, sweet show, and one of the most polished and promising new comedies in a long-ass time.
Fresh — another in a line of ABC shows with tough titles — is set in 1995 and follows an 11-year-old, rap-obsessed Eddie as his family moves from D.C.'s Chinatown to Orlando, Florida. His mom Jessica (Constance Wu, fantastic) is strict and achievement-oriented, while his dad Louis (Randall Park) is more of an optimist, trying to make his Wild West–themed steakhouse a success. (Grandma is there, too.) His younger brothers Emery and Evan (Forrest Wheeler and Ian Chen) seem to fit in in their new neighborhood just fine, but Eddie's an outsider in his house, in his school — hell, in America. As the real Huang tells us in voice-over, "If you were an outsider, hip-hop was your anthem," and hip-hop is indeed the anthem of the show.
In fact, I'd call it the defining feature of the show, except of course it's not: The defining feature of the show is that it's about an Asian-American family, and TV just doesn't do that. I'm pretty sure every review of Fresh has to mention that All-American Girl was canceled 20 years ago, and I'll add that Asian characters are rarely seen on TV, period, let alone as the stars of a show, and even more rarely does an entire ensemble of Asian actors appear. This is dumb, racist bullshit, and may we all live to see its end.
Until then, we have Fresh Off the Boat. The show is very reminiscent of Everybody Hates Chris, with the frequently incredulous voice-over provided by the famous person on whom the show is based, the slightly dejected but relatable tween lead, the sitcommier parents, the "at the end of the day, we do all really love one another, even if we sometimes make each other crazy" conclusions. It's not sappy, but this isn't Curb Your Enthusiasm, either, and it's a lot gentler than showrunner Nahnatchka Khan's previous series, Don't Trust the B— in Apartment 23. It's not completely without edge — Eddie does get called a "chink" in the pilot, and subsequent episodes have plenty to say about race and racism — but it fits in just fine with ABC's fun-for-the-whole-family feel-good comedy style, and would be right at home with Modern Family, The Middle, The Goldbergs and blackish. Instead, after tonight's premiere, it's moving to Tuesdays at 8 p.m., with no lead-in and no super-popular lead-out. Good thinking, ABC.
The show relies heavily on Yang's charm, which is plentiful without being cloying, though the real breakout is Wu as Eddie's mother. Jessica tries to fit in with the neighborhood moms, but they like to breathily watch Melrose Place and Rollerblade together, while she'd rather read Stephen King books and run over dine-and-dash thieves with her minivan. (She pelts one with an onion and then makes Emery go get it; he gleefully hoists the onion in the air and shouts, "I don't know why, but it's warm!") As Fresh continues to develop, Jessica is the character I'm most interested in.
I'm interested in the whole show in general because it's funny and savvy and well done. Fresh's silly non-sequiturs are dispatched just often enough, and it strikes the right balance of making kid characters funny without seeming phony and hammy. The show is perfectly cast, and it certainly seems like there's plenty of story to be had. If Huang ultimately isn't satisfied with the sitcom-ification of his story, that's of course his right. But there's plenty here to like, and a lot to be proud of.