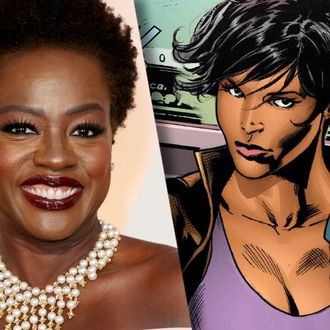 Viola Davis and Amanda Waller.
Photo: Getty Images, DC Comics
Suicide Squad has finally decided who's going to be bossing around its various villains: Viola Davis, who confirmed at the Oscars that she will indeed play Squad handler Amanda Waller in the 2016 film. Waller is a groundbreaking figure in the comics universe; Vulture's Abraham Riesman describes her as "a more energetic Dick Cheney, except black and female and (slightly) less evil." She's been part of a bunch of DC projects over the years — played by Pam Grier in Smallville, Angela Bassett in Green Lantern, and, currently, Cynthia Addai-Robinson in Arrow — but Suicide Squad will likely be the character's time to shine.