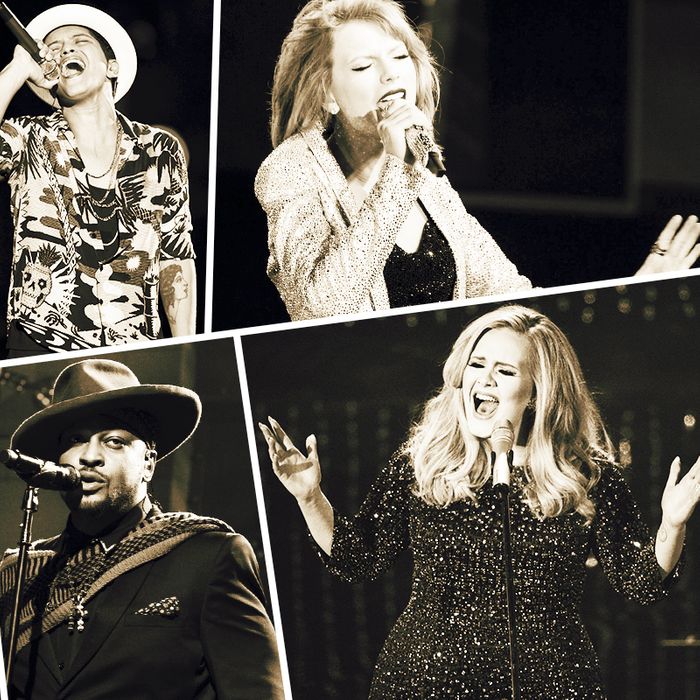 Clockwise from left: Kanye West, Bruno Mars, Taylor Swift, Adele, and D'Angelo.
Photo: Kevin Mazur/Getty Images, Dana Edelson/NBC/NBCU Photo Bank via Getty Images, Joseph Okpako/Redferns via Getty Images, and Steve Mack/FilmMagic,
Any idiot can try to predict this year's Grammys; the real action is in trying to predict next year's Grammys. It's much more fun to look forward than backward, and if you don't believe us, think about what you would rather talk about right now: Kanye's new music, or that Beck album that came out a million years ago? Guessing the 2016 choices isn't as crazy as it sounds — we're already more than a third of the way through the 12-month eligibility period for next year's Grammys, and if the pattern of prior years continues, many of next year's eventual winners have already been released. Using our knowledge of what's out there right now and what's expected to come in the next seven months, let's try to forecast how the four major Grammys categories will shake out next year.
(There's one thing we have to get out of the way first, though: Adele. A lot of people are expecting her to release her third album this year; if she does, she's going to win all the Grammys. However, the most recent reports say the album's not coming out until the end of 2015. Let's assume those reports are true to open up some room for everyone else, but in the same spirit of fairness, we'll say that Adele releases her comeback single sometime this summer. Got all that? Here we go!)
Best New Artist
Ella Henderson
Sam Hunt
Nick Jonas
Rae Sremmurd
Charlie XCX
Who Will Win: Ella Henderson.
Henderson is the favorite right now; she's a soulful, X-Factor–bred British woman, and "Ghost" seems like it will be a hit. Charli is a nominee this year for "Fancy," but, as with Ed Sheeran, the Grammys love to nominate someone for Best New Artist a year after they should. Nick Jonas fills the "How the heck are they new?" spot, and Hunt is the requisite country artist. In all likelihood, we're missing this year's Lorde — a youngster who comes out of nowhere with a dark horse Song of Summer contender — but until that person makes themselves known, we're giving their slot to Rae Sremmurd, who have an approximately 0.00001 percent chance of actually being nominated in real life.
Song of the Year
Adele, "Single TBA"
Mark Ronson and Bruno Mars, "Uptown Funk"
Taylor Swift, "Blank Space"
Meghan Trainor, "Lips Are Movin'"
Rihanna, Kanye West, and Paul McCartney, "FourFiveSeconds"
Who Will Win: Adele.
As anyone who's watched their musical numbers knows, the Grammys love unexpected pairings, and the songwriting partnership of Paul McCartney and Kanye West is the most beautifully unorthodox pairing of stars we've seen in a while; whichever of their songs charts highest will get a nomination. "Uptown Funk" looks like it's on the way to being one of the year's biggest hits, so it scores a courtesy nom here. Trainor is a success story for songwriters everywhere, and "Lips Are Movin'" is a better song than "All About That Bass," which is nominated this year. The eventual Song of Summer will likely earn a nod here; appropriately, we're filling that blank space with Starbucks lovers. And absolutely none of this will matter if Adele drops a single before September 30.
Record of the Year
Adele, "Single TBA"
Bruno Mars, "Single TBA"
Rihanna, "Single TBA"
Mark Ronson and Bruno Mars, "Uptown Funk"
Taylor Swift, "Blank Space"
Who Will Win: Mark Ronson and Bruno Mars.
Bruno Mars and Mark Ronson can probably start writing their acceptance speeches for this one right now — it's unlikely anything else this year could press Grammy voters' buttons as precisely as "Uptown Funk" does. Ironically, the only thing that could maybe dethrone it would be a solo single from Mars himself, who is expected to release his third album some time this year. Elsewhere, the airiness of "Blank Space" gives it a slightly better chance here than in Song of the Year, and while "FourFiveSeconds" is probably too raw to get a nomination, we assume one of Rihanna's later singles will be more polished. And the last spot goes to Adele by default.
Album of the Year
D'Angelo, Black Messiah
Bob Dylan, Shadows in the Night
Mark Ronson, Uptown Special
Taylor Swift, 1989
Kanye West, TBA 
Who Will Win: Taylor Swift.
Just to keep things interesting, let's stick with the assumption that Adele's album doesn't come out before the September 30 deadline. Who gets this Grammy instead? Of the music that's already out, 1989 is the easiest to pencil in, and Uptown Special's throwback appeal should be enough to earn it a nod. Black Messiah and Shadows in the Night might be unconventional choices, but each has a narrative — D'Angelo is back! Dylan covers Sinatra! — that could prove irresistible to voters. For the albums that haven't come out yet, we're going with Kanye West, whose 2015 output has been as warm and accessible as Yeezus wasn't. Of the five, we're betting on 1989, a win that would make up for the quasi-snub of Red and be fitting recognition for one of the music industry's few remaining blockbusters.