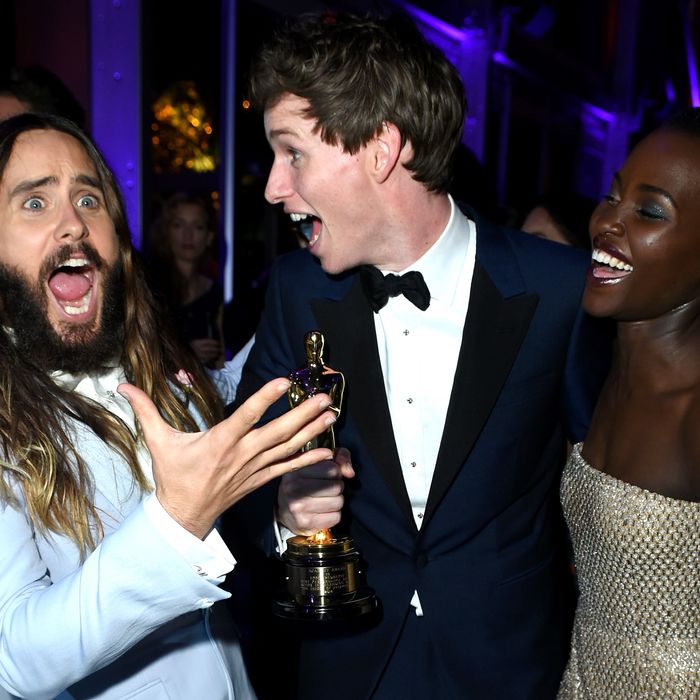 Photo: Jeff Vespa/VF15 /Getty
Every year, Vulture sends out a team of L.A. reporters to monitor the scene at every glitzy Oscars pre-party, after-party, and party-party. Herewith, an epic timeline of the week leading up to and following Hollywood's biggest awards show.
Tuesday, February 17: BVLGARI and Save the Children's party and exhibition at Spago; Vanity Fair and FIAT celebrate Young Hollywood at No Vacancy
6:26 p.m.: Adrien Brody kicks off the week with an elliptical speech about everything from growing up in Queens, his mother's photography, anti-Semitism, and every movie he's ever made. Naomi Watts appears to roll her eyes.
7:10 p.m.: Camilla Belle is dazzling in her loaner necklace — a $100,000 diamond Serpenti she's been coveting. "I don't like snakes normally," she admits, but it fits her Cleopatra obsession, and if Angelina Jolie bows out of playing the Egyptian queen, Belle might be game.
7:35 p.m.: David LaChappelle walks the red carpet, and a publicist mutters, "He wasn't invited." Our first party-crasher of the week? He and his date wander around, stopping to make out occasionally.
8:45 p.m.: James Corden, soon-to-be host of The Late Late Show, has something else to host tonight — a Vanity Fair party celebrating Young Hollywood at No Vacancy. Corden tells us not to expect political satire on his show, nor any monologues. "I'll try and bring an element of, like, freshness" to late night, he says.
9:30 p.m.: Donald Glover tells us he's "trying not to have a house. I got rid of most of my clothes and stuff," because he's been "reading a lot of Tao lately." And he's taken a hiatus from performing because "I've been going through some stuff." Later, we spot him with a friend smoking on No Vacancy's outside porch.
Wednesday, February 18: 12th Annual Global Green pre-Oscar party at Avalon
6:35 p.m.: The Oscars haven't reached full media saturation yet. At Global Green's pre-Oscar party, Matt Walsh isn't sure there is a host this year, so we're obliged to inform it that there is, and it's Neil Patrick Harris — much to his relief. "He's great. He'll do great."
9:15 pm.: Billy Zane gets pushed out of the way by the bum-rushing winner of the charity auction. Zane's a good sport, though, and he tells us he's thrilled about the Twin Peaks reboot and hopes David Lynch will write a scene for his character. "If Justice Wheeler had to drop in and save another endangered species and make out with [Sherilyn Fenn], he'd do it. I'm throwing it out there, Dave!"
Thursday, February 19: Essence's Black Women in Hollywood lunch at the Beverly Wilshire; Oscar Wilde Awards at Bad Robot; 2nd Annual Red Carpet Green Dress pre-Oscar celebration at the Chateau Marmont; Icons of the Awards at the Starlight Ballroom at Mr. C. Hotel; Hollywood Domino pre-Oscar soiree at the Sunset Tower Hotel
12:09 p.m.: The most powerful woman in television checks in for the Black Women in Hollywood lunch and isn't recognized by the gatekeeper. Her friend has to identify her as "Rhimes, first name Shonda."
12:30 p.m.: During cocktails, Niecy Nash clues us in to how the Selma cast has been communicating since the movie wrapped: group text. Everyone is on, except for Oprah Winfrey ("we gotta get her on there"), and everyone is funny, "except for Common. He is so serious. And he wants to keep our sense of community so close. 'One love, everybody.' You know, it's like, 'Common, knock it off.'"
1:30 p.m.: Orange Is the New Black's Samira Wiley is showing visible panty lines (VPL) with her fitted white silk shantung pants, and is proud of it. Her girlfriend Lauren tells us, "Full on VPL is back." We have to ask, "Didn't you have a debate this morning about whether to wear underwear or not?" Wiley looks confused and then asks, "Doesn't everybody have that debate every morning?"
7 p.m.: At the Oscar Wilde Awards, host J.J. Abrams welcomes us, telling us that this event will have "the best music and certainly the most Guinness" of all the pre-Oscar parties. "It's also just a place where people can come and have a loose, fun time." The director then tells us to expect some fun cameos in his upcoming Star Wars movie. "Some were more planned out and funny and inside-joke-ish, and others were spontaneous and happened in ways we didn't expect." Star Wars' Mark Hamill and Carrie Fisher are on hand, so we ask Fisher how the event fits in with Oscar Week. "Sexually," she quips. "It's the sexual portion of the weekend." Stephen Fry then gives us his best Wookie impression: "WAAaaaayaaa!"
8 p.m.: At the Red Carpet Green Dress pre-Oscar celebration, Gone Girl gal Missi Pyle is just off the boat from doing a gay cruise, where she sang, told stories of her divorce, and "drank a lot." Pyle did the whole awards season circuit in 2012 for The Artist, "with the hopes of being invited to the Oscars." But a week beforehand, Harvey Weinstein told her that she wasn't getting a ticket after all. Enter her stylist, who played fairy godmother and got her to the ball after all — via Red Carpet Green Dress' competition. (She got to wear the winning dress.) "It got me to the fucking Oscars, and [when we won], I got to go onstage and bend down and kiss Tom Cruise on his cheek." And yes, she's about six inches taller than Cruise without heels.
9:07 p.m.: At the Icons of the Awards, Billy Zane tells us he's front-loading the week, since the Oscars fall between two important birthdays — his and his daughter's. "Although I have friends in town who are probably itching to hit quite a few parties, so I might just skip out for five seconds and join them. Trip the light fantastic."
9:15 p.m.: Although his wife Suzy Amis Cameron is behind this Red Carpet Green Dress pre-Oscars party, James Cameron is skipping the show this year — despite winning three Academy Awards, he jokes that he feels snubbed because he's "never" been asked to present. Well, save for once in 2010, when he was asked to co-present with his ex-wife Kathryn Bigelow. "We looked at each other and said, 'No, no, no. We're not doing any gimmicky stuff.'"
9:20 p.m.: At the Hollywood Domino Gala, Patricia Arquette gives a preview of her Oscar acceptance speech when she asks for donations for a scholarship fund for young girls in Haiti: "It's time for you to show up for us. Think about the women you love living without education." We never saw anyone playing dominoes, though. Meanwhile, over at Icons of the Awards, Hilary Swank makes a surprise appearance and kisses her pal Brian Bowen Smith on the carpet..
10:30 p.m.: Time for a nightcap at the Chateau Marmont, and the bartender refuses any cash — or even a tip — for our drink with Missi Pyle. "We love it when famous stars come in," he tells us.
Friday, February 2o: Publicists Guild Awards at the Beverly Hilton; Net-a-Porter and Charlotte Tilbury lunch at A.O.C.; GREAT British Film Reception at the London Hotel; Eighth Annual Women in Film party at Hyde on Sunset; Vanity Fair and L'Oréal Paris D.J. night at 1Oak
11:30 a.m.: After deflecting questions about diversity, director Ava DuVernay admits at the Publicists Guild Awards that she's not on the Selma group text either. "I don't want them to put me on it, really. I hear it gets pretty crazy, though."
12:00 p.m.: Only Ashley Greene and Rachel Roy arrive on time for the Net-a-Porter and Charlotte Tilbury fashionista's luncheon. Roy weighs in on the Oscar red-carpet scene, saying "women can use fashion to make a statement about themselves, they can use fashion to show the world who they are — an intellectual, a risk taker, an individual." But she cautions actresses that distaff fashion choices can also lead to public judgments they might not be crazy about. "Women can be everything, feminine, sexy, fashionable. But they need to realize that the image they present via their clothing style reflects how people think about them, and whether they take them seriously or not."
12:30 p.m.: Chelsea Handler gives a speech at the Publicists Guild Awards about why she's not going to apologize for her words, her breasts, "or in the case of Mardi Gras earlier this week, both." When Tom Cruise jumped on Oprah's couch shortly after firing his longtime flack, Handler said, everyone started to recognize the importance of publicists. "Until then, people just thought you were purse holders, or occasional travel agents, or psychopharmacologists, or straight-up drug dealers. And some of you are. Shout out to Stephen Huvane … I would never want to do your fucking job if my life depended on it."
12:40 p.m.: At the Publicists Guild Awards, Bob Newhart jokes how his wife asks him to contribute to household chores, and then he wonders, "Do you think Angelina Jolie asks Brad Pitt to take out the trash? 'If you were Brad Pitt,' she says to me, 'I wouldn't ask you to take the trash out.'" Meanwhile, over at Tilbury's lunch, Rachel Zoe and Monique Lhuillier blow air kisses at Poppy Delevingne and Liberty Ross.
5:51 p.m.: Over at the GREAT British Film Reception, Ed Westwick poses with an Aston Martin and gives off a distinct James Bond vibe. He reminds us of his Gossip Girl days in New York, when he used to be "screamed at by drunk hecklers on the Lower East Side, pretty much almost every night." Did he have any late-night misadventures off set? He grins. "I wouldn't be willing to share them, darling."
7 p.m.: Meryl Streep, who nearly missed the Women in Film cocktail party owing to traffic, is mobbed and backed into the corner by fans who want an iPhone photo. This includes Sex and the City writer turned director Cindy Chupack, who tells her that she often writes with Streep in mind, thereby elevating her scripts. Streep then hands her a glass of Champagne and says, "Have a drink!" Chupack, still clutching her glass later, shrugs and asks us, "Maybe she thought I was drunk?"
8:31 p.m.: Freida Pinto arrives at Vanity Fair's DJ night, but don't worry — she's not chucking the acting career to spin full time. "Oh my God, no! I'd be terrible. But I am the kind of girl who'd throw it all away and go to the best DJ parties and dance all night," she tells us. Taryn Manning also spins inside.
Saturday, February 21: Gold Meets Golden at Equinox Sports Club; Independent Spirit Awards on the beach of Santa Monica; Boyhood after-party at Santa Monica's Ocean Club; Michael Sugar, Warren Zavala, and Doug Wald's annual party at Sunset Tower
12:55 p.m.: Emma Stone turns around on the carpet at the Independent Spirit Awards and spots co-host Kristen Bell and her hubby Dax Shepard. "Oh. My. God. You two!" she exclaims, and walks along with the couple.
1:20 p.m.: At Gold meets Golden, Nicole Kidman arrives a few minutes after Katie Holmes leaves — interesting timing. The two are among the many celebs (including Chris Evans and the Jane the Virgin cast) who turned out to support Special Olympians. Gina Rodriguez admits she's Team Michael. "I have a divided heart, because when I first started shooting, I was with Michael, and it was so adorable and this very innocent, docile, gentle love," she tells us. "And then with Rafael, it was very romantic and passionate." Decisions, decisions.
2:25 p.m.: While passing through the backstage area between tents at the Independent Spirit Awards, Julianne Moore crosses paths with Craig Robinson. "I am such a huge fan of yours!" she tells him. "Stop it," he says, not quite believing her. "No, really, we watch you all the time!"
3:02 p.m.: Jared Leto pops his head into the press tent. "Do you guys miss me back here this year?" he asks. He's trailed by a gaggle of hipster model-like assistants who look like they're en route to Fashion Week.
3:20 p.m.: Ewan McGregor arrives via motorcycle and strolls into the backstage area, where he's greeted by a female friend. "I'm stalking you," she jokes. "I know. I like it," he smiles.
4 p.m.: Aja Naomi King — otherwise known as Michaela on How to Get Away With Murder — tells us she defines the independent spirit as "getting a glimpse of something a little twisted," because she has murder on the brain. She's so impressed with the show's leading lady that just as her character admires Annalise, she wants to be Viola Davis. "I literally do sit there and think that. 'I want to be her.'"
5:05 p.m.: The presence of Mad Men's Kiernan Shipka at the Boyhood after-party — who, like that film's star Ellar Coltrane, we've watched grow up onscreen — prompts a nearby director to mull casting the two of them in the ultimate coming-of-age romance.
10 p.m.: Over at the industry party to hit on Saturday night — hosted by powerhouses Michael Sugar, Doug Wald, and Warren Zavala — Adam Scott stands amid the sea of agents and managers, braving the droplets of rain on the balcony of Sunset Tower. His hair does not wilt.
10:20 p.m.: Spider-Man director Marc Webb is teased — where's his suit? Webb says he doesn't have one, and Anonymous Content's Steve Golin offers to buy one for him. Meanwhile, his former Gwen Stacey — Emma Stone — holds court in a corner of the balcony, close to a heat lamp, sitting with her feat folded under her. It's been a long week of high heels.
Sunday, February 22: The Oscars at the Dolby Theatre; Night of 100 Stars at the Beverly Hilton; Elton John's AIDS Foundation Academy Awards Viewing party; Vanity Fair party at the Wallis Annenberg Center for the Performing Arts; Fox party at BOA
3:30 p.m.: While the A-list congregates at the Oscars red carpet, the celebrities who didn't make the cut head off to viewing parties around town, such as Night of 100 Stars, thrown by Norby Walters (his son Gary produced Whiplash). We spot Gary Busey, Lee Majors, and Martin Landau among those making a beeline inside.
4:09 p.m.: Ed Begley Jr., arrives at the Oscars on his bicycle.
4:45 p.m.: Elton John also hosts a viewing party, and he promises that his "televisions are bigger." "We also have a very diverse guest list," he tells us. "I'm sitting next to Beck, and then on the other side of me, I have the owner of the New England Patriots. So it's a great diverse list of people who want to come and have a great time, watch the Oscars, and listen to Nile Rodgers and Chic. What could be better than that?" The alternative, as Cara Santana says, is to sit at home in your PJs, "with a face mask on, with Papa John's pizza."
5:42 p.m.: Alec Baldwin, Jane Seymour, and Heidi Klum whiz by each other at Elton John's party. Ozzy Osbourne breaks away from Sharon, muttering, "Bathroom! Bathroom!" under his breath. Moments later, someone stumbles into Peter Fonda's date, and she almost falls. Fonda is not happy.
6:03 p.m.: The first winner of the night, J.K. Simmons, goes backstage to visit a throng of reporters, who are only identified by previously assigned numbers. "Thank you, seven," Simmons says to one reporter, making everyone laugh.
7:39 p.m.: Patricia Arquette expands on her acceptance speech backstage, saying, "It is time for women. It's time for all the women in America, and all the men that love women, and all the gay people, and all the people of color that we've fight for, to fight for us now."
8:53 p.m.: John Legend and Common are talking about their win for "Glory" when a certain redhead flashes on the screens. "Who just won?" Common asks. "Julianne Moore? You all knew she was getting that, right?"
9:20 p.m.: Julianne Moore tells reporters that her husband predicted her Oscar win back during the very first time they screened Still Alice. "I was like, 'C'mon!' But I swear to God, that's what he said to me."
9:37 p.m.: Craig Robinson is sitting all by himself on a white leather couch, so we join him at Elton John's after-party. He doesn't even know who won tonight, although he tells us he heard about Eddie Murphy presenting an award. "Everybody wants Eddie to be funny again. Just let Eddie be Eddie." Meanwhile, another Eddie — Eddie Redmayne — tries to articulate his feelings when he walked up to accept his Oscar from Cate Blanchett. "I was recovering from the excitement of seeing her, and then just trying to bury all this frenzy of nerves and white noise and trying to speak articulately. And of course, you then forget everything, but it just felt like a euphoria, really. An extraordinary euphoria."
9:48 p.m.: Alejandro Gonzalez Iñárritu refuses to show us whether he is, in fact, wearing Michael Keaton's tighty-whities from Birdman. "We should be in a more intimate context, which I don't think will happen." Then he says that making a film is risky, and you have to put aside your fear. "Fear is the condom of life, you know? It doesn't allow you to enjoy things." He compares making Birdman to having sex without a condom: "It was real. It was making love, for sure."
10:49 p.m.: Wes Anderson makes his way to the Fox Searchlight party, trailed by his date and Jason Schwartzman. Over at his party, Elton John joins Niles Rodgers onstage for an extended jam of "We Are Family."
11:02 p.m.: Envious women regard the tall, striking Jeff Goldblum and his new wife at the Fox party. "I hear she's an acrobat," one murmurs.
11:19 p.m.: Jennifer Hudson enters the Fox party and makes a beeline for Octavia Spencer. She shrieks, "Oh my God, you look beeeeautiful!" Who was Spencer's Oscar date? (He had Twitter users buzzing: "Who's the cute guy?") "Maybe if they watched Red Band Society, they'd know," she laughs with us. Charlie Rowe was one of her co-stars on the canceled Fox show. He's just happy he got the invitation from Spencer. "She just texted me!" he tells us, laughing that it took him "much deliberation" to accept. "I was like, 'What time is it? I'll tryyy to make it."
11:29 p.m.: A lot of folks have migrated over to Vanity Fair's annual after-party, hosted by Graydon Carter. Parting a sea of admirers for Julianne Moore, her onetime onscreen son Josh Hutcherson is on hand to give her a The Kids Are All Right reunion. Meanwhile, Jason Statham is the odd (short) man out standing with his model girlfriend, Rosie Huntington-Whiteley, and her equally tall model friends.
11:31 p.m.: The Lonely Island guys — Andy Samberg, Jorma Taccone, and Akiva Schaffer — have created a funny chat circle with Jenny Slate, Kristen Bell, and Dax Shepard. Already, we have ideas for a quirky ensemble comedy starring these folks.
11:33 p.m.: Overheard at the Vanity Fair after-party: Sarah Silverman tells Steve Carell, "You did good."
11:35 p.m.: Carell's Foxcatcher co-star Channing Tatum emerges from the Vanity Fair photo booth with his wife, Jenna Dewan, only to reveal that they're bored of schmoozing and can't wait to dance. "It's about time for us to get down," Tatum tells us. "The DJ said five more songs of disco." Dewan then does a thumbs-down motion — clearly, she's not dancing to disco tonight. "Did you just thumbs-down disco?!" Tatum asks her, laughing. While they wait for a better song, Joe Manganiello and Sofia Vergara walk up, so we all talk about the upcoming Magic Mike XXL (our favorite topic), and poor Manganiello's on-set injury, for which he required a sling. He reveals what happened — he tore his bicep, and he hasn't been able to lift anything for three months. "I had to have surgery!" he moans. "I suffer for my art," he laughs.
11:43 p.m.: Grand Budapest Hotel lobby boy Tony Revolori giggles and holds hands with a beautiful blonde at a corner banquette at the Fox party. Meanwhile, the film's winning composer Alexandre Desplat moves through the crowd in a daze, finally landing with Wes Anderson.
11:48 p.m.: John Legend and Chrissy Teigen enter the Vanity Fair party, and are immediately embraced by Kevin Hart, Idris Elba, and other well-wishers who shout out, "Glory!" We overhear Elba ask Legend about the specifics of their crowd-pleasing performance during the show. Meanwhile, Jessica Chastain sits down near the entrance, looking like she has had enough partying for one night.
12:02 a.m.: Emmanuel Lubezki — who won Best Cinematography for Birdman — heads to the photo booth at the Fox party, where he has his friends pose with their awards, feigning shock and surprise. The Birdman crew is surrounded by a growing crowd of well-wishers, but never mind them — Michael Keaton's gotta eat! As he shovels meat into his mouth (no utensils for this guy), he manages to garble a "thank you" for each fan approaching him.
12:16 a.m.: A member of Team Birdman whistles sharply, quieting the room. On a nearby monitor, an Oscar highlights reel is playing the acceptance speech for the film's original screenplay win, and Alejandro Gonzalez Iñárritu beams as he watches it.