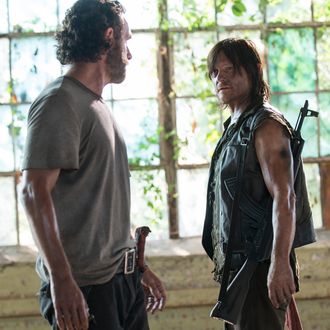 The Walking Dead traffics in sudden death, constantly reminding fans they're unafraid to kill off beloved characters, as they did, once again, in Sunday night's mid-season opener. We chatted with executive producer Gale Anne Hurd at the Society of Camera Operators Lifetime Achievement Awards in Los Angeles about the latter half of season five, which showrunner Scott Gimple teased as being darker and weirder than ever. Indeed, the premiere episode took a more abstract, existential turn — EW's Dalton Ross called it more of a "poem" than an episode of TV. It's a move that the show's producers are well-aware fans would either love or hate. 
"[That's] because it has a different style than we've ever seen in The Walking Dead, which is great five seasons in," Hurd said. "We can really step back and say, for this episode and the story we're telling and the character we're telling it about, it's important to do something that we've never done before."
Season five's other big question mark is whether Rick and Michonne — or Richonne, as some have dubbed them — will deepen their relationship. Is there a true-love story here, or is it all wishful thinking?
"You're gonna see something very interesting develop between them," Hurd said. "Very interesting, and incredibly unexpected. You'll see a certain kind of love."
For more on The Walking Dead's mid-season premiere, read our recap.