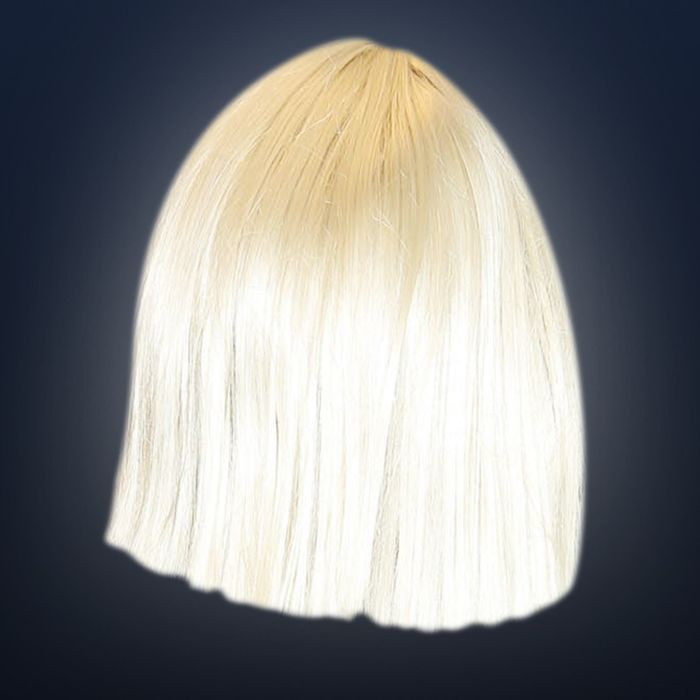 Sia's hair.
Photo: Kelly Chiello and Photo by Rob Kim/Getty Images
Sia will perform at the Grammys Sunday night, which is pretty cool, considering she's had some of the most interesting live performances this year. Thank "Chandelier," which starred Dance Mom's 12-year-old Maddie Ziegler in its video, sparking more interest in modern dance (and Dance Moms!) than there has been for quite some time. But there's one thing that will always detract from a Sia performance, and most certainly will affect whatever she chooses to do for the Grammys: Sia does not face the audience.
… Or she obscures her face. Whatever her method, it is so crazily distracting from the actual performance, it often takes away from all the work she puts into crafting these experiences. We ask, Why does Sia cover her face? What's wrong with her? What does she look like? Wait, is that a wig? Why won't Sia turn toward the audience? What exactly is she hiding?
A quick Google search will shed some light:

Sia alluded to her reasoning in an "anti-fame manifesto" for Billboard in 2013: "If anyone besides famous people knew what it was like to be a famous person, they would never want to be famous. Imagine the stereotypical highly opinionated, completely uninformed mother-in-law character … she's not just making cracks about dying before I give her some grandkids, she's asking me if I'm barren. She's asking me whether I'm 'so unattractive under those clothes that her son/daughter doesn't want to fuck me anymore,' or if I'm 'so dumb I don't know what a dick is and how to use it.'"
After being called "socially phobic" in The New York Times Magazine last year, she was more direct: "I just wanted to have a private life. Once, as my friend was telling me they had cancer, someone came up and asked, in the middle of the conversation, if they could take a photograph with me. You get me?"
Here she is on Saturday Night Live, in an obscuring mask, standing sideways: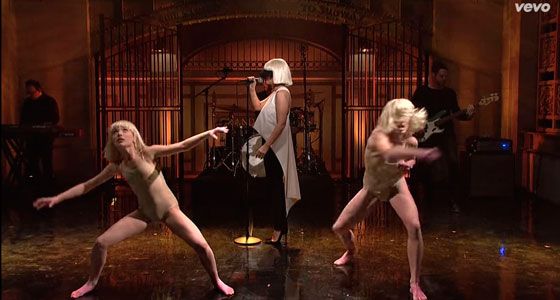 And on Ellen: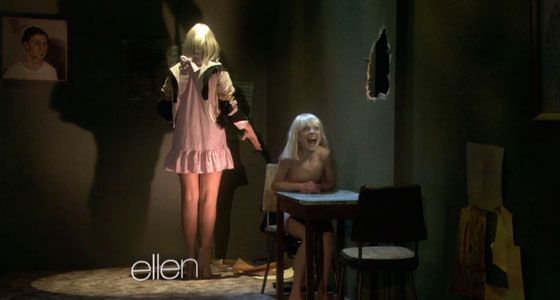 In the awkward trio of Sia, Ed Sheeran, and Grouplove: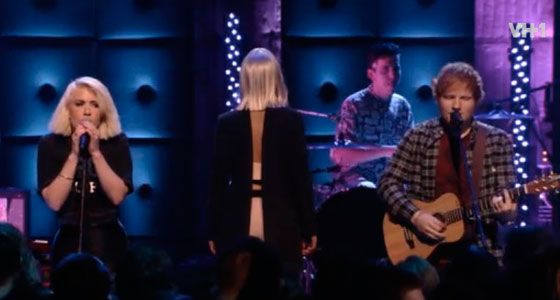 Performing face-down in a bunk bed while Lena Dunham did the "Chandelier" dance on Late Night With Seth Meyers: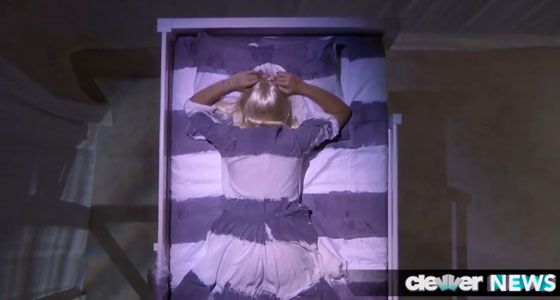 Facing away from the stage on Dancing With the Stars: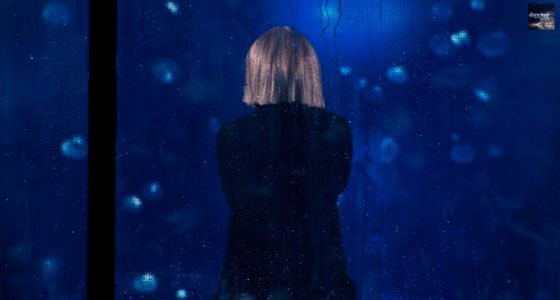 Obscured by extra-long bangs, doing "Elastic Heart" on Ellen: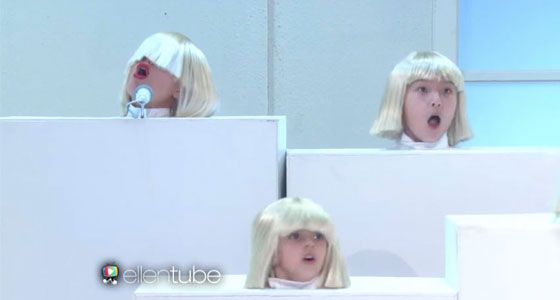 (For the record, it's not that difficult to find photos of Sia — she had a long and oft-photographed career before her newfound fame. She still attends events and has her picture taken on the red carpet. In fact, Getty Images has a bunch of pictures of her on the red carpet during the premiere of Annie in December — alongside her brand-new husband, filmmaker Erik Anders Lang.)
It's perfectly acceptable for a person placed in an unwanted spotlight to seek out privacy. If this strategy is actually working for Sia, that's great. But it's hard to imagine she'll be able to keep up the act. (Even Garth Brooks's beloved alter-ego Chris Gaines only lasted for just over a year. And he released an entirely separate album under this alias. Never forget.)
It would be one thing if this were just a performance shtick. Plenty of artists choose a specific "thing" and go with it. Ziegler is a genuinely talented marvel and Sia is certainly lucky that her "Chandelier" performance in the song's music video took off (and that she's somehow available to travel around with the singer to perform new pieces for every talk show). But Sia isn't just hiding her face for performances — she's even taken to doing it during interviews. Look how awkward she is on Chelsea Lately: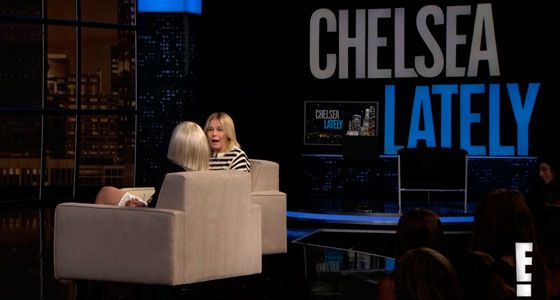 To accommodate for the strange setup, most interviewers begin by asking Sia why she's sitting facing away from the camera. (Because wouldn't that be the first thing viewers would notice and wonder about?) In one such interview with Nightline, she told Chris Connelly: "I don't want to be famous, or recognizable. I don't want to be critiqued about the way that I look on the internet … I've been writing pop songs for pop stars for a couple years and see what their lives are like and that's just not something I want."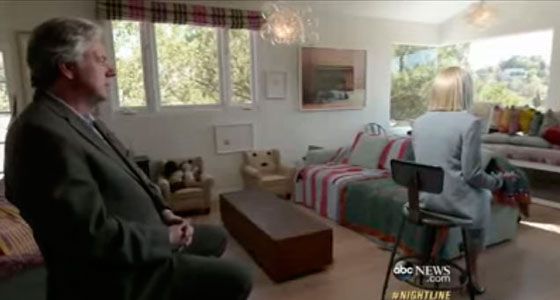 Here she is with a bunch of bananas disguising her face in a behind-the-scenes clip from the set of her music video for "Elastic Heart":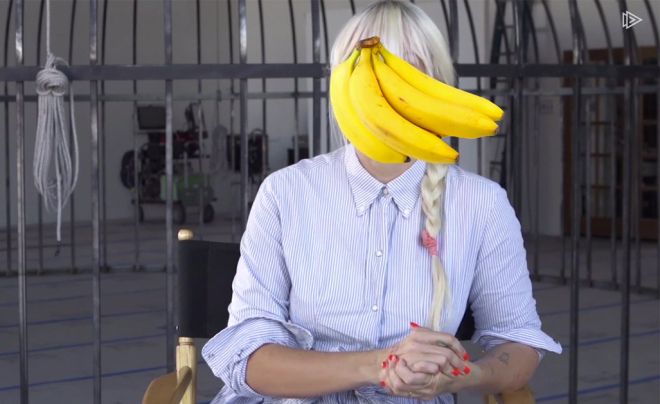 Not to mention, this appearance on a Norwegian-Swedish show called Skavlan. They do seem rather amused: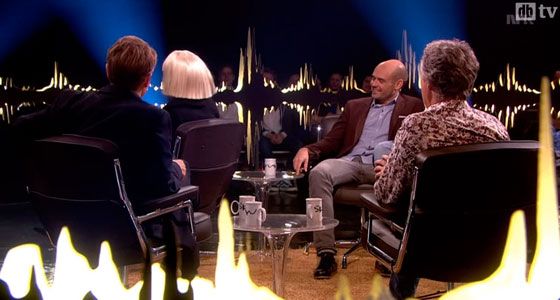 All this brings more attention to the fact that Sia isn't showing her face, likely making viewers more curious about what that face looks like. If you're looking to divert attention from the specificities of your visage, it's probably best not to draw attention to the fact that you choose never to show it.
Commenting on the pitfalls of fame isn't a new thing for a celebrity to take up as a cause. It's clear that celebrity is something that weighs on you, and the added scrutiny of the internet is not helping. But it's what you have to live with if you happen to take on this life of fame and fortune. And going out of your way to hide from the cameras will likely only make people seek you out even more. Sia, show us your face.