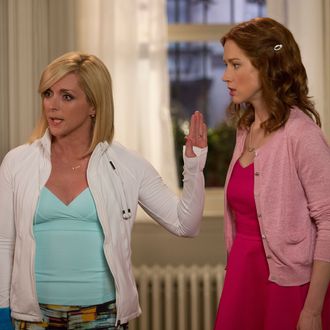 Jane Krakowski and Ellie Kemper in Unbreakable Kimmy Schmidt.
Photo: Eric Liebowitz/Netflix
At the beginning of (and throughout) every month, Netflix Streaming adds new movies and TV shows to its library. Here is a quick list of several that you might be interested in. Some of these may have previously been on Netflix, only to have been removed and then added back. We will update this list as more titles are added closer to the end of the month.
MOVIES
March 1
30 for 30: Of Miracles and Men (2015)
The Brothers Grimm (2005)
Evelyn (2002)
Finding Neverland (2004)
Mercy Rule (2014)
Monster High: 13 Wishes (2013)
Patch Adams (1998)
Rules of Engagement (2000)
Teen Witch (1989)
March 5
The ABCs of Death 2
Food Chains (2014)
March 6
Aziz Ansari Live at Madison Square Garden (2015)
My Own Man (2014)
March 9
After the Fall (2014)
Cesar Chavez (2014)
The Angriest Man in Brooklyn (2014)
Tyler Perry's The Single Moms Club (2014)
March 10
Monster High: Haunted (2015)
March 11
How to Train Your Dragon 2 (2014)
March 15
Marvel & ESPN Films Present: 1 of 1: Genesis (2014)
March 17
Dummy (2002)
You're Not You (2014)
March 19
Life Itself (2014)
March 20
God's Not Dead (2014)
March 23
November Man (2014)
March 27
Frankie & Alice (2010)
March 31
Ask Me Anything (2014)
The Man With the Iron Fists (2012)
TELEVISION
Unbreakable Kimmy Schmidt (season 1, March 6)
Archer (season 5, March 7)
Glee (season 5, March 7)
A Different World (complete series, March 15)
Third Rock From the Sun (complete series, March 15)
Bloodline (season 1, March 20)
Mad Men (season 7, March 22)
Garfunkel and Oates (season 1, March 25)
Turn (season 1, March 25)