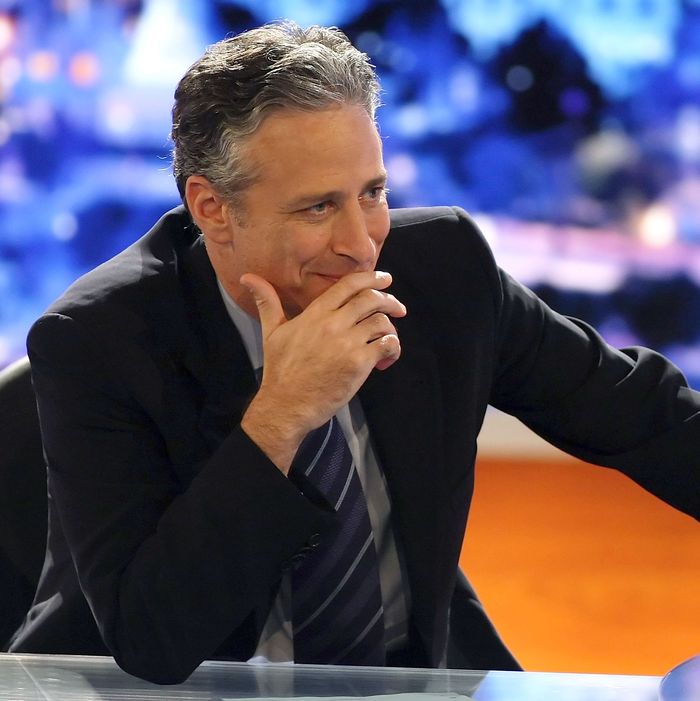 Jon Stewart.
Photo: Ethan Miller/Getty Images
Jon Stewart was talking about Senator Mitch McConnell — sort of. "He drives me crazy, although he's fun to mimic," Stewart told me in October. "But they all do. I've been doing this too long. Honestly, it's breaking me. I'm broken."
He was joking — and he wasn't. Which is why yesterday's announcement that Stewart will leave The Daily Show later this year is jolting, but it shouldn't be surprising. Last fall, on the eve of his writing-directing feature-film debut, Stewart openly wrestled with how much longer he wanted to keep doing the TV show that made him famous. It wasn't hard to see which way he was leaning. "I'm thinking about it a lot," he said. "The thing I struggle with here is the feeling that I'm going to run out of possibility."
Which is the core of the answer to the "why now?" question. "Even if you're eating delicious chocolate cake, there are moments you feel like, 'I've had too much.' Now replace 'chocolate cake' with 'shit taco' and you know what our day is like every day," Stewart told me — and that was back in 2010.
Now he's 16 years into The Daily Show's run. While he is still having fun and still making great comedy, Stewart has had enough. He wants to leave before he finally makes Denis Leary's prediction come true: "Jon's shown more of his nice-guy side so far," Leary told me in 1994, when Stewart was hosting a short-lived MTV show. "As this show continues, it will get uglier; eventually it will just be this raging little Jewish man screaming into the camera."
There may be no specific reason for the exact timing, but there is a logic. Stewart's current contract ends in September, and he's been seriously debating whether to stay or go for nearly a year. Sticking around through one more presidential campaign was tempting, but so was giving whoever follows him at the Daily Show the full run of 2016 to launch their own version. Stewart's announcement is gracefully timed in relation to the career moves of his close friend and protégé Stephen Colbert — allowing the end of The Colbert Report to get all the attention it deserved, and not stepping on Colbert's arrival, in September, as David Letterman's successor on Late Show. Stewart has also been helping with the launch of Larry Wilmore's Nightly Show — both with advice and by providing a strong lead-in on Comedy Central.
But there's also a fitting symbolic symmetry to Stewart unveiling his decision last night. On Monday, he'd done a segment about the fall of Brian Williams — a friend and fellow Jersey guy. The barbed point of the bit was one of Stewart's favorite themes, that the media should spend less time on navel-gazing and more on, say, the lie-filled run-up to the invasion of Iraq. Later, Stewart's guest was Bassem Youssef, an Egyptian doctor turned political satirist whom Stewart visited in Cairo after filming Rosewater. The experience of making a movie and seeing a part of the world where comedy can have a direct effect on the political process encouraged Stewart to look for new challenges beyond pay cable.
So what's next? Stewart will not be replacing Williams on NBC Nightly News. He will not (thank God) be running for office. He might do stand-up occasionally, like Jerry Seinfeld after Seinfeld. Writing and/or directing a movie comedy is a possibility, though probably not "a remake of The Little Tramp," as he suggested to me last fall. He's genuinely eager to spend more time with his wife and two young children. "Just let the factory go down for a little bit," he said. "Just more flexibility to not always get home at 9 at night and not be able to see the kids after school."
But as tired as Stewart is right now, he certainly isn't feeling sorry for himself. He knows that he's very lucky to be able to quit his day job, and he's too driven and guilt-ridden to get lazy. Plus Stewart has too many good ideas. So it's unlikely he'll disappear from the political-comedic conversation completely. Last year Stewart dismissed NBC's interest in having him host Meet the Press ("The truth is you're holding out for Brian Williams's job," I said, to which Stewart replied, "No. I've always wanted to be the first male host of The View"). But what he said next was more intriguing. "Which is not to say that at some point maybe there will be another iteration of this conversation or an iteration of the kind of things I do."
Until then, there will be months of praise that are going to make him uncomfortable but also proud. "It's very difficult to say we want the legacy to be, 'It was the funniest show in television history!'" Stewart said. "But you want it to be appreciated. More than anything I would hope people would be like, 'Those guys fucking brought it every night.' We might not have hit it every night and there might have been some shows that tanked. But I feel like we bring it every night."
Which may sound like a Springsteen song title. Yet it's been true for a very long time. Now, though, Jon Stewart has made official what was obvious: that he will bring it to the Daily Show for only a few more nights.