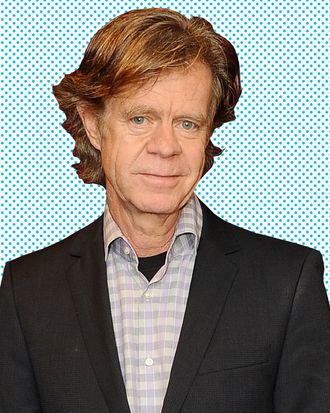 Photo: Andrew Toth/Getty Images
William H. Macy recently won a Screen Actors Guild award for his role in Showtime's Shameless, but after making his big-screen directorial debut on last year's indie Rudderless, what he really wants to do is direct. The 64-year-old directed Shameless's March 1 episode and spoke with Vulture about doing nude scenes, Sports Night, and whether he's watched FX's Fargo.
How did it feel to win a SAG award for Shameless?
Of all the awards, that one means the most to me because those are my peeps. I feel like we crossed some kind of a threshold. Shameless is a rough show, and it's not for everyone, but it's also beautiful. I'm hoping winning this SAG means some of my co-stars will start to get recognition, like Emmy Rossum. She's been spectacular for five seasons, and it's about time somebody gives her something made of metal.
Your director's credit for Shameless appears onscreen beside the bare butt of a man having sex in a bathroom. How do you feel about that?
[Laughs.] It's either prophetic or payback, I'm not sure which.
The episode features another fairly graphic sex scene. What's it like to shoot that kind of material with your longtime co-stars?
I'm an old fart. The only way I could do it was to swallow my pride and my Lutheran squeamishness. But I've got a thing about sex and American cinema. I see what the ratings board okays for my [14- and 12-year-old] daughters to watch, and they seem to be allergic to sex, like it's a bad thing, and it's not. It's a really good thing. Even the bad sex I've had has been pretty good. And yet they will let my daughters see this disgusting violence like that won't harm them. They've just got it ass-backwards. So I double down on telling the truth about sex as a director.
You bared all in 2003's The Cooler. How did you feel about that as an actor?
I got lucky because it was with Maria Bello, who is so cool and uninhibited and smart, and such a lovely actor. I felt safe — is that the word? I felt in good hands. The double entendres just keep coming! Also, my wife, Felicity [Huffman], was so smart about it. I was pissing and moaning about having to do that scene. Flicka said, "Hold on, pal. You should either embrace it or tell the director you don't want to do it, because you don't want to go into it planning to fail." Boy, was she right.
You worked with Felicity on Aaron Sorkin's Sports Night. Is his dialogue tougher to handle than that of your frequent collaborator David Mamet?
David writes a certain kind of play. I'm hyperaware of it because Felicity is doing The Anarchist with David's wife Rebecca Pidgeon at one of those 99-seat theaters in L.A., and that dialogue is as difficult as any I've ever seen. I did Oleanna, and that was no walk in the park, either. Aaron doesn't write that kind of stuff, so the hardest Dave is harder than anybody else.
How upset were you when Sports Night was axed after only two seasons?
I sure loved Sports Night. That was ahead of its time. It was the future of television. Some TV exec decided they should cancel it and do Who Wants to Be a Millionaire? five nights a week. I think that person's no longer in the business.
Have you seen FX's Fargo yet?
I still haven't, man. I saw a little bit of the pilot, and it looked fantastic. It was chosen well. They can get a lot of stories out of that setup. I'm also enamored of the idea of a show doing one season, and then the next season is a whole different story. Felicity is doing a show like that, American Crime. She's been invited back if there's a second season to play a different role.
You recently shot the film Blood Father with Mel Gibson. How'd that go?
I loved working with Mel. It was a sweet thing. He's had his trials and tribulations, but he's a force of nature. He's a strong guy. We didn't talk about any of the stuff he's been through, but I could see it lives in him. And he acted the shit out of that thing.
So you think he's paid his penance and deserves forgiveness?
I don't know who decides when people can be forgiven. The best thing Mel can do is to continue to do good work, and he's doing really good work.
You went with your full name so you wouldn't be confused with Maude star Bill Macy. Do you ever get his mail?
No, but I finally met Bill a couple of years ago. We were at a restaurant, and he came up and we embraced. We share so much. We're both in the tribe, and we share the name. He couldn't have been more complimentary. He's a stunning actor. We were trying to out-compliment each other. It was so sweet.
What's next for you as a director?
It appears I'm going to do a film called The Layover. It's a comedy about two young women. I'm casting it now. It's in the line of Bridesmaids or The Hangover, a broad sex comedy. I know so much about 27-year-old women, so I'm the perfect guy for it. But I've been dealing with very broad comedy on Shameless for five years now, so I think I can do it.
Correction: A previous version of this article stated that Sports Night ran for three seasons. It ran for two.