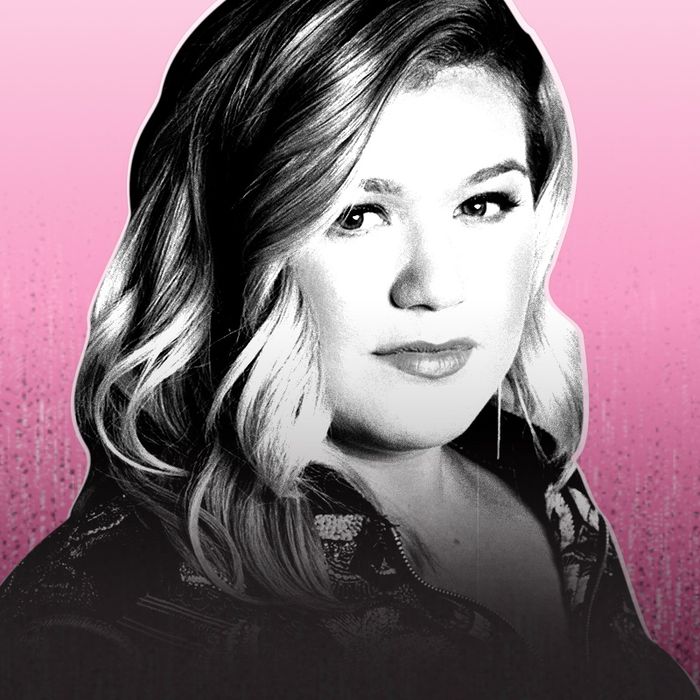 Photo: Kelly Chiello and Photo by Getty Images
It's hard to believe Kelly Clarkson, once one of America's most promising pop stars, is more than a decade into her career. She won American Idol's inaugural season back in 2002, and hasn't eclipsed that level of fame since. Except maybe with 2004's megahit "Since U Been Gone," off her severely underrated sophomore album Breakaway, and a name-drop in the most memorable scene from 2005's The 40-Year-Old Virgin. She saw some success again with 2012's "Stronger (What Doesn't Kill You)," which won her a Grammy, but has largely remained an outlier in the pop sphere — so much so that she joked about others in the industry not wanting to work her … and people actually believed it. Because we love you, Kelly, here's some career advice to help get you back on the top of your game.
1. Collaborate more with other female artists.
2014 was praised as the Year of the Woman — mostly because of Taylor Swift's world domination and the historic five-week run women had in the top five of the Billboard Hot 100  — but also because it was a year in which women worked almost exclusively with other women. The Song of the Summer? A woman featuring another woman. The VMAs opening performance? A woman featuring two other women. The most "***Flawless" song of the year? A woman's song, remixed by another woman. Kelly Clarkson's new album, in all fairness, includes behind-the-scenes work from some top-tier female songwriters, including Sia, MoZella, Natalie Hemby, Antonina Armato, and more. But take a glance at the track list and you'll see just one feature artist, John Legend, on a gorgeous cover of Tokio Hotel's "Run Run Run." We can't fault Kelly for picking John for the job, but just imagine Jennifer Hudson or Pink on that same track. Kelly snuck in a performance of "Silent Night" with Reba and Trisha Yearwood on her Christmas album, so it's safe to say she can get away with all-female duets on her non-holiday albums, too. (Remember this?) A short list of suggestions: Hayley Williams, Adele, Mary J. Blige, Haim, Janelle Monáe, Lorde, Beyoncé, and Miranda Lambert.
2. Expand her sonic palate.
Kelly recently told Vulture that she'd be down to dip her toes in country music and has been "talking to her friends about making an R&B album." Hallelujah! We've seen Kelly bounce around on the pop-rock spectrum from the beginning, but there's no better way to revamp your career than a genre switch. That's not to say that she should start rapping anytime soon or become the obligatory female vocalist on male DJs' EDM records (though "Take You High" is a damn fine indication that she could), but who could resist a Kelly Clarkson soul record? Country also isn't much of a stretch for Clarkson, but R&B might be a surprisingly better fit. Her debut album, Thankful, was just about as R&B as she's ever gone — with songs like "Miss Independent," "Some Kind of Miracle," "What's Up Lonely," and its title track — but it's quite possibly the most complementary sound for her voice. We're all still waiting for that collaboration with Miguel!
3. Work with different producers.
Clarkson has long favored pop hitmakers like Greg Kurstin (who produced her last two albums), Ryan Tedder, and Max Martin, which is certainly one way to win Grammys. But it's also how your sound becomes indistinguishable from everyone else's. If we're to believe this R&B experiment is legit, then it's time to switch up the people manning the soundboard. A few more suggestions: Dev Hynes, Ariel Rechtshaid, FKA Twigs, Emile Haynie, Cashmere Cat, Diplo, and herself (!). That's right, Clarkson co-produced the bulk of her third album, My December. (We'd also highly recommend booking some writing sessions with Charli XCX.)
4. More stripped-down covers of huge pop songs, please.
Ironically, Clarkson's kind of made a side career out of covering other pop stars' songs — and often making them sound ten times better. Last year, she turned Taylor Swift's "Shake It Off" into what she described as a "church song" with a soulful cover, and she slayed. Now, no one's saying Kelly should spend the rest of her career doing karaoke or prematurely release one of those cover albums usually reserved for icons' later years (see: Bob Dylan, Aretha Franklin, and Bette Midler), but something needs to be done with this talent. Maybe she can do a mainstream version of what Cat Power does.

5. No more talking about the past.
(We're looking at you, too, Hilary Duff.) No more talking about Justin Guarini, whom we alllll already knew she dated. And please, for the love of God, no more answering questions about American Idol. Kelly, like Carrie Underwood and Jennifer Hudson after her, is far bigger and better than that show is today. Continuing to associate yourself with it doesn't do anyone any favors (just ask Phillip Phillips), least of all, the season-one winner.