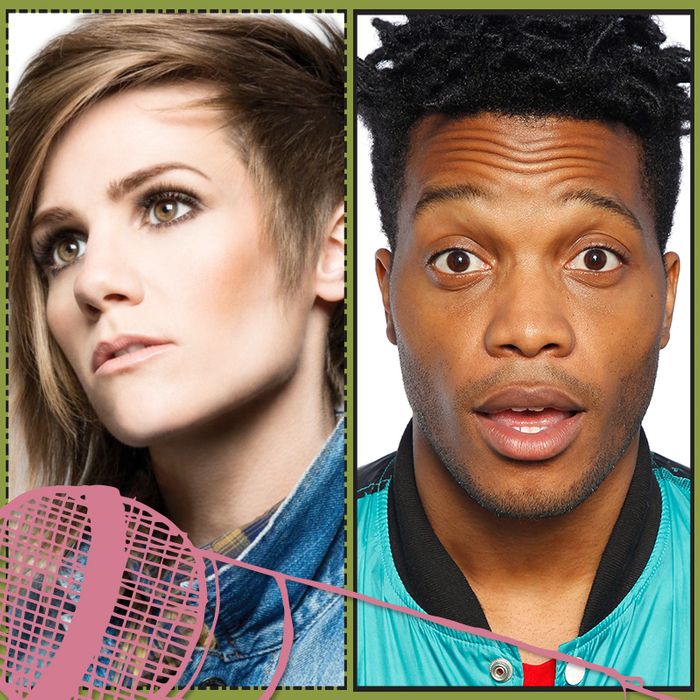 From left: Cameron Esposito, Jermaine Fowler, Nicole Byer.
Photo: Photos by Mandee Johnson, Michael Schwartz/WireImage and Johnny Louis/FilmMagic
When this post was originally published in 2015, it was a slideshow, as was the fashion at the time. Subsequent CMS migrations have turned it into a standard post — and deleted all the text that accompanied the videos below. You'll just have to take our word that we made very persuasive arguments on behalf of each of the comedians we thought you should know.
Two years ago, Vulture assembled a list of "The 50 Comedians You Should and Will Know." It included names like Broad City, Hannibal Buress, Amy Schumer, John Mulaney, Chelsea Peretti, Michael Che, Tig Notaro, and Katie Dippold — all of whom are now dominating the comedy world. (In case that sounds too much like tooting our own horn, we acknowledge that we missed people like Sasheer Zamata, Pete Davidson, and new Daily Show host Trevor Noah.)
Could there possibly already be another generation of exciting young comics coming up behind them? There could be, and there is, which is all the proof you need that we're in the middle of a comedy boom. With assistance from an expert panel of managers, agents, club owners, late-night bookers, and network executives, Vulture scoured the worlds of stand-up, sketch, improv, writing, acting, and general comedy nonsense to find the following 50 comedians. We steered clear of anyone with a major role on a successful TV show, or any stand-up who has already had his or her own hour-long television special. For each comedian, there's a clip that demonstrates why you can expect to see more of him or her soon. So click to open the slideshow below, and see our comedic future. (The list is in alphabetical order.)
A huge thanks to the following consultants on the list: Tiffany Schloesser, a manager at Odenkirk Provissiero; Mike Berkowitz, comedy department head at APA; Jamie Masada, founder of the Laugh Factory; Fred Hashagen, an agent at UTA; Drew Welborn, an agent at WME; Shannon O'Neill, artistic director at UCB NY; Mike Still, artistic director at UCB L.A., Ryan McManemin, co-founder of A Special Thing Records; Samantha Pitchel, production manager at SXSW Comedy; Jeff Singer, executive programming consultant at the Montreal Just For Laughs Festival; Bart Coleman, senior talent producer at @midnight and stand-up booker at Late Night With Seth Meyers; David Meese, an agent at APA; Thom Hinkle, vice-president of comedy at TBS; Christine Lubrano, senior vice-president of original programming at IFC; and Kate Lambert, vice-president of series development at FX Networks.
Nate Bargatze
Kevin Barnett
Kate Berlant
Guy Branum
Nicole Byer
Neil Casey
Adam Conover
Colton Dunn
John Early
Alex Edelman
Carmen Esposito
Bridget Everett
Fortune Feimster
Shelby Fero
Joe Firestone
Jermaine Fowler
Jon Gabrus
Dan Gill
Gralix
Grace Helbig
Emily Heller
Will Hines
Mary Holland
Tommy Johnagin
Ian Karmel
Katydids
Chris Kelly and Sarah Schneider
Hari Kondabolu
The Lucas Brothers
Aparna Nancherla
Megan Neuringer
Mark Normand
Claudia O'Doherty
Paulilu
David Dineen-Porter
Roast Battle
Phoebe Robinson
Andrew Santino
Josh Sharp
Max Silvestri
Seaton Smith
Beth Stelling
Drew Tarver
Nick Vatterott
Brandon Wardell
Alice Wetterlund
Michelle Wolf
WOMEN
Hampton Yount
Henry Zebrowski