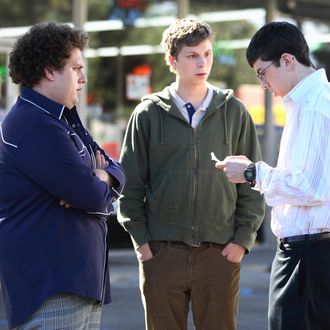 Find out how Christopher Mintz-Plasse got this role.
Photo: Columbia Pictures
Allison Jones, favorite casting director of Judd Apatow and Paul Feig, is the subject of Stephen Rodrick's profile in the April 6 issue of The New Yorker — just ahead of Feig's new Yahoo sci-fi comedy, Other Space, which Jones cast. Jones has been at the forefront of comedy's new "dude humor" wave (as the piece describes it), assembling all-star casts for Freaks and Geeks (for which she won an Emmy), The 40-Year-Old Virgin, The Office, and many of the best comedies on TV and film of the last decade. In her new profile, she reveals some behind-the-scenes facts spanning her entire 30-plus-year career.
1. Christopher Mintz-Plasse won his role in Superbad by sending in a camera-phone head shot.
"She called the director, Greg Mottola, and excitedly said, 'I think I found McLovin; he's like Dill from To Kill a Mockingbird.' Jones told me, 'You could tell he was a kid who probably had seen the inside of a locker.'"
2. The Office cast could've included Kristen Wiig.
"Jones confessed that she passed on Ryan Gosling for a pilot and chose not to bring Kristen Wiig back for a second audition for The Office."
3. She once wrote a script for an episode of Seinfeld that was turned down.
"I asked if she had written a script for Seinfeld. Jones tried to change the subject, then claimed that she could remember only the subplot, which turned on the idea that in 1985 Kramer had been aboard the Achille Lauro when Palestinian terrorists seized the cruise ship. It was Kramer, not the terrorists, who (accidentally) pushed Leon Klinghoffer overboard. Jeff Garlin, a principal actor on Curb Your Enthusiasm and a longtime friend of Jones's, later told me that he'd read the script. 'It was hilarious,' he said … Jones had shown the script to a couple of agents, one of whom told her, incorrectly, that she had misspelled 'George Constanza.' 'They had some stupid comments and I got discouraged, like an idiot,' she said. She once wrote spec scripts for Family Ties and Murphy Brown, but those also went nowhere, and she is no longer writing."
4. Jones was told to pass on Leonardo DiCaprio for NBC's Grand.
"In one, a short-lived TV show called Grand, she had to cast the role of 'wolf boy,' a teenager who was raised in the forest by wolves. The applicants included a young Leonardo DiCaprio. But Jones often chafed at working for the networks. One writer complained that DiCaprio and the other kids 'looked too well-fed.' She brought in Jim Carrey for another project, but his mouth was deemed to be too big. Producers would insist that Jones call agents late at night and inform them that their client need not show up in the morning. She has had to fire Dane Cook and Pauly Shore."
5. She prefers to cast average Joes.
"She found Andy Buckley, Michael Scott's boss on The Office, at a farmers' market in L.A., several years after Buckley had given up acting to become a stockbroker. The Office character Phyllis, a feisty, heavyset saleswoman, is played by Phyllis Smith, who was not trained as an actor; for several years she had worked as Jones's casting associate."
6. Scarlett Johansson and Shailene Woodley were almost cast in Freaks and Geeks.
"She spent weeks trying to get a script to a teenage Scarlett Johansson. A very young Shailene Woodley auditioned, and Jones scrawled 'very talkative' next to her name. The cast didn't meet as a whole until the first table read, to go through the pilot script together."
7. Rainn Wilson was the first actor who auditioned for The Office.
"'Dwight's a really crazy character,' Feig said. 'But he so believes it, he's so grounded, and he's not winking at us. That's what makes you go, 'That's hilarious.' The key is finding people who have a natural governor. I can push them and push them and they won't go into cartoon land.' Wilson was the first actor Jones saw when she was casting the show's pilot."
8. Jones had to fight to get Chris Pratt and Nick Offerman cast in Parks and Recreation.
"Until Chris Pratt met with Jones, he was known only as eye candy on teen shows like Everwood and The O.C., but in a meeting Jones saw an untapped comic side. She took him to [Greg] Daniels for Parks and Recreation … Jones can be sneaky. She had long been a fan of the Chicago actor Nick Offerman and was impressed with his progress as a comedian. She brought him into the Parks and Recreation casting process early, but the producers were undecided. Jones waited a few weeks, then remarked, 'Your instincts about Nick Offerman were good. Let's bring him back.' The producers agreed, and Offerman went on to become the government-hating bureaucrat Ron Swanson, an anchor of the show."