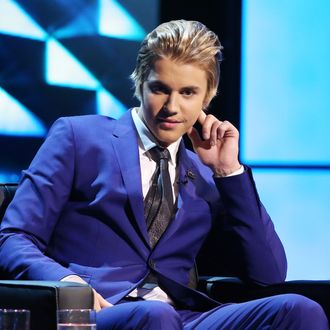 Justin Bieber onstage during the roast.
Photo: Michael Tran/FilmMagic
Justin Bieber was roasted this weekend at the hands of Kevin Hart, Jeff Ross, Pete Davidson, Hannibal Buress, Natasha Leggero, Chris D'Elia, Snoop Dogg, Ludacris, Shaquille O'Neal, Ron Burgundy, and Martha Stewart. It was wildly inappropriate, as expected, but it was for a good cause. Bieber said he would use the skewering to signify a turning point, noting that being a young star made it tough not to hit things with his car, throw eggs at people's houses, and pee in public. "The things that I've done really don't define who I am. I'm a kind-hearted person who loves people, and through it all, I lost some of my best qualities. For that, I'm sorry," he said. "What I can say is I'm looking forward to being someone who you guys can look at and be proud of." Lots of blue humor burns prompted the apology.
Here are some of the harsher ones — you can catch these and the ensuing reactions on March 30 on Comedy Central.
Kevin Hart
"Justin's Canadian. He's actually considered American, because no Canadian has ever been this much of an asshole."
Pete Davidson
"My cast mate on SNL Kate McKinnon does a perfect impression of Justin. Perfect. Right down to the clit."
"Usher is the one who took you under his wing. You're the worst thing that Usher has done to America, since the guy who sat John Wilkes Booth behind Abraham Lincoln."
Ludacris
"The Brazilian prostitute that claimed she was with Justin told the news that he was well endowed. And that prostitute would know because so was he."
"You're not tough, Justin. I'm here to let you know that. I know you've been on Ellen 14 times. You act so much like a pussy on the show, Ellen tried to eat you."
Natasha Leggero
"Justin's fans are called Beliebers, because these days it's considered politically incorrect to use the term retards."
"Justin, Selena Gomez had to fuck you. She is literally the least lucky Selena in all of entertainment history."
Shaq
"Last year you were ranked the fifth most hated person of all time. Kim Jong-un didn't even score that low, and he uses your music to fuckin' torture people."
Chris D'Elia
"Why are you here? This is a terrible idea. You're about to get fucked harder than Orlando Bloom fucked Selena Gomez."
"You're such a bitch, you have a bigger clit than the one Bruce Jenner wants."
"I'm proud of you. You have it all. You literally are a guy who has it all — except for respect, love, friends, good parents, and a Grammy."
Ron Burgundy
"This kid has spunk, moxie, and probably a few other STDs."
"People refer to Mr. Bieber as a kid or a boy. Well here's a news flash, gang: He's a man. A full-grown man, who works and loves and makes things with his hands. A man who sings songs for 9-year-olds and cuts his hair like a gay figure skater."
Martha Stewart
"Justin, you have no idea what you're in for. I'm sure it's great to have 60 million followers on Twitter, but the only place people will be following you in jail is into the shower."
Jeff Ross
"You've become a cocky little shit. You are the King Joffrey of pop."
"Selena Gomez wanted to be here, but she's dating men now. Is it true you dumped her because she grew a mustache before you?"
"If Anne Frank had heard your music, she would've Uber'd to Auschwitz."
"Lately a lot of people have been pointing their fingers at you — and those are just lesbians showing the barber how they want their haircut."
Snoop Dogg
"You have left so many horrible and unwatchable videos, you should change your name to Vanilla ISIS."
"When you get to the county jail, hear me, you're gonna be the first dude who ever had a girlfriend and a boyfriend named Gomez."
Hannibal Buress
"I hate your music more than Bill Cosby hates my comedy."