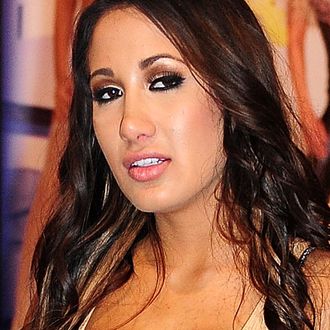 Adult actress Amia Miley.
Photo: Gustavo Caballero/Getty
HBO's "pervert exec" strikes again! According to The Hollywood Reporter, adult actresses Amia Miley and Peta Jensen have been cast in the second season of True Detective, and will be featured in what THR is calling a "deliriously vast orgy sequence" full of "Eyes Wide Shut–caliber sex antics." Weirdly, THR notes that the two oft-naked actresses don't actually get "totally naked" themselves and it's an open question whether Colin Farrell and Rachel McAdams (who were also present) will also keep their clothes on. Everyone else, though? Naked! The orgy will likely be connected to the season's inciting incident, the discovery of a dead city manager "who had a penchant for rough sex and may have been involved in the occult." If they can do it all in one shot, we'll be really impressed.