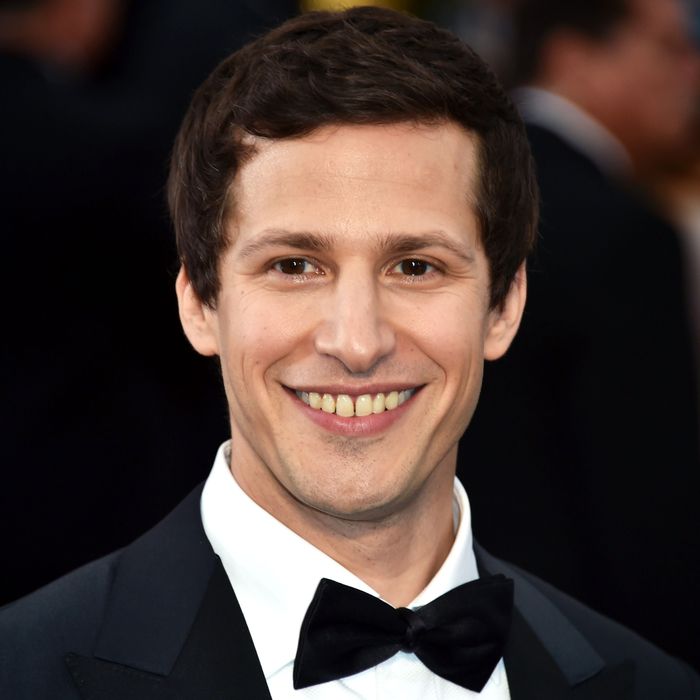 Andy Samberg poses on the red carpet for the 87th Oscars on February 22, 2015 in Hollywood, California.
Photo: MLADEN ANTONOV/AFP/Getty
Brooklyn Nine-Nine star Andy Samberg has signed on to host September's Emmy Awards, Fox and the TV Academy announced late Thursday. Samberg's selection marks the second consecutive year the job has gone to a Saturday Night Live veteran (Seth Meyers did the honors last year). Samberg had been considered a strong possibility for the gig ever since Fox renewed Brooklyn Nine-Nine for a third season in January, as networks prefer to have someone from their home team handle the Emmy job whenever possible. (Glee's Jane Lynch hosted the Emmys the last time the show aired on Fox, back in 2011). There's no word yet on who will produce this year's ceremony, though it wouldn't be surprising if Samberg enlists his Lonely Island colleagues Akiva Schaffer and Jorma Taccone to at least help with the writing — particularly since Fox has an overall deal with the Island guys to develop comedy projects. The 67th Annual Emmys will air on Sunday, September 20, on Fox, as part of a round-robin deal that has the award show rotating among the four major broadcast networks.