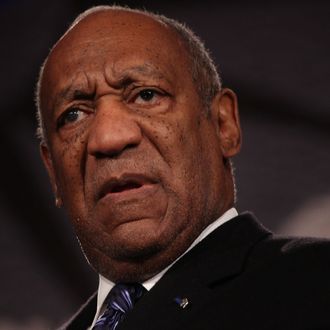 Bill Cosby.
Photo: Spencer Platt/Getty Images
The latest in a long and growing list of Bill Cosby accusers came forward on Tuesday. A 58-year-old woman named Patricia (last name undisclosed) from Andrea Constand's 2005 civil lawsuit tells BuzzFeed that Cosby drugged and sexually assaulted her on two separate occasions. The first happened in Massachusetts in 1978, when Patricia was 22, after Cosby invited her over to his family home for a dinner party that she thought would also include Cosby's wife, Camille. Instead the two dined alone, with Cosby offering Patricia a mixed drink that later caused her to "black out" after he requested that she "pretend to be an elegant queen with oatmeal dripping all over her face." Patricia says she ended up naked in his guest bedroom but "doesn't remember much."
The next incident happened two years later, in 1980, after a live taping of The Dinah Shore Show. Patricia says Cosby asked that she style her hair in a teased bun so she would look like Queen Noor of Jordan. "He was obsessed with her," she says. Following the show, Patricia says Cosby wouldn't speak to her unless she took pills to "relax her." After she did, Patricia says she woke up naked again, "with her hair and makeup a mess." "I was very sick and knew that someone had penetrated me," she says. Patricia is now the 30th woman to come forward.