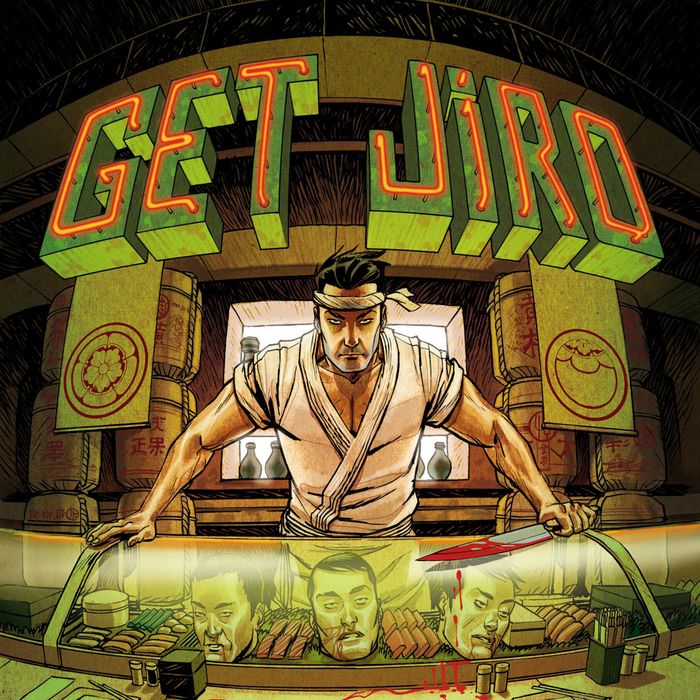 Cover of Get Jiro: Blood and Sushi.
The restaurant world can be cutthroat — and in the dystopian culinary world of Get Jiro!, if you insult a chef, your throat might literally get cut. In 2012, writers Anthony Bourdain (yes, that Anthony Bourdain) and Joel Rose, along with artist Langdon Foss, released a tongue-in-cheek graphic novel following the adventures of a stoic warrior-sushi-chef named Jiro. Entitled Get Jiro! and published by Vertigo, the comic was a lysergic mixture of Top Chef and The Warriors, filled with kitchen wisdom and ultraviolent warfare between rival Los Angeles cooking gangs. Improbably, it was a huge hit.
And now Jiro and his deliciously over-the-top world are coming back. We're pleased to exclusively announce that Vertigo has tapped Bourdain and Rose to write a prequel, Get Jiro: Blood and Sushi. Illustrated by longtime superhero comics artist Alé Garza, the graphic novel will take place in Tokyo, years before the L.A.-set events of the first volume. According to the official description, Blood and Sushi "tells the story of how Jiro's two worlds collided as he worked for his father's mob, yet pursued his love of cooking at night to become a chef." Here's the wildly violent, decapitation-heavy cover: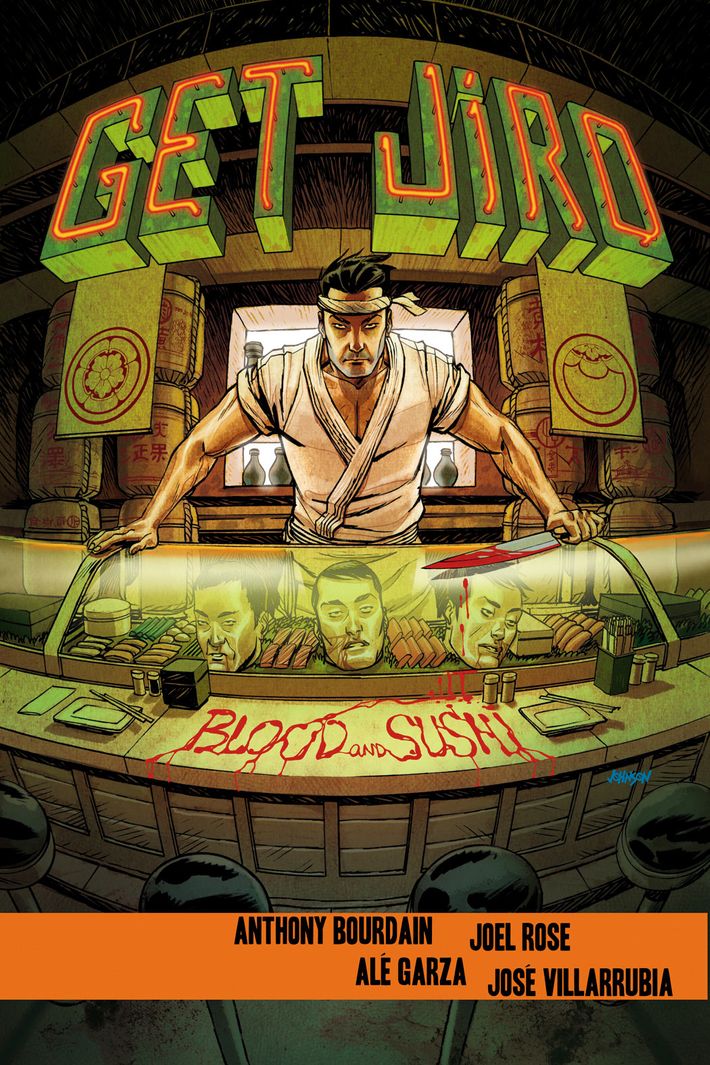 Why return to the battling-cook genre? In a statement, Bourdain said he had unfinished narrative business with Jiro. "Where did my ultraviolent sushi chef hero from the previous book come from? What if you were brought up in a family where murder is acceptable practice and making the best sushi on the planet is a shameful secret?" he said. "I wanted to take the story back to its beginnings in Japan (albeit a slightly in-the-future, dystopic Japan), and indulge my own enthusiasms for both the place and the many classic genre films that have been made there. This is fun for me."
Get Jiro: Blood and Sushi hits stands on October 20. Get your chopsticks ready.