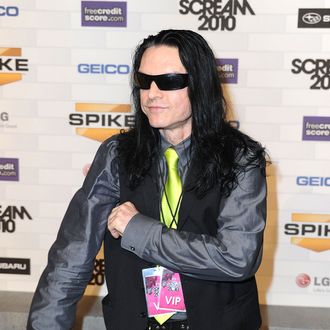 Tommy Wiseau.
Photo: Frazer Harrison/Getty Images
Well, we met Jonah Hill at a grocery store and seth rogen. The others I thank them for support and I support their projects as well.
Well, you have to think positively, number one.

And do what works for you, number two. Stretching, you can do all kinds of different stuff. Some people can not do 100 pushups, they get tired, but I can. I don't encourage people to do something that hurt themselves. Enjoy yourself and think positively. If somebody is negative, just let it go, you know? Don't listen to something negative, let it go.

Yes. Yes. I can do pushups. Sure! I can do 100 push-ups, at least.
I was born on Planet Earth.

Moveonnextquestion.

And I'm American, and proud of it.
TIGER.

Why?

Because I love tigers. They are very vicious. And sometimes I am very vicious too.
Yes absolutely. And it's also misleading, because several articles, they say I don't drink it, I do drink hot water. It's very refreshing.

I do order, yes! Absolutely!

Well, THE NEIGHBORS we actually developed a different situation. THE ROOM is based on 800 page novel I never published. I condensed everything from play to script, again, this is the thing I am very proud of, I am very proud of THE ROOM, I'm very proud that people enjoy it. Yeah, absolutely, THE NEIGHBORS, I wrote it 7 years ago, you can still see proof on YouTube, some of the clips, courtesy of Wiseau films, I "let it go" as you say, and Ceecee, I think THE NEIGHBORS relate to American culture. It's too bad that some people don't understand entertainment… I hear the stories that some people are very negative, but I'm very proud of it.
GREAT Question!

First of all, you can compare Lisa to Eleezabeth Taylor, to when she did CLEOPATRA. The ladies, they don't have to wear jeans, they can wear dresses to be very powerful.

So Lisa's character is very powerful. She represents American society.

So that's my answer. Move on, next one!
Well, I cannot promise you that but i eventually doing a ROOM prequel in 3-D, and the jacket you will enjoy it, so… Yeah! Of course we doing prequel, eventually. But you don't have to buy a jacket if you don't want to.

But you'll enjoy it. I'm pretty sure.
Well… as I said before, hopefully next year, MAYBE.
Yes. We are doing sequel. And also 3-d, eventually.

Yeah, I am working on new project, it's called THE FORECLOSURE, we will be casting soon, we have already soon, and we have a vampire movie. And THE NEIGHBORS, we have 12 episodes of THE NEIGHBORS.
I can do both.

Moveonnextquestion!
Well, we talk, but actually, probably, we just released a script, original script, available, THE ROOM, original one, because there was a lot of controversy, agin, I'm sorry for some of you guys in America we call "douchebags" - I've been filming the past 20 years, shame on you who are bashing THE ROOM as well as the actors in THE NEIGHBORS. It is new entertainment, and people reallyreally enjoy it. That's all I'm gonna say, moveonnextquestion.
GOOD QUESTION!

We use a red camera, and for your information, we used 2 cameras, actually we had 3 cameras we'd be using. Again, for some of you, I don't want to be neg-a-tive, but some of you who write articles, it's very disrespectful, you don't write a question but just blog about it in a negative way.

I think THE NEIGHBORS can beat any sitcom in America okay?

I hope that you support good work in America, by supporting me.
Well, we on the same page.

I love this quote.

And also, "WHAT A DAY!" I like that one. It's from Charlie, in THE NEIGHBORS.

And also, I see across America, people quoting me. "OH, WHAT A DAY!"
They were all dinosaurs, you know? I mean, it's always something weird. I have little dinosaurs in my house, yes.

Plastic ones.

I love dogs. And by the way, that was a real dog, from the owner of the flower shop! And I want to clarify this, the dog made $100. The dog was under contract.

I love animals.
Well, I find myself - I like - James Dean, Orson Welles, Elizabeth Taylor and Clint Eastwoods.

I think Clint Eastwood's a hero of mine.

The same way people can learn from me.
Yes, I am, because as you probably kneow, DISASTER ARTIST is not 100% correct, and some people - again - are very disrespectful of my lief. How dare you to bash me, to say negative things about me and my life when you don't even know me? Shame on you.

So yes, absolutely, you know. We in America, you know, we have very dedicate people, from New Orleans, and some of the function that people have are completely disrespectful. Shame on you if you blast my project. We are very dedicated to our art - shame on you, I would say, again! You know who you are!

And also you can add, about script, how dare you say that was not the script on the production of THE ROOM. How are you have powers to criticize someone you don't even know? When you say it's not a camera, or we have only this one camera, or this one or that one? Shame on you.

Move on, next question.
And also I want to say THE ROOM connects the way THE NEIGHBORS connects.

I want you guys to have fun with it! To enjoy it! Exaaaactly. And we have great support from Hulu.
Okay! That's good question!

Well first of all - if you look at background, you work hard, you make money. It's no secret, okay? You work VERY hard, you make money.

Well I work very hard, 24/7, several days a week, okay?

And the specific how I make monies will be in book. THE DISASTER ARTIST by Tommy Wiseau, when I write it soon. Yes.
High school.



I would say, think about 20% FIRST before you get to 100%. If you think about 20%, you will get to 100%. With original material, if people say negatives about you, let it go, move onto something else.
Well, I enjoy it. Except some people did not.

Again… let me say, backstory lil bit, is misleading some people who write books of statements, because we run, two weeks running, because of Academy Awards, we have contract with the theater, and after 2 weeks, i receive many emails asking to run again, that was the screening in Wilshire, Los Angeles, they're calling screening room? And after that we got in trouble with Fire Marshall, because so many people show up.

And because we express ourselves- some people are "douchebags" they don't know what they are talking about. So we got in issue with Fire Marshall, I call theater, I say "Can we work with you" and we got great support, he say "it's always available midnight" so we take whatever he give us, so that's how it started.

So those of you who discredited my campaign for THE ROOM, again, shame on you.

And Victoria, I am sorry, I have to express myself. It's appalling that people can discredit my work as well what we doing here now with the Hulu. Anyway, move on, next question.
Well, my favorite project, you know, i was designing underwear! Believe it or not, I designed clothes many years ago, I had dozens of stores in Bay Area years ago, which I closed to become an actor, but I love designing stuff, fabrics. So I was passionate about THE NEIGHBORS. And I'm very passionate about what I am doing. I am in Los Angeles right now, great success, and the Hulu people reading this, I would like to say thank you to them, to Revolver Entertainment who give us support, and I am very happy, basically TV is what we want to do, so I am very passionate with what I am doing. I just work everyday, so…
Mmmm. STREETCAR NAMED DESIRE. Tennessee Williams.
I enjoy it erryday!