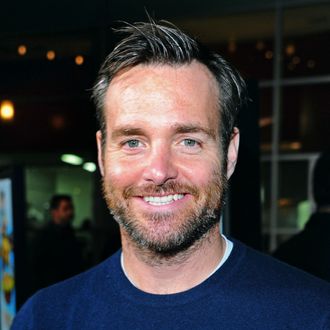 Will Forte.
Photo: Alberto E. Rodriguez/2012 Getty Images
To promote the series premiere of his newly minted Fox show The Last Man on Earth, Will Forte participated this weekend in a mostly silly (but also very genuine) Reddit AMA. Amid a flurry of dick and rectum jokes, the SNL alum revealed he's pushing for MacGruber 2 to happen ASAP, he wants to invent a breakfast burrito cereal, and he loves that bomb of a "fart face" sketch. But he did talk a lot about his body parts, including his beard, which he grew out for half a year. Dedication. Here, in no particular order, are Forte's best answers from the session:
What's Forte really like?
Hard to say. As weird as I appear at times, I live a pretty normal life. I hate Hollywood bullshit and avoid clubs and premieres when I can. HATE red carpets. Love my family with everything I got. Love hanging out with my niece and nephew and just going out and getting breakfast with my friends. What a dipshitty answer! But the gosh darn truth
Dilemma alert: 100 duck-size horses or one horse-size duck?
Easy. 100 duck sized horses. Way more super tight horse vaginas.
When asked to FMK Tina Fey, Rachel Dratch, and Maya Rudolph, he revealed he's basically a polygamist:
Marry all, fuck all, kill none! Those are three amazing women there!
Just kidding, he's into monogamy:
I will never cheat on my celery. I am a one vegetable man
What's the biggest thing he's put in his butt?
My third largest finger. And thanks for the support! Hope you like the show!
On #thedress:
I think it's blue and grey. You?
He has a dirty penis, but doesn't let that get in the way of him shaking fans' hands:
I absolutely remember that and I'm not just saying that. That happens all the time because I'm always washing my hands. I have a very dirty penis so every time I touch it, I wash it for other people's benefit.
Who should take over The Daily Show after Jon Stewart leaves?
Golfer Jon Daly
On the pain of "Fartface":
Oh, for sure people were not enjoying it. But I love that sketch. Loved hearing Bill tell the story on Letterman. It really was scary going out there. Like we were going into battle. But I watched it the other day and I gotta say, I think it's really funny. maybe that's why I've never really been in anything that anyone's ever seen. By the way, I think it was New York Magazine that came out with a list of the top ten SNL sketches of that year and somehow Fartface was on their list.
He has unfortunately never seen the infamous Boner Ghost:
I've never seen him but have come in contact with so many friends who have seen him. I have come sooooooo close to seeing him. So many times, I'll leave a room and he'll show up immediately after. One day, I'll see him and maybe I can lift that sheet and see if the curtains match the drapes and there is the same color sheet surrounding his ghost dick
He doesn't have a favorite cereal because …
It doesn't exist – I want a breakfast burrito cereal
He has a professional/aspirational crush on Will Ferrell:
Everything Will Ferrell ever wrote – that guy is the best of the best. And a true gentleman as well
When asked about his favorite books, he fake-upset some people:
In America, New Orleans. Outside of America, Positano, Italy. Favorite movies: The Jerk, Jaws, Godfather, Sound of Music, Graduate. Do not read books and do not want others to either. Snack – breakfast burrito

How long did it take to grow his apocalyptic beard?
Excited for you to see it! Took about six months to get the full heft and you didn't even see the worst of it. We trimmed it a little bit before we shot the show. thanks for your support!
On "The Falconer":

Because you are a crazy person like me! It takes a special person to appreciate that one. One of my biggest regrets is a falconer that we didn't get to do during the rainn wilson show. It was a meta version of the falconer in which Donald goes backstage and sees that his whole existence is that of a puppet in an SNL sketch. Maybe one day it'll see the light of day!
SNL used to be a dangerous place, especially if you were going full Zell Miller:
My mom and the wonderful SNL nurse Teresa were scared I was gonna have an aneurysm – holy shit, I spelled that right! – so I took aspirin before just in case. Yeah, it was pretty scary!
He might be on "Comedy Bang! Bang!" again soon:
You know what? I feel awful, you're just reminding me that Aukerman emailed me about it a while back and I never wrote him back! I've been working so hard that my emailing and texting has gone to shit. Thanks for the reminder. I love Scott – such a funny guy – and can't wait to do the show again.
What's his weirdest fan encounter?
Naked guy in the shower asking if I was the guy from SNL and making a point of pointing his penis in my direction as he asked. He really jutted it out there
What's the latest on MacGruber 2?
I don't know! Jorma, John and I have been crazy busy, but we're absolutely gonna write the shit out of that thing as soon as we have time. And we will start to have time in a few weeks. Thanks for your patience. Already have a great outline in the works.
Favorite SNL sketches he wasn't in:
Hi! Cowbell is one of my favorites. Chris Farley's Chippendales dancer. Unfrozen Caveman Lawyer. Debbie Downer.
One more time on "Fartface":
You mean the widely acknowledged best sketch ever written? I still stand behind every fart and every face in that piece of polished gold