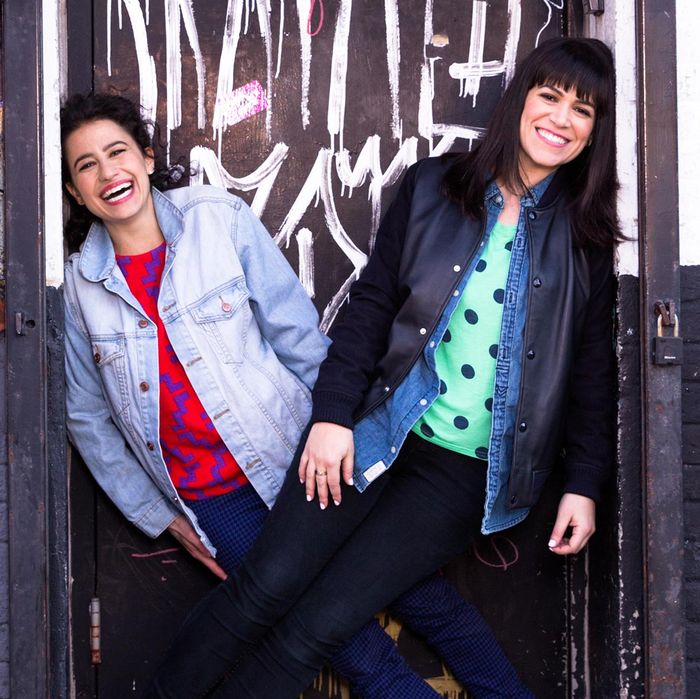 Ilana Glazer (left) and Abbi Jacobson (right).
Photo: Jason Rothenberg
Broad City's Abbi Jacobson and Ilana Glazer have already graced the cover of New York Magazine in a sweater for two, and stormed our pages with tales of subway farts and the sweaty mishegoss that is living in this crazy town. But the two days they spent with New York — at dinner at ABC Kitchen, the Cut's fashion party at the Gramercy Park Hotel, and coffee in Greenpoint — yielded far more goodness, laughs, and stray observations than could fit in any one magazine feature. Ahead of the season-two finale of Broad City tonight, here are Abbi and Ilana on what makes them nervous, dating blues, and the original Bevers.
1. The original Bevers is Abbi's best friend. Abbi's roommate's terrible boyfriend who never leaves their apartment, played by John Gemberling, is named after Abbi's best friend, Jess Bevers, who just moved to Belgium. "Yeah, we made her the least likeable character on the show," says Abbi, laughing.

2. Bevers's absent girlfriend is a Frasier reference. Abbi's always-absent roommate is a bit of an homage to Maris Crane, Niles' always-absent wife on Frasier, one of their favorite shows.

3. Their characters' love of Bed Bath & Beyond is real. "Yeah, people think that, like, those are paid sponsorships and it's not," says Abbi. "Like, we pay to shoot in there." Abbi's mom worked at Bed Bath & Beyond when she was in middle school and high school, which is how she knows that their coupons never expire, despite having an expiration date. The episode in the show where Bevers throws out all her BBB coupons because they've expired actually happened to Abbi with an old roommate. "We're not supposed to say [that the coupons don't expire] anymore," says Abbi. "I think we said it too much." But Ilana can't help but give a shout-out to their three-wick candles, which she buys in bulk and carries in her bike basket back to the East Village. "They also let you return shit at like any fucking time," says Ilana. "It's a great store."

4. They're also their show's executive producers, which means stepping in occasionally to wrangle locations and talent. When their location manager couldn't make headway to shoot at the Gowanus Whole Foods, Abbi and Ilana got through by tweeting "Let us shoot there" over and over until Whole Foods caved. They nearly got Diane Keaton on the show the same way. They'd written a scene for her and had given it to her agents, but had no idea whether the agents had given it to her. So they tweeted at her during a time when Keaton had asked people to send her pictures of action-star kisses. Keaton reached out to their manager, who sent her episodes, which she watched. "She still didn't want to do it, but she was like, 'I love the show,'" says Abbi. "It was so cool." They both consider Keaton a big comedic influence. "She's so specific. I love that she kind of plays her range," says Abbi. Ilana likes that "she plays herself, before other people did, you know? I don't really watch Woody Allen movies anymore because he grosses me out, but I still like her part of it. I like that there's something pure for me left there. And something left to learn."

5. They'll be revisiting some of their dirty early-20s hangouts in tonight's finale, which takes place on St. Mark's Place. Back in their UCB days, they spent a lot of time drinking at Grassroots Tavern and renting rehearsal rooms at a place called Under St. Mark's. "You feel like they've been abandoned for 30 years and you're the first explorers," says Ilana. "I feel like people had been fucked in there, like gross, jizzy rooms." (Other hangs included Peter McManus, the Pit, the Half King, KGB Bar, Prospect Park, a place called Buttermilk in South Slope that had a gay country night, and Rififi, which is closed.) Abbi tries to avoid St. Mark's Place now, but they couldn't avoid the inevitable invasion of rats when they shot there. Abbi says she watched a rat run up an extra's shoulders while the extra was sitting on a stoop. "St. Mark's was like rat city," says Abbi. "We knew the rats," says Ilana. "We were like, 'Hey, Bob.'"

6. Abbi has a folder on her phone full of an Instagram project she likes to call "Momin Big Chair." Her mom is tiny, so she started sending Abbi pictures of herself in chairs big enough to dwarf her frame. Now it's morphed into her mom with anything big: Mom With Big Shoe, Mom With Big Vacuum Cleaner. The most recent photo her mom had sent of herself in a chair, Abbi said, "I actually was questioning if it's big enough." "That's an average-size throne," Ilana assessed. The dream is to get a picture of her on the gigantic chair outside the Pacific Design Center in L.A., though that would likely require scaffolding, a ladder, permits, and lots of money. "Her mom is, like, naturally a baby," says Ilana. "She's sensual and happy and sweet and, like, glowing, you know? There's something about her where you never fully grew up. She always retained her inner child. She's an amazing person."

7. They still get nervous about talk-show appearances. "You don't get to meet the host beforehand," says Abbi. "You meet them onstage, and then it's just like you have five minutes to be your most charming self and that's it." "And afterwards," says Ilana, "you're just like, 'What happened? Was I lucid?' It's so weird." Because they basically black out during the show, they have to watch it later to know what happened. Watching back their first talk show appearance ever, on Jimmy Kimmel Live!, dressed in, respectively, gra and orange tuxedos with top hats and tails, à la Dumb and Dumber, Ilana says, "I was shitting a brick. I was shedding skin watching that. I think it went great. I was just freaking out."

8. They're going to be in a sketch on Inside Amy Schumer. The second time we met, they'd just finished filming it in Greenpoint. They play two annoying white girls on a couch suspended in the universe. It's a riff on "just the idea of how people say, 'You know what? I'm just going to put it out into the universe and we'll see what comes back,'" says Abbi. "So it's putting out being out in the universe," Ilana explains, sort of. Bill Nye is also in the sketch, but they didn't get to meet him.

9. Ilana has no problem with nudity. "I find my body very funny. Floppy boobs bouncing around is funny, know what I mean?" she says. When she got to do Ilana's back-bending side-job as a nude model in Abbi's art class, she had a blast. "Like, I get to be that crazy and that stupid confident. So it's like fun. It's like a roller coaster." But she freaks out before every make-out scene, even the ones with Hannibal Buress. "I feel like the make-outs are more genuine or something," says Ilana. "I don't even like hand-holding. My hands are super sweaty. I get very nervous about that." Abbi, on the other hand, loves a good make-out scene, and was pretty happy about the ones she had with Seth Rogen in the air conditioner episode in season two. "I was like, 'All right, I'm going to be kissing Seth Rogen all night! This is so crazy!'" she says.

10. Abbi's inability to say what she wants when she wants to say it stems from problems the real Abbi has with expressing herself. "I think the show gave me much more confidence than I had a couple years ago, but when [Ilana] met me I feel like I was much more insecure," says Abbi. In real life, we usually have to push past those insecurities to get stuff done, but on TV it's more funny to fail.  "Yeah, I'm not having fake phone calls with myself, but it's sort of like just that feeling of wanting to," says Abbi. "Same thing when someone thinks you're odd, and the feeling of wanting to get away. But on TV I get to, like, actually roll away" — which Abbi actually does, rolling down a hall, while high in a children's dentists office. "You know, I don't do that."

11. A characteristic of real Ilana that they've exaggerated is her sincerity. "It took a while for us to connect because I think I'm pretty sarcastic in real life," says Abbi. "And when we started out, you wouldn't, like, get sarcasm." "I'd be like, 'Really?'" says Ilana, "and she'd be like, 'No, I'm joking.'" So Ilana's inability to understand sarcasm becomes a joke on the show. "It's comedy logic: 'If that, then what?'" says Ilana. "If she's sincere then she doesn't understand this. If she's insecure then this happens." Such as when Ilana takes Abbi's suggestion about making money nude modeling seriously. "Ilana's thinking, 'Yeah, she's telling me to be a model!'" says Abbi. "Yes, Ilana would become a model in Abbi's class and she'd be like, 'Abbi, she would want this! I'm in her class now!'" "Your reaction is my favorite part of it," says Ilana. "Cracks me up, that deadpan stare. She's like, 'Bitch, what are you doing here?'"

12. One of their arbitrary comedy rules, says Abbi, is "that if you put something down, it gets taken away. It's, like, stolen immediately." It came into play in the episode when Abbi buys an air conditioner and they leave it on the sidewalk for two seconds to find a cab, and it's gone. "There's a little bit of a late '70s to early '90s New York [in the show]," says Ilana. "I haven't had shit stolen like that recently." "The absurd part is that it would be very difficult to run away with an air conditioner," says Abbi. The joke stays light because Abbi isn't destitute without that air conditioner. She had enough money to buy the one; she just doesn't have enough to buy another. "It's not like she's missing her rent because she bought the air conditioner," says Ilana. "It's just fucking annoying. And that's the humor." Which brings us to another one of their rules: "We talk about starting off with a mundane task or thing you need to do, and it snowballing," says Abbi.

13. The idea for the episode in which Abbi "pegs" her longtime crush, Jeremy, with a strap-on dildo came from a high school friend of Ilana's. "This hugely Ron Swanson type" who's a feminist and is into it. It was his girlfriend's idea, "then he was like, 'This is cool,'" says Ilana. "Because it's like, 'No shit it's cool.'" Since the episode aired, the women say several people have thanked them for introducing pegging to the mainstream, including a woman who works on the show and used to do it with an ex-boyfriend.

14. Ilana's constant attempts to make her relationship with Abbi sexual on the show came from Jacobson. "I'm not that way at all," says Glazer, "and Abbi's like, "We have to put this in the show." But Glazer gets it. "I'm very much, like, a lover. I don't know, I think it's a form of friendship, just me complimenting Abbi and her just wishing it were sexual. My friends are the sexiest people I know, right? They're the smartest, coolest, hottest people I've ever met. So I think it's a mentality of fucking your friends. And also, like, big deal." "I think Ilana on the show is interested in everybody in that way," says Jacobson. "But because they're so close it's really like just a different level of interest, like, what would that be like?" "She's just experimental in general," says Glazer. "And throwing it out there just to see. You never know when that switch will change, I guess."

15. Abbi is single, but dating is tough because she can't be on any online sites or apps. "I would be so self-conscious that people were just going out with me to be like, 'I had sex with a girl from Broad City,'" says Abbi. So she tries to date people she knows or has met through functions or friends. "I feel like I always have to be the person who initiates it. It's kind of freeing because I don't care," she says. "I'll see what happens and if it's a rejection, it's like, 'I'm not in love with you. I was just asking you to get a drink to see if I'm in love with you.'" She goes on. "I'm kind of always someone that I'm not really hit on a ton. I've always had to do that, so now I actually am okay with it. Before it was always like, 'Aaahhhh!' — before I was Abbi off the show. It's hard out there for a pimp, right?"

16. Ilana asks lots of questions, which is unusual for an interview subject. It seemed to calm her down for her interviewer to become a known entity, plus it made me feel good. She has an outgoing anxiousness and a tendency to move around a lot while she sits, while Abbi can sit still for hours without complaint even though she had a cold and was probably miserable. Ilana noticed my clothes and complimented them piece by piece. She also took note of my food ordering and gave me my own (correct) running theme: "Oooh, this girl can't get enough spice! Jada Yuan cannot get enough spice. That's what people say about her." When we met up again a couple of days later, Ilana told me with a smile, "I was thinking about seeing you today. I was like, 'Loves the spice, Jada Yuan. Girl can't get enough spice.'"

17. Ilana isn't feeling nearly as horny as her character lately. "It does go up," she assures me. "I think it's the weather right now. Because I just get naturally glum in the winter and I think my body is responding to the cold. It might be that." I confess to her that I'm feeling the same wane in libido. "Come spring, you're gonna be knee-deep, Jada!" she says. "Knee-deep in spicy food and spicy men. You're not going to be able to write a thing!"
Correction: An earlier version of this post incorrectly identified  John Gemberling as Josh, and Niles Crane as Nigel.