There is a certain vision of New York City as a playground of potential that exists only when you arrive, in your early 20s, from someplace smaller, be it Long Island or Main Line Philadelphia or Missoula, full of vim and self-delusion and a youthful inability to differentiate between the two. Every day is a hustle, an adventure, fast derailed by the sheer, comic difficulty of actually living here. And yet you forge through the dog shit and broke-ass-ness and graceless encounters with hookups past, fueled by optimism and perhaps an unusually ingenious best friend, until … something like victory. Which, by this point, could be just making it to your subway stop. Comediennes Abbi Jacobson and Ilana Glazer have a name for this. They call it Broad City.
Broad City is not just an idea about blind ambition and the way young people stumble their way toward adulthood. It's also the name of a television show that, in just its second season on Comedy Central, has come to stand in for that entire period of growth — which in turn has made best friends Jacobson and Glazer, as its stars, writers, and executive producers, playing exaggerations of their younger selves, into the crop-top-wearing mascots of bouncy-castle, post-Bloomberg New York. "Broad City is very sweaty," says Glazer, 27. "It's a Rube Goldberg machine of fuck-ups." Both on the show and, to a lesser degree, off, she is the aggressive, curly-haired ball of ideas pulling the more reserved, cautious Jacobson out of her comfort zone. "You know the Yiddish term mishegoss? It kind of means 'bullshit,' " Glazer goes on. (Actually, it's closer to "craziness," but the point stands.) "Broad City is mishegoss that you don't want to be dealing with in this moment. It's very sweaty," she reiterates.
Not that the sweating ends when you get a TV show. When I first met the women, I was struck less by their bantery, post-improv rapport than by their edge. They've spent a decade getting knocked down and rebounding with a laugh, which has made them both fierce-seeming and protective of their hard-won current place in pop culture, while still reaching for a better foothold on more permanent ground. Once a hustler, always a hustler.
"The amount of times we have sprinted, unnecessarily, to get to things is ridiculous," says Jacobson, 31. "You can plan and plan to not deal with the mishegoss, but your planning was wrong all along to get you to the thing." They tell me about how, just days ago, they were trying to be super-professional and had shown up way early for a meeting about their first movie (they'll be writing it during a Broad City hiatus and won't be starring in it, "which is so dope and so much more baller," says Glazer), only to realize 20 minutes after the meeting was supposed to start that they were in the wrong location, inciting a mad dash through slush, Midtown East, and Grand Central Terminal. It was pretty much a real-life re-creation of the season-one episode tracing the pair's valiant yet fruitless attempts to get to a Connecticut wedding via two train lines, Citi Bikes, taxis, a rental truck, a Chinatown bus, and, yes, plenty of sprinting. But as soon as the meeting was over, Glazer says, "we were like, 'This is gold!' "
Broad City is often compared to Girls because both depict early-20s female friendships in New York, but tonally it's much sweeter, more like the exhibitionist little sister of Seinfeld and Laverne & Shirley. The characters are fun and fresh: horny, sometimes bi-curious young ladies, rolling joints and scraping by, keeping it casual with the men in their lives ("I'm a Vulvarine!" Ilana shouts, aghast, when Abbi suggests she might be in an actual relationship with Lincoln, her dentist beau) while reserving their most raging affection for each other. The show's architecture is classic buddy sitcom, albeit with lots of boob flashing (behind blur bars, because Comedy Central isn't HBO) and real talk on important matters like what to do when it seems like you may have peed out a condom. This raunchiness is not the only reason the show seems so contemporary. It's also just crazy-liberal enough to reflect the way millennials view the world, with no presiding sexual norms, no judgment on experimentation, and with diversity among friends and in the city at large that doesn't feel like a quota — presented in a way that acknowledges the heroines' skewed perspective without trivializing the greater difficulties of others. When the gang goes to celebrate the naturalization ceremony for Ilana's immigrant roommate, Ilana exclaims, "Isn't it great to live in a country where our ancestors passed through Ellis Island?" "Uh, mine didn't," says Lincoln, played by Hannibal Buress, who is black.
Onscreen, Abbi and Ilana bond over co-dependence and lack of boundaries (in the pilot, Ilana video-chats Abbi while riding Lincoln). Offscreen, the thing that ties them together is a very virulent strain of comic ambition, one that shines through, especially when they talk about the show not as a lark or an actualized dream, but a serious, multi-limbed showbiz proposition, the two stars its world-conquering maestros as much as its public faces. Here in New York, they already seem to have attained the status of icons. As we walk near Gramercy Park on a chilly February night, a beautiful black woman serenades them from across the street with a tune of her own creation: "Broad City is the best in the wo-orld!" Jacobson's favorite fan encounter of late was a 50-something woman who spotted her in a deli near her apartment, and told her she loved the show. "I was like, 'That is the best!' " says Jacobson. "That is the best compliment, anyone that's not my demo."
"We're so grateful for our demo, but there's something that feels good about reaching someone that doesn't look like you," says Glazer. "It's like the city is saying, 'Good job, Ilana. Good job, Abbi.' Like the city just keeps patting us on the tush."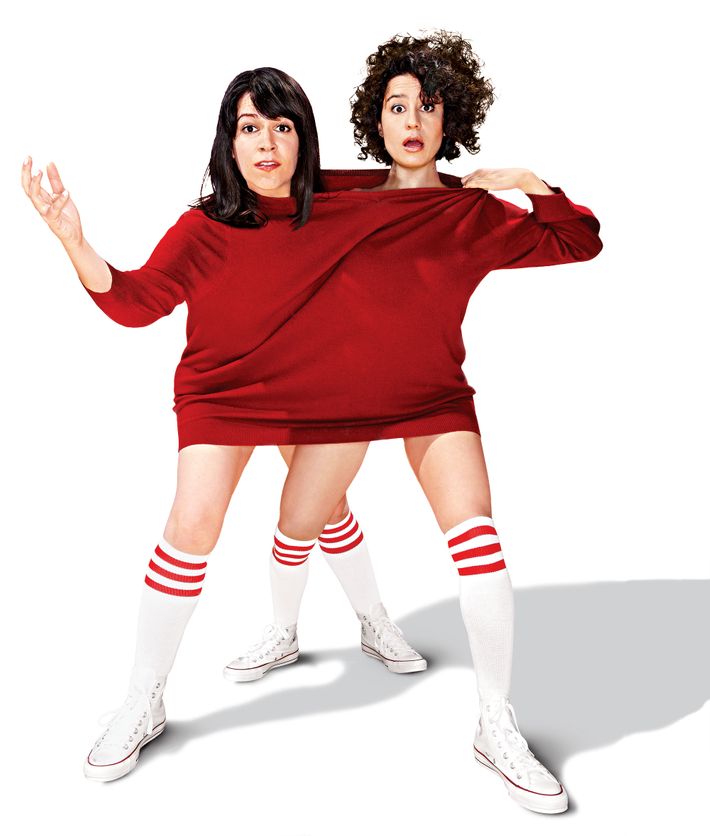 We're talking about someone else's tush, loudly, over the din at ABC Kitchen. In a critical episode this season, Abbi finally gets together with her longtime crush and, after a minute's hesitation, gamely "pegs" him with a strap-on, then watches their relationship implode when she melts the dildo in his dishwasher and replaces it with a knockoff. "The strap-on wasn't the joke. The caring so much about materials kind of was," says Glazer. "But, you know, people peg. It's cool." "I've never done it," says Jacobson. "Yeah, me neither," says Glazer. "I'm, like, dying to."
A plate of butternut-squash toast that we haven't ordered arrives. Is it a standard freebie, or a mild perk of being newly recognizable? The fudgelike dessert Popsicles we get later seem definitely the latter, and Glazer says she once saw an interview in which the singer Robyn said that the best part of being famous is better restaurant service. Jacobson, meanwhile, is laughing about the last time she was in the building, checking out ABC Carpet & Home, and wandered for ages in search of a bathroom. "I was so ashamed to, like, ask somebody, because I didn't want someone to think I was just in there for the bathroom."
It can be disconcerting, living in a nebula of rising fame. Since shooting a scene in Abbi's favorite store, Bed Bath & Beyond, Jacobson has been too anxious to go shopping there. They've just attended their first fashion show, Alice + Olivia, where they were dressed by the designer: another first. They're more secure about their place as veteran stateswomen at the improv theater Upright Citizens Brigade, where their occasional live showis always sold out, and the day after I meet them, they're scheduled to appear on Late Show With David Letterman ("It was wild, just seeing his face in person, close-up," Glazer tells me later); the next week they'll do the Tonight Show. "There's not enough time or mental, emotional bandwidth to process it, actually, so it just remains overwhelmingly amazing, you know?" says Glazer. Jacobson says she doles out her good news to her mother one big item at a time, while Glazer says, "I just call my parents and give them bulk excitement, Costco-level excitement." Both women say they try to give their parents courtesy calls before more risqué episodes, but they've proved unnecessary. "They don't care," says Glazer. "They're like, 'Holy shit! We're watching you on TV. We're so proud of you. We love you.' "
I double-check that they're both Jewish. "I cannot believe you even have to ask us," says Glazer. "That's so cool to me." "That's like being carded!" says Jacobson.
Mid-conversation, Glazer jerks up and starts squinting at the table. "Oops. My contact just fell out," she says. "You guys, it's going to be so gross and truly dirty. Oh! Gross! This is pretty Broad City to me. Contacts just falling on the fucking table." She manages to find the contact and attempts, without success, to stick it in her eye. "Fuck me! Fuuuck!" Does she want to go to the bathroom? "I think it'll be worse. I think I gotta get it in with my eye juice as soon as possible. Just, like, my filthy fingers in my eyes.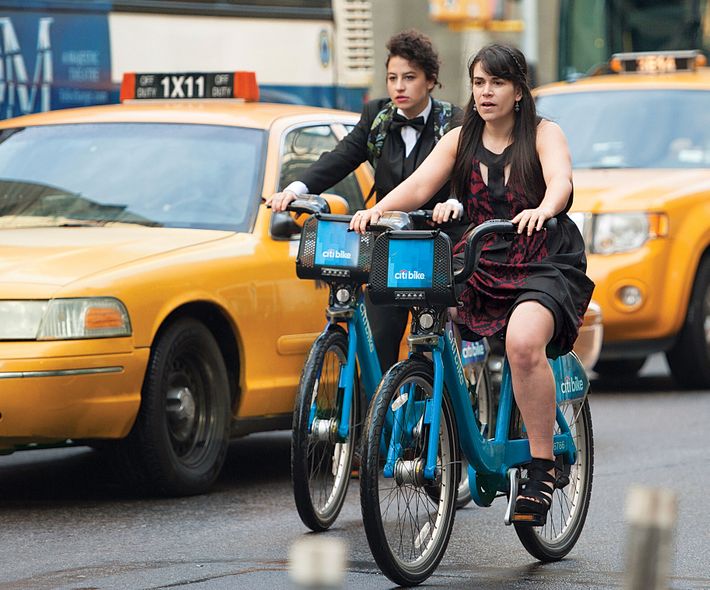 One problem with playing fun females who are up for anything is that Jacobson and Glazer sometimes aren't. "People think I want to blaze all the time with them," says Glazer. "Which is like, I don't. I'm obviously going to be so ­nervous about that right now." She pauses. "Giving us a joint is one thing — I'm like, 'Thank you soooo much.' But when ­people want to smoke with us?" "Everyone thinks we smoke in the writers' room," says Jacobson. "It's like, we would never be able to do anything high!" "We're, like, running a business," says Glazer. "That would be so irresponsible to get high. All these people who are giving us their time and their skill and we're getting high? That's crazy!"
To be fair, it's not always so easy to distinguish the creators from their creation. But in person they are eager to point out some differences. The biggest one is that the real-life women came to New York knowing exactly what they wanted to do and have been anything but aimless in their pursuit of it. Jacobson, who went to art school in Baltimore, is the first person in her immediate family to leave Philadelphia. (On the show, Abbi wants to be an artist, but will settle for a job as a trainer at the fancy gym where she works as a pube-cleaner.) Glazer, a Long Island kid, studied psychology at NYU, but spent all her time at the UCB. "Pretending to your parents that you're going to school becomes your job," she says. The two women met in an improv class and bonded over being tomboys who wanted to be like their older brothers and childhoods spent obsessed with SNL and sitcoms. (Asked to name their influences, they pick Roseanne, Frasier, Larry David, Diane Keaton, Mike Myers, Chris Rock, and Wanda Sykes.) At the time, every waking minute was spent trying to get on a UCB house team, which would have allowed them to perform regularly. "We were very tunnel vision," says Jacobson, and their inability to get cast in anything meant they had to rent their own theater space and hire their own improv coach (Bobby Moynihan, before he joined SNL). "Our parents at the time were supportive," says Glazer, "but they were also like, 'What are you doing?' "
Pop-cultural depictions of being young in New York tend to focus on the extremes, from Midnight Cowboy to Gossip Girl. Broad City depicts a different swath: middle-class, college-educated, and determined to make it without their parents' help, or at least without a lot of help, in a city that is friendlier and safer than ever before, where flailing toward adulthood is the equivalent of diving into the big-kids pool with floaties on. That cushion is one of the things that gives Broad City its fairy-tale, nothing-is-going-to-go-that-wrong quality, and it was important for both women that their characters come from loving homes. "They're broke, but they're also, like, white upper-middle-class privileged people," says Glazer. "It's not real rags-to-riches. It's fake poor. They could always move home if they needed to."
In 2009, having not gotten anywhere with improv, Jacobson and Glazer started making a web series on the side, executive-producing over Gchat while they both worked at Lifebooker (the online discount service for beauty and fitness that's the basis for Glazer's job at Deals, Deals, Deals on the show). Each episode lasted only a few minutes and covered a distinct situation, like Abbi's failed attempts to get kissed under the mistletoe at a terrible Christmas party, or Ilana hooking up with a guy just to use his washer and dryer. "I really feel like we're doing well. I feel successful with the show. But I think you've made it when you have a washer and dryer," Jacobson says. The voice of the show, she explains, really came out of the process of making the show. "We were DIY-struggling to create this series. We were working day jobs and doing the web series at night and on the weekend. That was where the hustle came from."
They reached out to still-active UCB grand pooh-bah Amy Poehler, who turned out to be a fan, and asked if she'd appear on the web-series finale. She not only did that, she signed on to executive-produce Broad City's transfer to TV, developing it first at FX, which eventually passed on the pilot. Years went by between the end of the web series and the debut on Comedy Central, but the pilot remained largely the same, a time capsule that then became the starting point for Jacobson and Glazer's Broad City alternate universe. Saying something about their generation "was weirdly not a conscious decision, because we were in that," says Jacobson. "We were that age when we started doing the web series and we were just …"
"… Capturing the present," Glazer says.
"And then, when we got picked up, it was like, 'Oh, now we're commentingon this time.' Because once you have a show you're not in the time anymore."
"Just having a show makes you not in it. I think when we started filming the first-season series, it was like, 'Cool, we own this business, this brand.' "
Having a business doesn't mean they've left behind the money pinch their characters feel (yet, anyway). "You have to ease into spending, because it's scary," says Glazer. "It's like, 'This is going to make me die, right?' " "We're not going nuts at all, because we're not, like, an NBC show," says Jacobson. "I feel like the main thing we do differently is take cabs." "I was just going to say cabs and Uber!" says Glazer. "We're still in Broad City all the time. I wish money made it feel like we were living in L.A., but it fucking doesn't!" Two years into the show, they both take the subway most of the time. Which is just more comic material. "You're smushed up against people, smelling their farts," says Glazer.
They have upgraded apartments. Jacobson, who's dating, but "not anyone specifically," lives on her own in Brooklyn Heights; Glazer has a boyfriend, a postdoctorate in chemistry, but lives in the East Village with an NYU friend, a BuzzFeed editor who describes himself on Twitter as "Former #1 Britney Spears fan."
Glazer considers herself a former No. 1 Nicki Minaj fan. "Probably Ilana on the show is myself at the height of my obsession," Glazer says. "I listened to her mix tapes over and over, I knew all her fucking raps. Because it felt good to, like, bark cocky shit. It stuck in my brain. You know when you smile, your brain feels you smiling and starts emitting happiness, you know, serotonin? Kind of that. I feel like I spit her shit that was pumping in my ears for so long that I was able to feel that confident."
Now the show itself is a confidence booster. In the second season, the show has tackled politics much more overtly, and both women have gotten very naked: Ilana as a back-bending model for Abbi's art class, and Abbi in a dance routine to Lady Gaga's "The Edge of Glory." Nude except for those blur bars, that is. "We're happy we have the bars. Very, very happy," says Glazer. "Lena Dunham is awesome. She is amazing. I love seeing her body on TV. Lena is like a vessel for the message that normal bodies are so beautiful and sexy and powerful. But I don't think we would be that brave to be that vessel, even though you still, like, get that and people are like, 'Wow, they're not bony!' Even though you get that same message, it's not as strong as Lena's. Lena's isn't for a joke, you know? Ours is always for a joke. We're very grateful for those blurs. So grateful."
"It's funny, with blurs we often fight with Comedy ­Central," says Jacobson. "We want the blurs to be as minimal as possible because if it's such a big blur it ruins the joke." For a scene in which Ilana hoists her leg up to inspect her bikini line in a dressing-room mirror, they successfully lobbied against having the blur be pink. "We were like, 'The character Ilana has pubes. She doesn't have a shaved pussy like everybody on TV,' " says Glazer. "And Comedy Central fought for it for us. They believed in it. It's flesh color but also a little brown. Which is great. It was just like, 'What is this? A waxed and bald vagina? This is an adult's vagina!' "
The women say they don't understand squeamishness about the show's profanity and nudity, which don't seem excessive to them. "A lot of it feels more casual when we're writing it than people take it as," says Glazer. "I think some of it has to do with being young women and having agency over our behavior and words." But it's undeniable that their characters are pretty horny, no? "Aren't all people horny?" Glazer asks.
Later that night, we're saying our good-byes outside the Gramercy Park Hotel — Jacobson is hailing a cab back to Brooklyn, and Glazer is planning to walk home — when a stylish young woman rushes out of the lobby door and practically topples Glazer over with a bear hug. "Oh my God! I love you so much! Oh my God! I love you!" Her voice rises to a pitch few humans could understand.
"Oh my God! Hi," says Glazer.
"I want to kiss your feet! I love you guys!" says the woman, who identifies herself as Lauren, a doctor and "blasian" — black and Asian — and has a drunk-seeming disregard for personal space.
"Don't kiss my feet," says Glazer in a scared-baby voice.
"Don't kiss her feet," says Jacobson more sternly. "Don't kiss her feet."
"Yo, Richard Gere was in there," says Lauren, "and I was like, 'Pfffft. Who gives a fuck?' You are what it's all about. You guys are legit as fuck."
"Thanks so much," says Glazer.
"So are you," says Jacobson.
"You guys are some down-ass bitches," says Lauren.
"You're damn right. We get it," says Glazer.
"Guys, I'll do anything you say," says Lauren.
"Suck my fucking pussy. No, I'm just kidding!" says Glazer, laughing at the eager look on Lauren's face. "She's, like, ready."
Lauren asks if she can pitch some ideas for the show. The first one is "Mochahantas, a sexier, slavier version of Pocahontas."
"You're gonna be cool if we use it, right?" asks Glazer. "Or are you gonna sue us?" asks Jacobson.
Lauren assures them that she won't be in a position to sue if they use her ideas, because her head will have exploded. She gives them a phrase, "all fleek everything," that Glazer has to explain to Jacobson. ("It's just like 'on point,' like 'You've got an outfit on fleek!' ") Then Lauren offers a phrase her brother uses in the manner of "That's my nigga": "That's my Jew!"
"Thank your brother. He's probably really hot," says Glazer.
"Oh my God, do you want to fuck him?" asks Lauren. "He loves Jewish girls."
"What is with black people and Jewish people? Why are they, like, so horny for each other?" says Glazer. "It's so weird. It's such a fucking thing, and everybody in New York knows it."
The conversation gets weirder when Lauren mentions that her brother divides Asians based on what white stereotype they follow: "Chinese people are like the Wasps of Asians, Laotians are like the white people who are voluntarily homeless but superrich."
Glazer is still engaging, but Jacobson is clearly feeling a bit uncomfortable, and Lauren offers her brother to them once again: "He will suck your pussy all fucking night." Then the woman offers one last idea: "Niglets."
This is where Glazer draws the line. Comedy-wise, Donald Glover has already covered the topic of tiny black people, and besides, "I'm fucking white. We're not going to say 'niglets' on our show, you know. We're white as fuck."
"Can you say 'cuntastic'?" (No.) "Can you say 'cuntery'?" (No.) "Can you say 'sluttery'?"
"We could, but I don't want to," says Glazer. "Sluttery feels so negative," says Jacobson.
"I mean, I like sluts," says Glazer. "Well, it was awesome meeting you! Thank you so much for all of this material."
Jacobson steps out into the street to hail a cab and is surprised to see Glazer right by her side. "I'm scared for my safety," Glazer says in her terrified-baby voice. They hop in together.
*This article appears in the March 9, 2015 issue of New York Magazine.