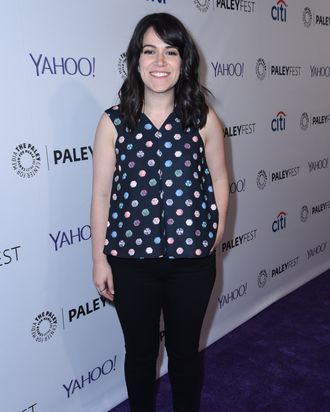 Broad City's Abbi Jacobson at PaleyFest in LA.
What does it take to raise a red flag at Comedy Central? Well, jerking off a tree, for one. "That was not in the script," said Abbi Jacobson, one-half of the Broad City team, during PaleyFest's "A Salute to Comedy Central" panel. Jacobson's co-star Ilana Glazer thought of it spontaneously during the filming of the episode ("The Matrix"), which led to the prop guy having to figure out what kind of sap they needed for the tree's "release."
Jacobson continued: "The tree itself was really the inspiration. There was this hole and Ilana just felt this connection, and we went with it. That's how we work; we went with it, and when the [network] got the first cut and that [scene] was not anywhere in the script, I think there was a 'What's going on?' kind of note — 'What's that?' And then we were like, 'We believe in this.' We really fought for it, and it made it in."
The men of Workaholics also recalled some concerns the network had about their project. "We did get some weird notes at first," said Blake Anderson. "Remember our whole goal one episode was to go to a Rihanna concert? And we would get notes like, 'I don't know, seems kinda like gay to go to a Rihanna concert.' And it was like, 'I don't think you understand the force that is Rihanna.'"
However, the most pushback they've received was for the un-burnable American flag featured in the episode "High Art" from season three.
"We were trying to make an un-burnable American flag, and through the R and D process we had to burn like 50 American flags," explained Adam DeVine. "And for whatever reason one season they were like, 'Absolutely not, hard pass, no way.' The very next season we said, 'We're going to do this episode,' and they were like, 'Yeah, okay, seems cool.'" Overall, Comedy Central seems like a pretty chill boss.