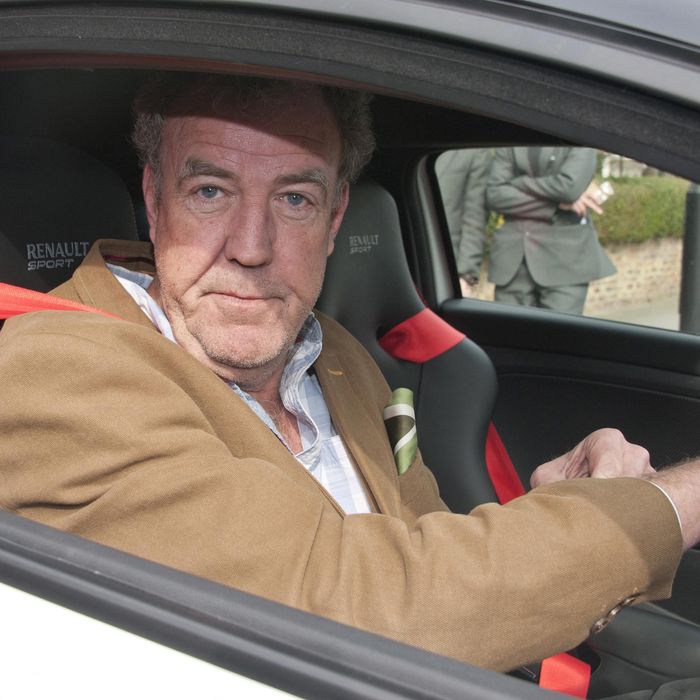 He is an ex-Top Gear host.
Photo: Mirrorpix/Corbis
It's the biggest pop-culture news story in every country except for the one that publishes this website: Jeremy Clarkson was let go from Top Gear this week! Clarkson, if you're unfamiliar, had been the lead presenter of the BBC2 car show since its relaunch in 2003; Top Gear, if you're more unfamiliar, is one of the most popular television shows in the world: one part travelogue, one part reality competition, and one part chat show. Like Manchester United, it's become one of those global brands of "Britishness," and Clarkson was its Wayne Rooney — a potato-faced brute who just so happened to be incredibly good at his job. In Britain, where grumpy old men still inspire a widespread affection they've mostly lost here, Clarkson is a major cultural force, expounding upon his likes (fast cars) and dislikes (everything else, with a special focus on public transit and foreigners) in newspaper columns, best-selling books and, of course, Top Gear itself. Imagine Tim Allen's character in Last Man Standing, if Last Man Standing were as big as Game of Thrones.
Clarkson's outspokenness (if you agreed with him) and bigotry (if you didn't) had gotten him in trouble over the years — the controversy section of his Wikipedia page has five subsections — but the final straw was a "fracas" earlier this month, in which Clarkson punched a Top Gear producer in a rage after being told he would not receive a hot dinner. The BBC suspended Clarkson over the incident, and despite more than a million fans signing a petition demanding otherwise, decided this week not to renew Clarkson's contract when it expires at the end of the March. Now they're left with an impossible question: Who's going to replace him?
Clarkson's defenders argue that he's irreplaceable, and they may have a point. Top Gear is a many-headed beast, but the thing that ties all its disparate elements together is the chemistry of its three hosts. Over 12 years together, the trio has honed their schtick to the point where they might as well be cartoon animals: Richard Hammond is an adorable squirrel, hopping about for nuts of approval; James May is a basset hound, drowsily agreeable; and Clarkson is a surly badger who's genuinely miserable when he's not in the lead. As in the best sitcoms, they all rag on each other, but you can feel the love underneath. Removing Clarkson would disrupt this delicate ecosystem, no matter his replacement.
But Hammond and May could go on, if they want to. Though Clarkson is the clear lead, his co-hosts are more than sidekicks. In their battles with Clarkson, each generally scores his fair share of points, and both possess that great TV quality of making you instantly feel as if you know them well. Hammond and May have distinct tastes when it comes to cars, and they all seem to have real expertise to back up their opinions. With them, Top Gear without Clarkson would be like Van Halen without David Lee Roth — it wouldn't be as good as it was, certainly, but it would be passable. (I write this as one of the world's few Sammy Hagar fans.)
The crucial words in the previous paragraph will ultimately be "if they want to." Hammond and May's contracts are up, too, and both men are looking like they might not return. The pair reportedly refused to shoot the remaining episodes of Top Gear's current season without Clarkson, and this week Hammond tweeted, "Gutted at such a sad end to an era … but it's been an incredible ride together." May, meanwhile, changed his Twitter bio to "Former TV presenter." If they don't return, the BBC will be tasked with rebooting Top Gear with three new hosts — a hard task, but not impossible. As May reminded journalists after Clarkson's sacking: "It existed before us. It's been re-formatted several times."