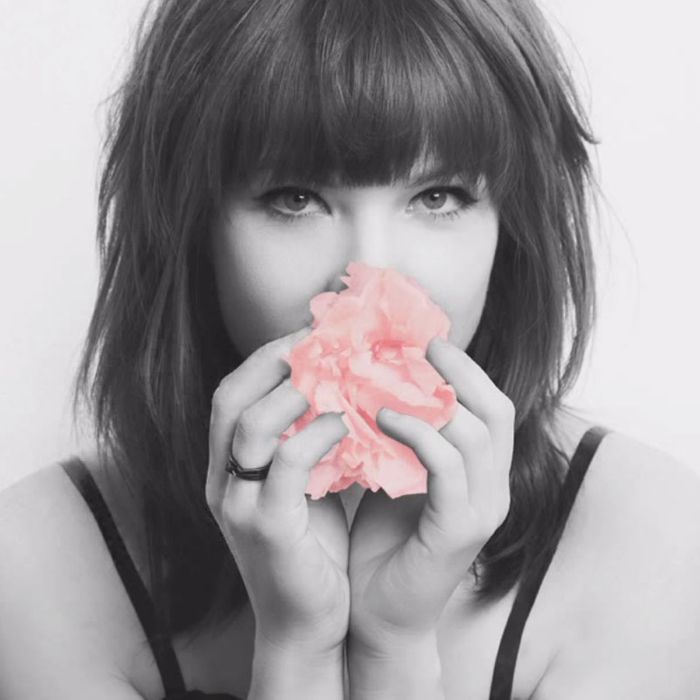 Are you really, really, really, really, really, really into the new Carly Rae Jepsen song? Do you think it could be this year's Song of Summer? While snow is still falling, should we be preparing for beach chairs and piña coladas? The real question is, does it have the stickiness of 2012's Jepsen smash "Call Me Maybe" — an earworm that took the nation by storm? Some are saying yes, while others aren't so sure. To debate the issue, Lauretta Charlton and Lindsey Weber put Carly on repeat and discuss the finer points of Jepsen and pop music.
Lindsey: Lauretta, on a scale of meh to really, how would you rate Carly Rae Jepsen's new song, "I Really Like You"?
Lauretta: I give it, maybe, like, a rainbow of reallys. So many reallys.
Lindsey: There are so many reallys in this song; I think 12 in the chorus and and (yes, I counted) 67 in the entire thing. She's trying to kill us with enthusiasm to make up for the fact that this thing is no "Call Me Maybe"! Sorry, but "Call Me Maybe" was a musical miracle, a once-in-a-lifetime earworm that captured a nation in one big, ecstatic sing-along. I just don't think this song has "it" — no matter how much they're going to shove it down our throats until summertime.
Lauretta: There are a lot of reallys in this song, true, but it's also pure bubblegum. It's not making any pretenses about itself. It's straight-up pop and summertime sunshine and joy. I mean, you could not like the song, but you could also not like life or having fun. To be clear, it's definitely not "Call Me Maybe." You cannot re-create the magic of that song, but "I Really Like You" does a good job of, you know, staying in the same lane. She really, really, really likes this person. 
Lindsey: I'll buy that. The production on this thing is so layered with unidentifiable sounds that it feels like it's straight from outer space. There might actually be 67 Carlys layered on this thing. Do you think this thing has the staying power to stick around until summertime? To claim its place on the Song of Summer throne? Do you think Carly can be (and deserves to be?) our Song of Summer Queen two times? That seems crazy. 
Lauretta: It has the potential! I mean, she isn't going anywhere. She's been in the studio with Dev Hynes and Ariel Rechtshaid, I believe Tom Hanks is going to be in an upcoming music video, and on top of that, she totally blew everyone's one-hit-wonder claims out of the water with Kiss. She's also been on Broadway. People want to write her off too easily. Just let the spell take over you. Don't resist! You really like her, too!
Lindsey: I do like her! No one can pull off the line, "Who gave you eyes like that / Said you could keep them" like the actually-29-year-old Canadian. And Kiss was unexpectedly such a great summertime album, despite assumptions that Carly would fade away — "Hurt So Good" is legit a banger. (In a better world, "Tonight I'm Getting Over You" would've charted high enough to snatch her out of one-hit-wonder territory.) But in so many ways, it super sucks that "Call Me Maybe" was such a phenomenon because it just makes it that much harder for Carly to reach those heights again.
Lauretta: I mean, do we need another "Call Me Maybe"? No! What made it a phenomenon is that it was so unexpected. We didn't know we needed it, and then we all got up at once and started dancing together like one big, happy, dumb, sugar-loving family. I respect the fact that she has spent the three years since "Call Me Maybe" not trying to re-create it. And now that she's ready to offer us something new, it isn't, like, a dubstep record. She knows there's a formula, hence hiring Swedish mastermind producers Max Martin (of every single catchy pop song) and Peter Svensson (of the Cardigans). Do you know how many times I listened to "Lovefool"? My poor parents.   
Lindsey: Ugh, wow. That's a Swedish superteam right there. We're powerless against that stuff! It's just not fair! This makes me think that the number of reallys in the song were genetically engineered to be catchy. And how can you fight science? But "Call Me Maybe" was originally written as a folk song, then kicked up into a higher pop gear (no Swedes involved!). As you mentioned, there's something about its surprise factor, how she practically came out of nowhere (with some Canadian love from Justin Bieber, sure) with this gem of a tune. As they say, lightning doesn't strike the same place twice. Unless that place is Pharrell Williams. 
Lauretta: But Lindsey, Tom Hanks. 
Lindsey: Okay, a song championed by America's sweetheart Tom Hanks, our King of Everything That's Adorable and Charming? Fine! You win. It's a hit.
Lauretta: Victory! Thank you, Tom. And Happy 21st birthday,  Justin Bieber. Just because.