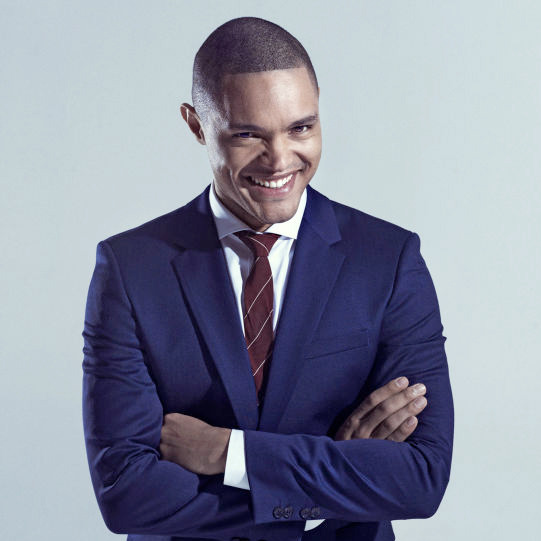 Until word started leaking out over the weekend, Trevor Noah had not been frequently mentioned (or possibly mentioned at all) to replace Jon Stewart as host of The Daily Show. And yet, it turns out, he may have been one of the chief contenders for the gig all along. "The day [Stewart] told us he wasn't going to continue, we sat down and started thinking about the people who had the right abilities, the right work ethic, and the right skill set to do the job," Comedy Central president Michele Ganeless told Vulture this afternoon, hours after announcing Noah's selection. "And you come to realize it's a very short list. Trevor was on that short list from the beginning."
What the executive won't say is what other names might have been approached. ESPN's Bill Simmons, for example, claims Noah got the job only after much better-known talent — Amy Poehler, Louis C.K., Amy Schumer — turned it down. Our sources also indicate that, as one industry insider put it, both "big names and other lesser-known names" were all discussed internally by the network. But whatever path it took to get there, Comedy Central's selection of someone who is, at least to American audiences, a relative unknown signals that the network ultimately opted to do more than just replace the host of its signature late-night show. It seems ready to reimagine, and maybe even reinvent, The Daily Show of the future.
As Ganeless and her colleagues went through the process of deciding on a new host, she says they realized this new person would be starting out in an environment completely dissimilar to the one Stewart met upon his arrival in the late 1990s. "When The Daily Show was created, there was a very different pace to news and the news cycle," Ganeless notes. "The show was created to be a half-hour comedic answer to the nightly news. And now the news cycle is not a 24-hour new cycle; it's a 24-second news cycle. The opportunity here, with a change like this, is to evolve the show and how it lives and breathes on every platform."
Exactly how this will happen is unclear; Ganeless emphasizes there have been no specific "creative conversations." But Comedy Central's belief in Noah's ability to serve as a change-agent is ultimately what led the network to offer him the job — despite his total lack of star power. "The size of the name was really not a big factor in making this decision," she says. "What we feel Trevor can do … is to innovate and reinvent, time after time after time. Because this is a long-term investment, right? This isn't 'Who's gonna do this for the next year or two?' This is 'Who can take this mantle, and carry it, and do with it what Jon was able to do — but for the next generation?"
Ganeless says her faith in Noah grew as she got to know him through a series of meals "at undisclosed locations" and numerous phone chats. "The more time we spent with him, the more [we] realized how extraordinary he is," she says. "His comedy is very layered. He is truly a student of the world. He quickly develops a take on topics, on people. And he is wickedly funny, which is not to be underestimated. It just became so clear that he has all the right skills and just the right approach and the right demeanor and the right work ethic to be able to not just sit in that seat, but to elevate it." As she talks about Noah, it's hard not to think about another virtual unknown tapped to take over a beloved late-night franchise: Conan O'Brien, selected by Lorne Michaels to replace David Letterman back in 1993. But Ganeless doesn't think the comparison holds up.
"Conan and Trevor are both very smart, very funny people," she says. "But Trevor has honed his performing skills, his comedic voice over the last eight to ten years in a way I don't think you can do when you're sitting as a writer. He is a very seasoned performer."
It also seems likely Noah will continue to have a seasoned team behind him on The Daily Show. For all the talk of reinvention, Ganeless hints that, at least in one way, the transition from Stewart to Noah might not be quite as abrupt as some are assuming. Late-night-host changes are also often accompanied by wholesale makeovers behind the scenes: Jimmy Fallon didn't hire all of Jay Leno's writers and producers when he took over The Tonight Show. But without commenting on who's staying or going, Ganeless suggested many of the same folks now making The Daily Show with Stewart will continue to do so when Noah arrives. "There is an incredible team that, along with Jon Stewart, has built the machine that is The Daily Show," she says. "That [team] will be there to help Trevor find his rhythm as he takes over the host seat. That is not to be underestimated. The talent of Jon Stewart is second to none. But the team that he has built is also incredible and unparalleled and unique."
Another advantage Noah will have: Stewart has clearly blessed his selection. "Jon was our adviser throughout the process," Ganeless says. "He's a huge fan [of Trevor]. He's the one who wanted him to be a correspondent on the show in the first place." And, she adds, Stewart spoke with Noah during the selection process, giving Comedy Central execs a sense of comfort in rolling the dice on a non-celebrity candidate. "Nobody knows what it takes to host that show more than Jon," Ganeless says.
It's possible, of course, that some current viewers of The Daily Show will not end up feeling as warm and fuzzy about Noah as Comedy Central execs and Stewart himself. Ganeless herself admits that "replacing" Stewart is impossible: "I've said it before, but there's only one Jon Stewart." Had the network gone with a big-name star, it's possible that person would've brought her fans to the show, making up for those who will no doubt abandon The Daily Show once Stewart signs off.
But picking an unknown also has its advantages. Expectations will be much lower than they would've been for an Amy Poehler or Chris Rock. And because Noah is not a star, his hiring, at least to a segment of the audience, will feel less corporate and calculated. Younger viewers — assuming they warm to his style — will be able to feel as if they were "discovering" Noah, much as those of us in Generation X were able to embrace Conan O'Brien when much of the mainstream comedy Establishment (and media) were dismissing him as clueless. For her part, Ganeless hopes Comedy Central's selection will be able to strike a balance between Daily Show loyalists and those who've never watched.
"That is the challenge," she says. "How do we keep the viewers who are there, or as many of them as possible, and evolve the show to open up the tent to a potentially whole new generation and new sectors of the population who haven't been watching because perhaps the show didn't speak to them? I think Trevor will accomplish both."