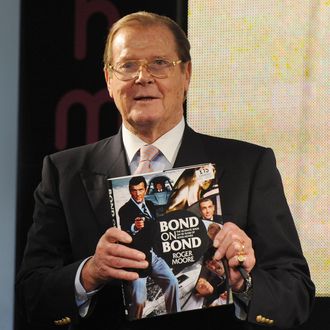 Sir Roger Moore meets fans and signs copies of his book 'Bond on Bond' at HMV, Oxford Street on October 22, 2012 in London, England. (Photo by Stuart Wilson/Getty Images)
Photo: Stuart Wilson/2012 Getty Images
Sir Roger Moore's quotes that Idris Elba would make an "unrealistic" Bond may have been taken out of context. In an interview in publication Paris Match, he allegedly addressed the speculation that Elba would be the next 007 as such:
A few years ago, I said that Cuba Gooding Jr. would make an excellent Bond, but it was a joke! Although James may have been played by a Scot, a Welshman, and an Irishman, I think he should be 'English-English'… it's an interesting idea, but unrealistic.
Of course, the implication of "English-English" is that he means "white." Moore denied these allegations of racism on Twitter by saying that it was "simply untrue" and that something was "#Lost in translation." It should be noted that the interview was published in French.
So he may have just been dissing Cuba Gooding Jr.'s American-ness and wasn't talking about Elba at all. To Moore's credit, while the bulk of the interview was presented as a Q&A, the quotes about the other 007s were not. So it's entirely possible this is all just huckster journalism!