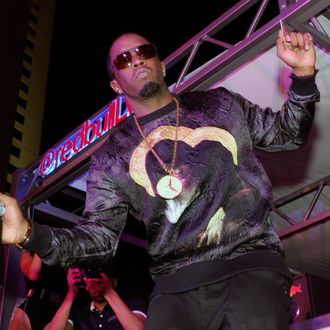 Diddy.
Photo: David Becker/WireImage
Diddy, man of many nicknames and entrepreneurial pursuits, posted a handful of pics on his Instagram on Tuesday, indicating that he's making a shift back to the lab. His first upload confirmed rumors that he would produce with the likes of Kanye West, the Lox, Pusha T, A$AP Ferg, the Weeknd, and Cassie. Other collaborations will be announced soon, and Diddy plans to hit the studio for 12 months only — after which time he'll probably go back to endorsing and making things you've never heard of but soon will. A second pic with Timbaland hinted that Diddy (or Puff Daddy for the intents and purposes of this tease) might also be putting the finishing touches on MMM (Money Making Mitch), which would be his first release since 2010's Last Train to Paris. The teases for MMM have been coming since early 2014, though, so cross your fingers something substantial actually comes of this latest social media spree.
Caption:
Yes the rumors are true. It's been a long time since I had been really focused on producing music. My first love. Is the type of love that Will never go away! So I've come back for 12 months only ! So I'm working on Kanye West LOS GIZZLE THE LOX @kingpush @asapferg @cassie @abelxo and many more announcements to come! I'm back behind this BOARD B!!!!!!!!! Real niggas and real music are back in style!
Caption:
@timbaland in dat studio #MMM !! Happy born day to my brotha @timbaland
P.S. Happy birthday, Timbaland!