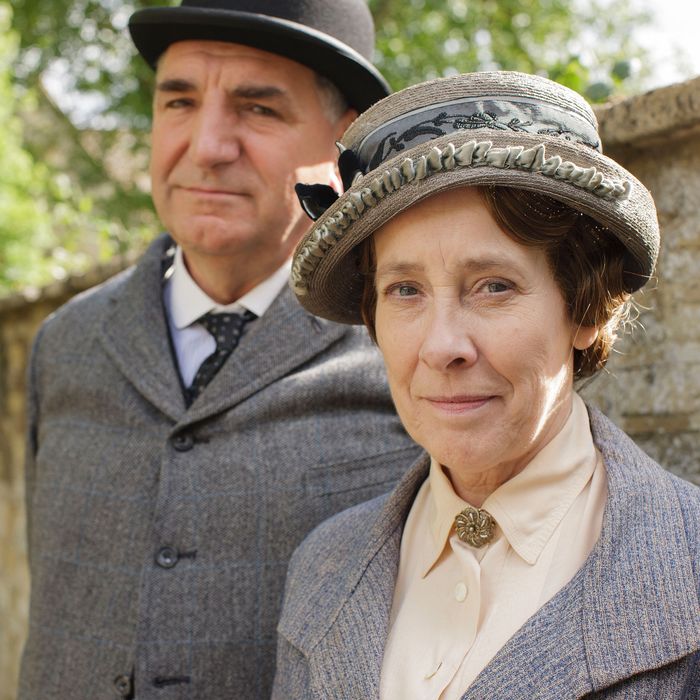 Look at these lovebirds.
Photo: Nick Briggs/Carnival Film & Television Ltd
Downton Abbey has burned us again and again. "Get attached to this person," the show says. "Well, okay!" we comply. Then people die. "Here, care about this other person," the show suggests. "Well … maybe?" we try. Then that person is so boring, we wish they'd die.
"Care about the Anna/Bates rape and murder stories!" insists Downton Abbey. "Sure, we'll care about one rape or murder story, maybe over one season," we say. "No! Every season! Forever! With different murders!"
"Will Mary marry this suitor?" the show teases us, but we know better by now. "Will Edith have any measure of personal peace?" Oh, show, the next time will be the first time. Don't taunt us with ideas of Daisy's possible advancement: 12 years have transpired since the start of the show, and yet somehow she's still the lowliest of all sad creatures, beleaguered and undereducated, perpetually 16 years old. Will Robert ever come around on [whatever]? Yes. Will Violet secretly have a soft spot for [somebody]? Yes. Will the staff ever be able to pull off [event]? Yes.
There is but one glimmer left on Downton, one thing left to root for, one point of brightness to serve as our new North Star, and that is Carson and Mrs. Hughes's engagement. Their barely-a-thing hand-holding last season gave us hope for a gentle, stable, mature romance between two of the show's best characters. Sadly, that romance was back-burnered until the Christmas special, but at this point in Downton's evolution, we'll take what we can get.
Carson and Mrs. Hughes are two of the rare characters who still feel like they have stakes, like what happens to them would matter to the show in the long run. If Rose got divorced tomorrow, who would even care? In the audience, but also in the world of the show itself. None of us are really Rose people. But if something went south between Mrs. Hughes and Carson, that would feel like a devastating blow to the foundation of the series. It would betray everything we know about the characters — that decorum is key, but that they experience and desire love and companionship just like anyone else — plus it would just be mean. Who would settle intra-staff disputes? Who would know the peaceful, wise answers to things? These two are a team. They've been a team for years.
One of Downton's strengths is its ability to depict tenderness, particularly in ways that are surprising. The Dowager Countess can be aloof and kind of nasty, but when you really need her help, she's there. Molesely's such a sad sack, but he's there to support your dreams, darn it, and he believes in you. Carson and Mrs. Hughes are all business, all the time … except for when Mary's involved, and then Carson is basically a doting father. Or when Mr. Bates needed some emotional support, and Mrs. Hughes went into you're-your-best-you camp counselor. We know these two have soft sides.
When Downton's at its best, one of the ideas it highlights is how stressful participation in a rigid society is — and how different people are behind closed doors, when it's "just us." We see it for people at every economic station, whether it's the kind of chitchat that happens downstairs in the kitchen, or the kind of weary gossip that happens between the Crawleys at night in bed. We see it in the way Mary's face falls as she leaves a group of people, or the way Thomas's posture changes depending on whom he's talking to. We've seen those moments of intimacy between Mrs. Hughes and Carson before, in brief glimpses, but watching that fully develop, seeing the contrast between Work Time Carson/Hughes and Our Time Carson/Hughes — the promise of that is the only reason I'm even marginally optimistic about next season of Downton Abbey. That, and the idea that maybe Robert will get a puppy.