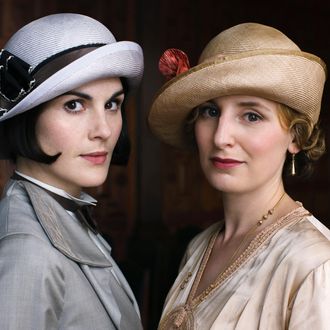 What are the odds Edith gets a happy ending?
Photo: Nick Briggs/Carnival Film & Television
Looks like Maggie Smith was right, Downton Abbey really can't keep on going. TV Line is reporting that the show's sixth season will be its last. And while some fans will understandably be gutted, they shouldn't be too surprised. According to TV Line, most of the cast members' contracts expire at the end of the upcoming season — currently filming — and, as one source notes, "You can keep the show going without Matthew and Sybill, but you can't continue it without the entire Crawley family." Long live Lady Grantham!