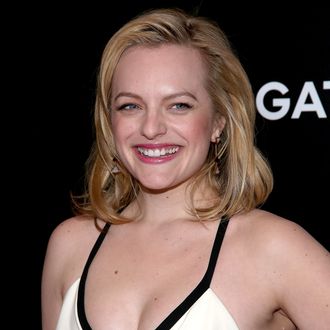 Photo Credit: Joyce Culver
Photo: Paul Zimmerman/Getty Images
What are we going to do when Mad Men breaks up with all of us at the end of May? They say if you love something, you should let it go, and that seems to be what Elisabeth Moss has been trying to do ever since joining the cast of The Heidi Chronicles on Broadway.
At a recent 92Y panel discussion with her Heidi Chronicles cast members Jason Biggs, Bryce Pinkham, producer André Bishop, and playwright Christopher Durang, Moss waxed poetic on what it was like to miss playing Mad Men's Peggy Olson.
It's funny because I was pretty sad when we ended. Mostly and only because I liked to play that character, and I didn't want to not play her anymore. I did a few projects afterwards, and they were all very different. Having done [The Heidi Chronicles], this was the first time and first role that I'd done another role where I was like, "Oh, there are other great women out there that I'm gonna fall in love with and love playing and want to be my friend." That's how I always felt about Peggy, like she was my friend. Now, I feel very proud and protective of Heidi. Heidi was the first character since Peggy that I was like, "Oh, okay. It's going to be okay. I don't have to be sad. There are gonna be other great, interesting women to play out there."
Ending any relationship is hard, but dry your eyes, friends. Peggy says it'll be okay.