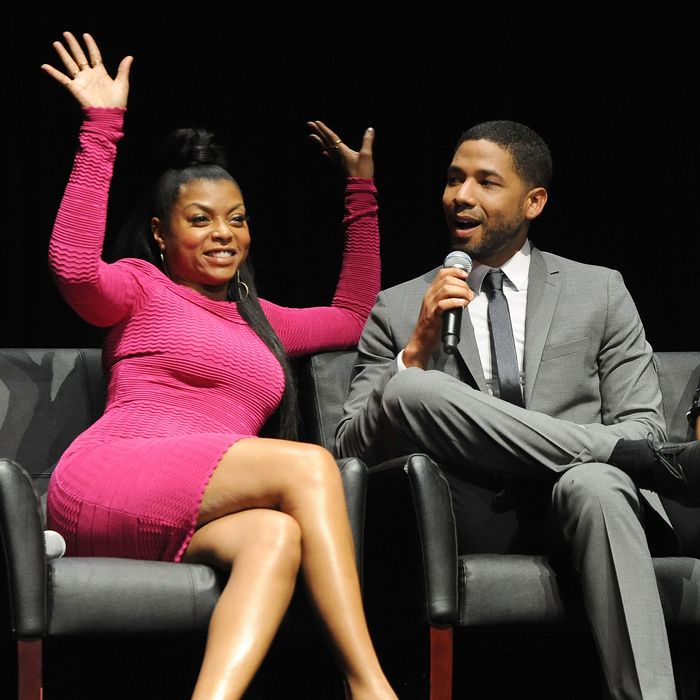 Taraji P. Henson (left) and Jussie Smollett at the Empire panel last night.
Photo: Angela Weiss/Getty
Fox screened the first half of Empire's two-hour season finale for Television Academy members Thursday night in Los Angeles, followed by a Q&A with creators Lee Daniels and Danny Strong, producer Brian Grazer, showrunner Ilene Chaiken, and the cast: Terrence Howard (Lucious), Taraji P. Henson (Cookie), Jussie Smollett (Jamal), Bryshere Gray (Hakeem), Trai Byers (Andre), Grace Gealey (Anika), and Kaitlin Doubleday (Rhonda).
The 1,000-person crowd did a standing ovation when Cookie first appeared onscreen and danced in the aisles as stars Jussie Smollett (Jamal Lyons) and Bryshere Y. Gray (Hakeem) performed "You're So Beautiful" and "No Apologies." Following the performance, Entertainment Weekly's Tim Stack guided the cast and crew in a discussion about the show's incredible success, all things Cookie, and, yes, the Bib.
On the blow-job bib Rhonda dons in episode two:
Doubleday: They gave it out as wrap gifts that say, "Empire Season 1." I remember Lee, like, cackling about something he had written in episode two when I was meeting the writers, and they were like, "Lee has written something for you today." And I'm surprised that they let us keep it in. But I think coming up with things that let us push boundaries, that you don't think will actually make it on TV, and do, that's what you get — you make Twitter, or whatever.
Daniels: The writer who wrote that … piece, Malcolm Spellman, he said, you know, she pulls a bib to go down. And he was waiting for us to say "Stop" because he was used to rooms where it wasn't accepted. And Ilene and I look at each other and said, "Keep coming up with those bibs." You know what I mean? Because that is what makes provocative television. Things that make you go, Whoa! … The bib moment is my favorite.
Chaiken: We had so many conversations about the bib before, during, and after. And every time there was a question, I'd say, "Lee won't lose the bib. Don't try to take the bib away from Lee."
Smollett: That's the sickness of Lee Daniels. Because he enjoys putting things in there that are groundbreaking and stuff, and then he laughs, knowing we will have to do it. Like the bib, he was like, "I got this bitch to put on a bib" — he loves it so much. It's insane.
On casting Terrence Howard and Taraji P. Henson, and their chemistry:
Daniels: You see the electricity that I don't even know if I'm directing. It's what they bring to the table as human beings, as spirits, as actors.
Henson: When I heard I had to go into a chemistry reading with Terrence, I thought, What the hell else do you need to see us do?… Terrence and I have known each other for … almost ten years … I've been through every relationship with him. I know them all. I know all the babies, the children, we get our kids together, we stayed in touch through projects. This is like really my friend in life. That you can't write. That you can't make up. And when I got the script, I knew that chemistry was needed for Cookie and Lucious. They can say, "I hate you! I can't stand you!" And slap the hell out of each other. And the next thing you know they're laughing and trying to figure out how to get rid of Camilla … or how to shoot somebody in the face …
Howard: But the friendship comes from being brutally honest. And she was brutally honest from the first time I tried to sleep with her till the last time I tried to sleep with her … and just keeps a brother on his toes.
On Cookie's style:
Henson: We have decided that Cookie is an animal. One that preys, so she's in a lot of prints. There also needs to be an arc. She went away for 17 years. So she needs to be 17 years behind the curve in her fashion. So sometimes she puts on a little too much print, like your eyes cross. But you know, it's Cookie, so she does. I know what looks right on my body, I understand who this woman is. I understand the time that she walked out of, so they do all the shopping and they bring up the stuff to me, and I'll go, "This, this, this, or this."'And I try it on, and whatever fits and looks right, that's what I pick. They bring me jewelry and I just try to put it all on because Cookie would!
Henson puts Daniels on the spot and asks what he meant when he told THR that season two would be less opulent:
Daniels: I think that's a conversation we'll have backstage, Cookie.
Henson: He's sweatin', too.
On diversity:
Henson: We did the HFPA the other day, and they never once pointed out that it was a black show. Not one time. They understood the subject matter. They understood humans going through life. You know, love and hate and loss has no color. For me, that's what I was hoping this show would do. Martin Luther King, we made it to the mountaintop!
Howard: I don't see the United States as people of color. I see it as people of character.
On how it handles homophobia:
Daniels: Homophobia is deep in the African-American community. It's something that needs to be addressed. African-American women are dying of AIDS. It's no longer a gay disease. This is a black women's disease. Black women are dying because of the DL. And it's time to kick that. I hope that some people come out of the closet. There's nothing wrong with it. I'm gay. I'm here. I'm making a little bit of money.
Smollett: I'm here. I make a little less money than Lee. But I'm here. For me it's been a moment. Sorry, I'm a Cancer, so I get hella emotional. For me it's been a moment because I get letters from kids all the time, both homosexual and heterosexual, that say that somehow Jamal helped them understand themselves or people around them a little bit more. Just the idea [of] his story is pretty universal, regardless of race, culture, sexual orientation, or religions. All of us in this room have felt at least one time that we did not belong. Or people have these preconceived notions of us and they have NO idea what [or] who we are. Jamal is a blessing to be able to play. I wake up every single morning and I thank God. And then I thank Lee Daniels. Because it's changed so many people's lives, and it's changed mine. To be able to stand and walk in the truth is the most beautiful thing we'll ever have.
Watch everyone force Trai Byers (Andre) to sing (30:00) and Henson and Daniel's tense moment (45:00) in the hilarious full stream of the panel: