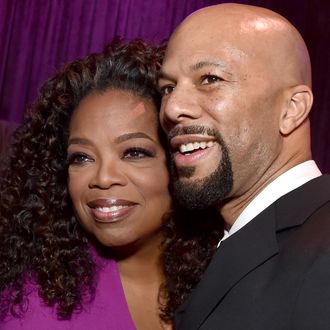 The newest members of the Lyon family?
Photo: Kevin Winter/Getty
As Empire preps for its two-hour season one finale next week, plans for the second season are already underway, and some big names are being thrown around. Co-creator Lee Daniels recently told The Hollywood Reporter that he'd like Oprah Winfrey to join the show, while Common had previously mentioned wanting to make an appearance, too. At a screening of the season finale in Los Angeles on Thursday night, Daniels told Access Hollywood that both actors (who co-starred in Selma) will join Empire next season. "Yes. Yeah, she's gonna be on it," he said of Oprah's guest spot. He also said he's writing a part for Common. "Common, you heard that first," he said to the camera, though it's unclear if Common is aware yet that he'll be on the show.
Daniels joked with Taraji P. Henson at a live Q&A last night that Oprah's appearance might involve a wig-pulling brawl with Cookie. But as Vulture's Lindsey Weber points out, Oprah's technically already had an Empire cameo!