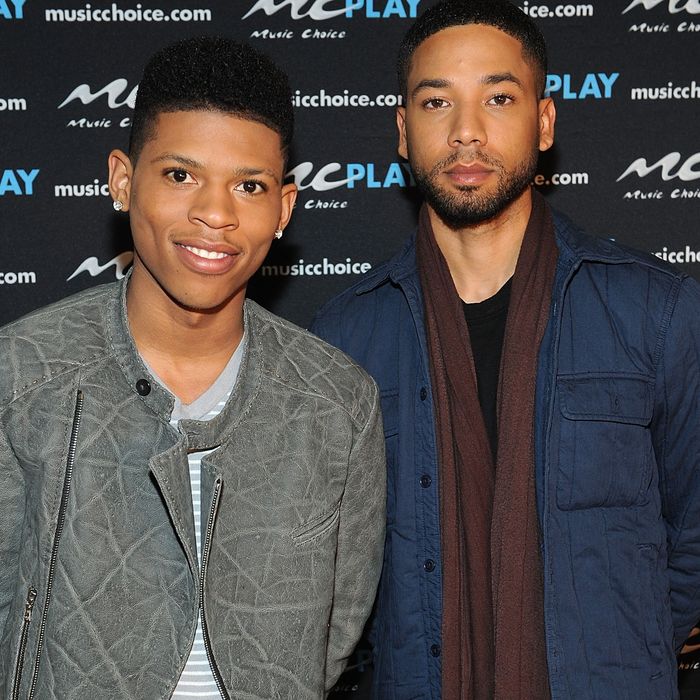 Bryshere "Yazz" Gray (left) and Jussie Smollett.
Photo: Brad Barket/Getty
Taraji P. Henson and Terrence Howard are the king and queen of Empire, but it's actor-musicians Jussie Smollett (Jamal) and Bryshere "Yazz" Gray (Hakeem) who are the show's workhorses. The pair kicked off the first leg of an autograph tour for the Empire soundtrack, which debuted this week as the No. 1 album in the country, beating out Madonna's Rebel Heart, with 130,000 copies sold. They began with a private meet-and-greet for 20 lucky Hot 97 listeners, who were able to get much more time than the fans who had lined up in the newly renovated Fulton Center in downtown Manhattan. Still, for over two hours, Jussie and Yazz gave hugs (despite a pointed announcement from the PR people that there would be "no hugging at the table"), kissed cheeks, and bumped fists with the 800 fans who came out to see them on a blustery Tuesday night.
Everyone in line, which began indoors and then moved outdoors along Fulton Street, had bought the album at the J&R Express at Century 21 nearby and received a wristband that allowed entry. People in the front of the line had been waiting as early as 7 a.m., with some clearly flagging. But when Jussie and Yazz appeared on the stairwell from above — Jussie looked understated in a baggy black sweater and jeans, while Yazz wore a grey motorcycle jacket and black waxed jeans — it all seemed worth it. They eventually made their way to the makeshift dais to talk with Hot 97 hosts Nessa and Laura Stylez. "I'm right here for you, Hakeem!" yelled out a black woman in Yazz's direct eye line. "I'm right here for you, Jussie!" bellowed an older white man with a shock of grey hair.
During the Q&A, the Hot 97 hosts asked what we could expect from tonight's finale (the crowd booed, "no spoilers!") and whether or not they were single. ("Yazz, baby!") They asked about how Empire "connects with the LGBT community." Jussie, who has been posed a variation of this question in every interview, obliged. "I think that it connects with the LGBT community the same way it connects with the black community, the Latino community, the white community, the Asian community," he said. "In the sense that what we're doing is we're telling human stories about human experiences." It was an answer you might expect, and one that was undoubtedly true. But while the assembled fans — the diehards who had loved the show "since Day One" — cut a wide demographic swath, it was one centered around blackness. There was a range of black and brown families of different ethnicities and generations: parents with their kids, grandmothers, siblings, gay men, and lesbians.
A group of four smartly dressed students — three seniors and one junior — all studying voice at the Professional Performing Arts School, excitedly told me about how meeting Jussie and Yazz was inspirational for them. "You're going to see our faces one day," one of them said to me. "I might be on the next season of Empire," laughed another. I asked them what it was about the show that people loved so much. (Cookie, duh.) Everyone I spoke to told me about what they loved about Cookie: her ambition, the chemistry she has with Lucious, her love for her family, the time she threw her shoe at Lucious.
But the love for the show went deeper than Cookie. "I have a 27-year-old son and 17-year-old daughter, and we all watch it," one mother from Canarsie, Brooklyn, told me. She worked around the corner at the municipal credit union, and was outside on the howling street to see her daughter on her break. "This is about how the two of them come from nothing, but their love for the music makes an empire. So many people can associate how it was for them before — and everyone wants to be them now," she said. I asked her what was unique about the show. "It just gives it to you — just the way it is," she said. "It brings a lot of things in the black community that we like to keep covered, like bipolar disorder and homosexuality. It's not smiled upon, especially if there's a dominant, alpha-male black father. I love Lee Daniels for bringing that to the forefront."
I went back inside and watched Jussie and Yazz work the line. They were all charisma and grace. Songs from the soundtrack played on a loop, giving extra significance to "Keep It Movin'" as the PR people instructed the line to do the same. Meanwhile, the duo mugged for cameras, danced, and lip-synced to the songs. Eventually, after a crowd-led rendition of "Drip Drop," Yazz told them that they would play it. (Curiously, it was not on the loop.) Whatever your feelings about "Drip Drop," watching a crowd of elated fans sing and dance along to it seems to be the point of it. Towards the end, Jussie took the mic and thanked everyone for being patient. He knew that a lot of them had been waiting in the cold, but promised that they would get to everyone.