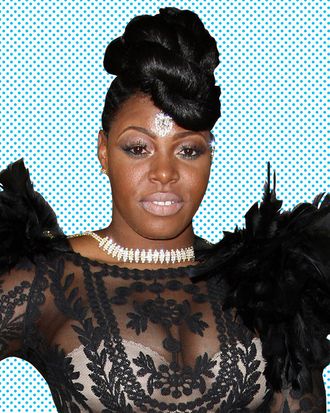 Photo: Tommaso Boddi/WireImage
Ta'Rhonda Jones is a scene-stealer, and she knows it. The native Chicago rapper turned actress plays Cookie's right-hand woman, Porsha, on Fox's hip-hop drama Empire. In nearly every scene, she towers above Taraji P. Henson, blurting out honest observations — and she kills it, whether it's by giving Anika (Grace Gealey) the side-eye or calling out someone's lie. The Porsha character has already been spoofed on SNL, and Empire co-creator Danny Strong has joked about creating a Porsha spinoff series, which is all pretty impressive considering this is Jones's first acting gig ever. Jones took time out to talk to Vulture on a trip to Los Angeles to discuss her big break, improv-ing on set, and why Lee Daniels requested she wear her own clothes and do her own makeup on the show.
How did you get the role on Empire?
My brother called me in the middle of the night and told me that Terrence Howard was looking for female rappers. And he said, "Call this number, you should just do it." So I called the number and talked to the casting director in Chicago, her name is Claire Simon, and I said, "Hey, a number was passed to me and I was told to call you guys, I heard you're looking for a female rapper." And she said, "Oh, yeah, we're looking for beautiful women who are very talented. And I said, "Well, I think I'm cute or whatever. Yeah, I'll do it." She laughed, and told me to come in the next day.
Did you know what role you were trying out for?
The role I originally was trying out for was the Tiana role. When I recited the lines for her, and she looked at me with a blank stare, I said, "Oh, I messed up." And she said, "No, no, that was actually pretty good." And she said, "Leave your name, number, and email, and I'll get back to you." Now, at that time I thought that was their way of kicking me out the door, saying, "We don't want you, you can leave." I'm like, Okay, whatever. She emailed me that same day and told me to come in the next day — and to come in for the Porsha role. When you do the lines, they give you the rundown of the character. And the rundown of that character said, "Ghetto fabulous." [Laughs.] "It said ghetto fabulous in her 20s, real spicy, spontaneous … it explained her whole personality. And I'm like, Dang, this is me!
What happened next?
I came in Monday, and that was the day Lee Daniels was there. And I didn't know who he was. I was very familiar with his name, but not his face. And the reaction he gave me just ignited something in me, I don't know, I got fired up. I walked in the room and he said, "Yes, yes, yes." And I was like, "Who is this man in his pajamas? And why is he acting like he crazy?" And he said, "You knew what you were doing when you walked in this room." "I did," I said. He said, "I keep hearing Claire call you "Tai," but on the paper it says 'Ta'Rhonda.' How do you pronounce your name?" I said, "That's not my name." He said, "Oh, I'm sorry, what's your name, then?" I said, "Porsha. My name is Porsha."
He said, "I love it, I love it. Sit down. I love it." And it went from there.
You're a rapper, too. Can you tell me about your rap career?
Yeah, I've been rapping since I was like 7 or 12, for a really long time. In my teen years, when I was 18, 19, my cousin knew a lot of celebrity rappers back then, and we would book shows and we would be the opening act for them. Jody Breeze, Bobby Valentino, and Jim Jones. We did a lot of opening acts, and today I still perform every now and then.
Will we ever get to hear you rap on the show?
I'm praying for it to happen in the second season. I'm praying … Maybe I'll be playing around and rapping, and then Cookie walks in and catches me in action, and I'll say, "Oh, I'm sorry." And they will say this is good for the business and — bam! — Porsha's a rapper. That's my dialogue.
I heard that you improv a lot on the Empire set. Can you tell me more about that?
Absolutely. The very first time I improv-ed, which was the very first episode I was in — episode two — Cookie was talking to a newscaster about Lucious, and we rehearsed it first. And I told Taraji, "You know what would be funny? If Porsha just flies into the camera, you know, how people want their little 30 seconds of fame, and get in the camera and say, 'I love you, Mama,' 'I love you, Daddy.'" I said, "That would be so funny if Porsha did that." And Taraji said, "Hey, you know what? Do it. What can they do but call 'cut'?" I said, "Just do it?" She said, "Whatever you can do to make the show better, just do it. Why not?" So it was time to shoot, and she was talking, I was really scared at first because I'm like I don't want to get in trouble, and finally I'm like, Okay, I'm going to do it. So I flew into the camera and I started smiling and fixing my hair.
That's when Lee yells out, "Porsha! Who told you to do that?" So I got scared because Lee ain't gonna joke. Lee ain't no joke, honey. I said, "Um, nobody. I'm sorry."
He said, "I love it. Do it again."
What's it like to work so closely with Taraji?
Oh my God, she is amazing. To see her onscreen is one thing, but to actually see her behind the scenes and turn it on and turn if off — how she channels her emotions — it's so dope.
And this is your first time acting, ever?
Absolutely. It's something I've always wanted to do, but I just never thought it could happen to me.
Is there any particular actor on the show that you really like to work with?
I always like working with Gabby [Gabourey Sidibe] because she is so sweet! She's my homie, too. We call each other from time to time and make sure one another's good.
Tell me about your style on the show.
Well, Lee had the designers and everybody put me in clothes and stuff like that. The clothes were just a tad bit too small for me — just a tad bit, and I had brought some clothes of my own. So I just thought of wearing my own clothes throughout the show … Lee is very anal about what he wants, so he went down the line checking on all the actors and actresses, making sure that was the look he wanted, and when he got to me, I was nervous and smiling and jittery, and I knew I looked good, honey, I thought I was cute! He said, "Who did her face?" And the lady stepped up and said, "I did." He said, "Who told you to do this?" And she said, "Well, you said, you wanted her face to look the way she auditioned." He said, "Were you at the audition?" She said, "No" … He said, "I don't like it." And I'm like, But I'm cute! And he said, "Who did your makeup for your audition?" I said, "I did." He said, "Well, that's who is going to do your makeup from now on." And I think that was the best part because I literally did not have to change a thing about myself.
Are you anything like your character?
Absolutely. Porsha is this carefree, live-in-the-moment type of girl. She don't worry about yesterday because it's gone, she don't worry about tomorrow because it's not here yet. She is just in the moment for today … And she's gonna give it to you real. She's gonna tell no lie, and keep moving. And that's exactly how I am. I'm Porsha.