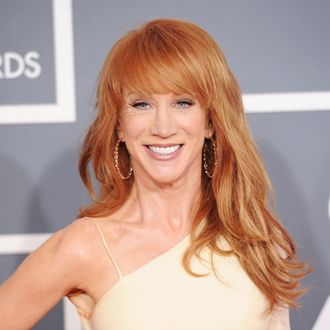 Comedian Kathy Griffin arrives at the 54th Annual GRAMMY Awards held at Staples Center on February 12, 2012 in Los Angeles, California.
Photo: Jason Merritt/Getty Images
Fashion Police's future looks grim. The New York Daily News reports that the high-profile exits of stars Kelly Osbourne and Kathy Griffin have left E! network executives feeling nervous about the show. "They have off this month, but don't be surprised if they cancel it quietly in a matter of weeks, when the craziness dies down a little," an anonymous source told the paper. "Melissa [Rivers] is a producer, not a leader; she can't get control of the situation." The source said E! now considers Fashion Police a "hassle," especially since multiple celebrities — including Lena Dunham and Jane Lynch — have publicly commended Griffin's decision to leave.

Griffin announced her exit on Twitter, saying, "There is plenty to make fun of in pop culture without bringing people's bodies into it. But I do not want to use my comedy to contribute to a culture of unattainable perfectionism and intolerance towards difference." Her departure came on the heels of Kelly Osbourne's dramatic exit, which followed Giuliana Rancic's comments about Zendaya's dreadlocks and how they must smell of "weed." Griffin also recently discussed Fashion Police during a stand-up appearance, explaining that the show wasn't "right" for her and saying that she was "surprised" by all of the media attention.

Of course, the specter hovering over all this is Joan Rivers, who was always Fashion Police's main draw. With both Griffin and Osbourne gone, it seems increasingly unlikely that the two remaining co-hosts — the beleaguered Rancic, and Brad Goreski, who cut his teeth on The Rachel Zoe Project — can really carry the show.