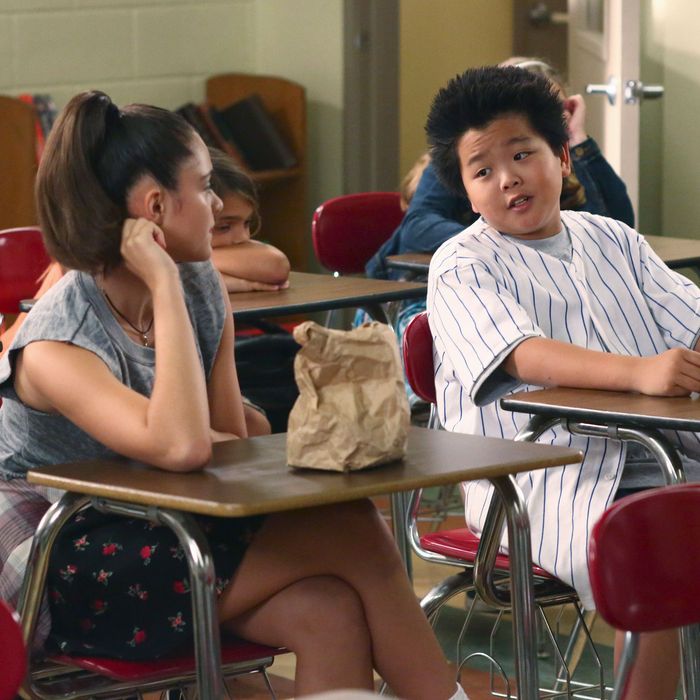 Eddie's dream detention.
Photo: Michael Ansell/ABC
Week after week (well, at least the weeks that Fresh Off the Boat airs; I was surprised at how much I missed it last Tuesday), Constance Wu's performance as Jessica continues to be the highlight of the series. There's something fiercely effortless about Wu's on-point delivery and the way she routinely and deftly navigates Jessica Huang. With less skilled writing and acting, Jessica could easily fall into the trap of a stereotypical overbearing "Tiger Mom" (which could do more harm than good when it comes to representation) but instead, Jessica is sweetly stern, with clear motives for everything she says and does. And, as we learned with Louis in "Showdown at Cattleman's Ranch," these motives mostly have to do with ensuring that everyone in her family is happy and successful. The greatness of "License to Sell" (besides the obvious Beastie Boys reference in the title, of course) is that we learn more about how Jessica views herself and how, in turn, that translates to the occasional pressures that she puts on her three sons.
Previously, Jessica managed to accidentally get into real estate by casually selling a house. She wants to pursue a career in it, but doesn't yet have her license. When called out too many times by a rival realtor (who gets a police officer involved), Jessica decides to take the exam, mostly because of her desire to "be the best" at everything she does — which means beating the other realtors at the job. But Jessica quickly hits a snag at the exam when she meets Kim McKinnen, a successful realtor who is renewing her license and assumes Jessica is doing a late-in-life career change. Kim has a high class, elitist attitude, but instead of simply rubbing Jessica the wrong way, it causes Jessica to have a somewhat uncharacteristic confidence crisis. I say it's uncharacteristic because she's been portrayed as wonderfully confident in past episodes, but the quiet and realistic way in which we see her self-assurance waver rings true here. It's not overly dramatic (though it's certainly humorous to see her cling to those Chipwiches), but done just enough to be both believable to viewers and to be a strong narrative arc in the overall series.
Jessica can't tell her family that she bailed on the test and instead tries to keep up a lie that she passed and is going to work every day. See, Jessica is constantly telling her children "If you're going to do something, be the best," so she feels that she has to keep up the appearance of being the best rather than let her sons know she failed at something — by not even trying. She tries to get herself out of it: telling the truth to Louis when she knows that he can't hear, telling Honey she's going to retake the test but then secretly running off for another Chipwich, announcing to Louis that she basically already conquered the real-estate world so now it's time to do something different. But it turns out Louis ran into Honey and already knows Jessica's secret. "No matter how many houses I sell, I'm never going to catch up," Jessica explains to Louis. It's a sentiment that doesn't just work on the surface level of her anxiety about being a realtor, but also on a deeper level about the Huang family.
Ever since their move, the Huangs have been trying to both fit in and catch up with the rest of their respective peers. Louis is trying to catch up to the already successful restaurants (and restaurant owners) that are similar to his; Eddie is trying to catch up to his older crush; and Jessica is trying to catch up to the fellow wives who seem to have their lives and careers already figured out. They are, as a minority family in an overwhelmingly white town, always playing catch-up to try and get on the same level as their neighbors — and to general white America. Because they are so different and have to face obstacles that their more privileged peers don't, the Huangs are always going to feel like they are lagging behind everyone else. It's a downward-spiral train of thought: Once you come to the conclusion that you'll never catch up, what's the point of ever trying? Fortunately Louis convinces her to retake the test (I love their marriage, by the way), and Evan and Emery help her out with a bit of role-reversal tutoring. And Jessica passes the test, as we all knew she would.
There's a lot more going on in "License to Sell," mostly centering on Eddie's cute crush on Nicole. When he asks his father for advice, Louis tells him to "find out where she's going to be and be there, always." Join the clubs that Nicole is part of, hang out wherever she hangs out after school. Nicole, ever the badass, hangs out in detention after school. She blows him off the first afternoon, but they have a short conversation the next time, when Eddie tries his best to pretend he's interested in everything she's interested in. Nicole reveals she wants to go to beauty school and asks Eddie to "come over sometime after school" (which is basically the best thing to hear your adolescent crush say) so she can try out her beautician skills. I was fully prepared for a scene with Nicole plastering Eddie in makeup and then joking about emasculation or the friend zone but, thankfully, Fresh Off the Boat remains funny and subversive, instead just giving Eddie a little earring and some henna on his hands. After getting caught by his parents, Eddie stands up to Nicole a bit, explaining that he wants to hang out with her but not necessarily with all that beauty stuff. Nicole accepts this and even throws him a bone, letting him know that he didn't miss anything with his friends while the two of them were hanging out. I still think she's totally going to break his heart but it's going to be adorable as hell until it happens.
Other notes:
This episode's Constance Wu Moment: Her perfect list: quitters, losers, cat, Kleenex, Martin Sheen, redheads, croissants.
"Don't like your neighbors? Fish are your neighbors. You can eat your neighbors."
"You love me? What are you hiding?" (Okay, so every Constant Wu moment is my favorite Constance Wu moment.)
Nicole is also becoming a fast favorite, due to her great outfits (that dress and construction boots combo!) and owning the "same crimper Melissa Joan Hart uses!"
Oh, and I loved the runner with Louis and his beauty salon chair.