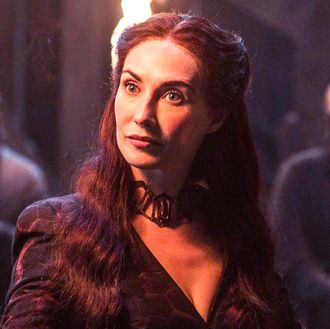 Carice van Houten in Game of Thrones.
Photo: Helen Sloan/HBO
The most careful diplomacy in EW's (print-only) Game of Thrones cover story isn't between Daenerys Targaryen and the inhabitants of Meereen — it's between the show's producers, who keep saying they plan to end the show after seven seasons, and executives at HBO, who really wouldn't mind it if their cash cow kept running for a little while more. As HBO's Michael Lombardo tells the mag: "Would I love the show to go 10 years as both a fan and a network executive? Absolutely." But, he cautions, he's definitely not trying to get David Beinoff and D.B. Weiss to do anything they don't want to do — no, sir. "If [Benioff and Weiss] weren't comfortable going beyond seven seasons, I … trust that's the right decision — as horrifying as that is to me," he says. "What I'm not going to do is have a show continue past where the creators believe where they feel they've finished with the story." 
Of course, there's a third major player who has his own plan for the show's ending: author George R.R. Martin, who won't stop talking about making a GOT movie. Not going to happen, says Lombardo. "When you start a series with our subscribers, the promise is that for your HBO fee that we're going to take you to the end of this," he argues. "I feel that on some level [a movie would be] changing the rules: Now you have to pay $16 to see how your show ends."
Reading into the flames of these interviews, the superfans at Watchers on the Wall see a Breaking Bad/Sopranos–style split final season in Thrones' future. That way, Benioff and Weiss won't break their seven-season oath, while HBO gets one extra year to rake in all the golden dragons and silver stags it can handle. After that, the Long Night (of not having Game of Thrones on the air) begins.