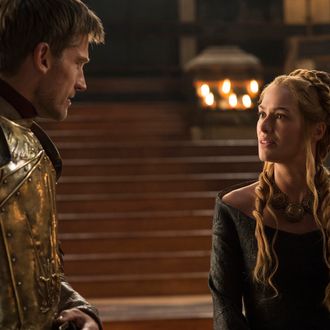 Nicolaj Coster-Waldau and Lena Headey in Game of Thrones.
Photo: HBO
At a recent event in the Oxford Union, Game of Thrones showrunners David Benioff and D.B. Weiss confirmed what everyone other than George R.R. Martin knew to be the case: GOT is going to end before Martin's books do. The possibility has been out there from the beginning, but with Martin's next book not arriving until 2016 at the earliest and Benioff and Weiss holding firm to their seven-season plan, the showrunners acknowledged that the grand conclusion of the Song of Ice and Fire saga will hit screens before it ever makes its way onto the page. "I kind of wish there were some things we didn't have to spoil in terms of the books," Benioff admitted, "but we're stuck between a rock and a hard place, so the show must go on."
To which we say: Great! Thrones purists are understandably disappointed that the adaptation will give away the ending to the original work, but we can think of a few upsides to the show finishing before the books. First, it has long been our opinion that the proper way to experience the dual versions of ASOIAF is to watch a season of the show, then read its book equivalent after. That way, you get all the visceral action first, then get to enjoy an expanded scope the second time around. (Reading the books before watching the show puts you in distinct danger of being one of those people who can only concentrate on what's been left out.) Second, Martin's books will undoubtedly turn out better if he's not rushing through them, trying to beat the show to the end; as Benioff argues, "If it takes him 20 years to finish the series, that's what it should take him." And finally, by ending first, the show can function as a rough draft for Martin while he works on his "real" version. Say the show kills Tyrion, and everyone hates it — a few years later, he can just keep Tyrion alive, and throw the blame on Benioff and Weiss. It's the perfect plan!