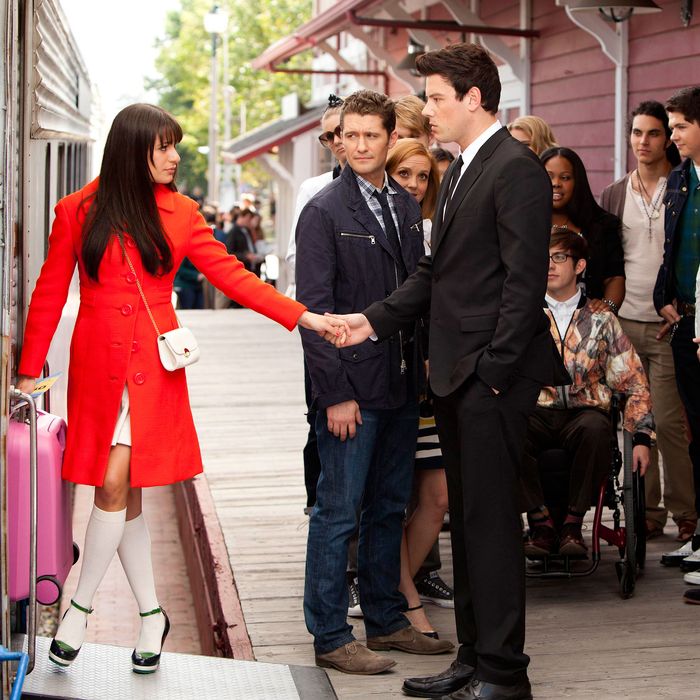 Rachel says goodbye to Finn and the rest of the glee club as she heads to New York in the "Goodbye" season finale. Tuesday, May 22, 2012.
Photo: Adam Rose/FOX
Glee's two-part series finale airs Friday, but it won't be the first Glee episode to feel like a true conclusion. While, "Wow, that's show's still on?!" is typically a dig at shows that aren't considered cool anymore, former Glee viewers can't necessarily be blamed for thinking the show has already ended. In later seasons, the show's marketing has been less than enthusiastic (to be fair, it's hard to vigorously market a television show after its lead character passes away), and the show is fond of theatrical moments like competition wins, graduations, and the dismantlement of the glee club, all of which read like series-ending moments. With the rumored return of almost all of Glee's original cast members, the actual series finale promises to be pretty epic, but here are seven of the show's series finales that might have been, ranked.
Season 1, Episode 13, "Sectionals"
Folklore around Glee suggests its creators were legitimately surprised by the show's instant success. Because they thought the show might be short-lived, they designed the season's first 13 episodes to stand alone. The episode features the New Directions' first real competition and win, and Mr. Schue and Emma's first kiss (remember when rooting for Will and Emma was a core component of the show?). It's eminently re-watchable, if only because there's something small to notice each time — like Kurt and Brittany adorably holding hands as Mercedes slays "And I'm Telling You I'm Not Going."
Closing Number: "My Life Would Suck Without You," sung by the New Directions, featuring choreography from musical numbers in each of the season's previous episodes. Adorable.
Season 1, Episode 22, "Journey to Regionals"
Glee was a full-on juggernaut by the end of its first season; the show was never in jeopardy of cancellation at this point. But in hindsight, season one's finale would have made a fitting end to the show. It's one of the few times the New Directions really demonstrated that being together was just as important as winning — an idea that was talked about a lot throughout the series but that we didn't necessarily see in action as much after this episode. The Journey medley the kids performed at Regionals is one of their best-ever competition sets, especially Finn and Rachel's sweet, heartbreaking "Faithfully." And the melding of Vocal Adrenaline's "Bohemian Rhapsody" with Quinn's labor and the delivery of her baby was damn near genius.
Closing Number: "Somewhere Over the Rainbow," sung by Mr. Schue and Puck. Sweet, but anticlimactic after the triple-whammy Journey medley, "Bohemian Rhapsody," and "To Sir, With Love" earlier in the episode.
Season 3, Episodes 21 and 22, "Nationals"/"Goodbye"
There were never any plans to end Glee when its main cast graduated, but it's interesting to consider whether that might have been wise. After all, it's proved incredibly difficult for any series to make a clean transition from the high school to college years — isn't that why the most beloved series about adolescence are those that get prematurely canceled and never have to deal with the transition, like Freaks and Geeks and My So-Called Life? Ending when the core cast left McKinley would've given Glee the chance to go out while it was still (mostly) on top. The New Directions had conquered high school — both by graduating and by winning the respect of their classmates after their Nationals win. Someone should've realized there was nowhere to go but down.
Closing Number: "Roots Before Branches," sung by Rachel and Finn, complete with ugly crying, a train platform, and farewell hugs from every New Directions member. If it reads like a final farewell, it's because it is one.
Season 4, Episode 22, "All or Nothing"
After Cory Monteith died during the summer hiatus between seasons four and five, it was up to Lea Michele to decide whether Glee would continue at all. She ultimately said the show should go on, but if she hadn't, season four's finale would have been the series' final episode. Sure, Kurt and Blaine's engagement would've been a forever unresolved cliff-hanger, but the first big win for the new iteration of the New Directions and the small, secret wedding of Will and Emma would have made acceptable beats to end the series on.
Closing Number: "All or Nothing," an original song performed Marley, Blaine, and the rest of the New Directions. Like the majority of Glee's original songs, it falls a little flat, but it makes it up in spirit.
Season 5, Episode 3, "The Quarterback"
It would have been devastating (but understandable, in many ways) for the series to end with the episode that paid tribute to Cory Monteith and Finn Hudson. The idea of the series ending with Mr. Schue sobbing into Finn's letterman jacket is almost unbearable. But the episode served as a strong testament to Finn, Cory, and the love the New Directions (and the Glee family) have for one another.
Closing Number: "Make You Feel My Love," sung by Rachel, to Finn. Inarguably the most devastating musical moment of the series, this would have been a tough but deeply affecting number to go out on.
Season 5, Episode 13, "New Directions"
If you don't know any better, it makes complete sense that you'd watch an episode of Glee that featured the permanent disbanding of the glee club, a graduation, and an all-alumni-on-deck reprise of the series' most popular song and assume that this was the last Glee ever. Seriously, it ended with Mr. Schue taking a bow in an empty, stripped choir room. It was all very "the New Directions are dead; long live the New Directions," and while it was light on closure for individual characters, you knew by the episode's end that all of the kids would be okay because they'd been part of something so special.
Closing Number: A reprise of "Don't Stop Believin'," featuring just about every past or present glee club member. It will be very, very difficult for the actual series finale to clear the bar set by this performance.
Season 5, Episode 20, "The Untitled Rachel Berry Project"
Glee's series-five finale teed up big future stories for all its main cast members, from a sitcom for Rachel to a nationwide tour for Mercedes to a renewal of Kurt and Blaine's relationship to a culmination of Sam's modeling career. It wrapped up with a feel-good performance featuring a montage of all the kids happy in their new lives, and panned from Rachel looking up at the sky to straight into the camera, which seemed to send some sort of message about Finn and moving forward. If that doesn't signify a series ending, what does?
Closing Number: "Pompeii," sung by Rachel, Kurt, Blaine, Artie, Mercedes, Sam, Brittany, and the city of New York.