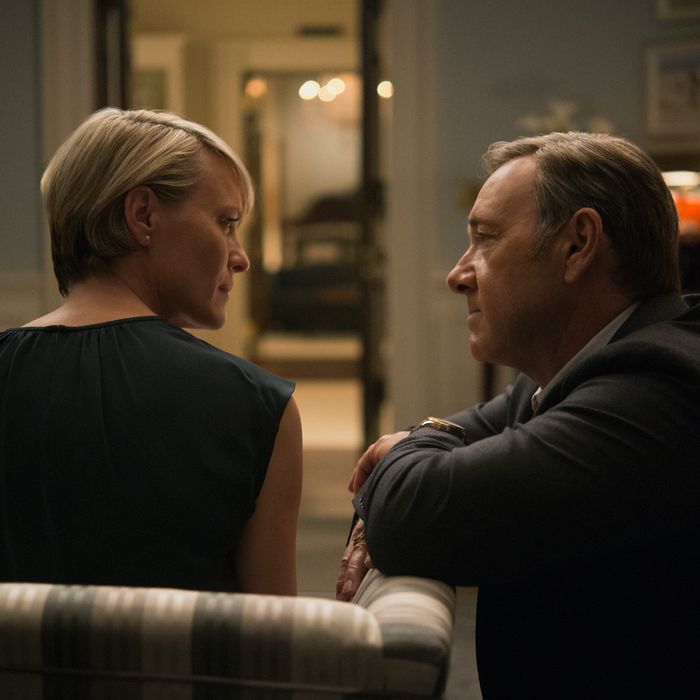 "What have we become?"
Photo: David Giesbrecht/Netflix
"Chapter 33" has an enormous task to complete: It has to restore the Underwood marriage after Claire and Frank's fight wrecking-balled it in a way that feels authentic. Do we buy that they can rebuild after this blow-up? The episode begins with Frank and Claire renewing their vows, so we know we'll wind up back to where we started: Frank and Claire, united. (Though if you subscribe to the "stronger in the broken places" school of thought, maybe this episode marks the first instance this season when Claire's oft-repeated claim that she "loves Francis now more than ever" is actually true.) The rest of the hour has to prove that the two earned this reunion. If we don't believe in this relationship, the rest of the show has no foundation on which to stand.
The one troubling element here is this Tom character, the novelist whom Frank has employed to write a book "about America Works." Why Frank thinks anyone would be interested in a book on the subject is beyond me. It sounds like he's aiming to use his own life story, his rise from rural poverty, as proof that AmWorks can help other Americans rise up, too, but that link seems tenuous at best; at the risk of stating the obvious, Frank got to the Oval without the aid of America Works, so why does his success prove the necessity of such a program?
By my estimation, Tom gets too much access far too quickly. We've seen what can happen to the people who land in Underwood's inner circle; namely, they can get kicked out, far and hard. And from Frank's point of view, if he isn't going to tell anything to Tom that the public doesn't already know, what's the point of hiring him? I've yet to hear Tom utter a single sentence that's half as sharp, eloquent, or witty as the little bons mots Frank tosses out regularly. Wouldn't Frank just write the book himself, or dictate it and have some intern/lackey type it up? The show wants us to believe Tom is this fantastic writer, but, to use a writer-ism, there's too much tell and not enough show. One good video game review and I'm supposed to believe Frank would sign this guy up for what Frank clearly thinks is a crucial task? Nope, rings false.
Tom's proximity to the president grants him a front-row seat to the biggest fight in town: the volatile rift between Frank and Claire. Much to my surprise, Claire has been heralded as a hero for her outburst in Russia (not that I'm surprised Americans overall would support LGBT rights, so much as I can only imagine the field day Fox et al. would have with a democratic First Lady speaking out of turn and upending a diplomatic trip by insulting a sitting president). While the country, at large, is happy with Claire, Frank is still outraged.
Perhaps Frank is overeager to have Tom in his life because Doug's been excommunicated and he and Claire are on the outs. For whatever reason, Frank lets his guard down enough to tell Tom "the last time I got this drunk I broke into a library, in Charleston, my alma mater. Almost puked all over myself." "That's Chapter 8," says Tom, a winking reference to the fact that this drunken all-nighter at the Sentinel took place in "Chapter 8" of HoC's first season. I thought the big reveal here would be that Frank leaked his relationship with Tim who — I'm not sure what we would call him. Frank's college sweetheart? Someone he loved, deeply, before he fully embraced the life of a political animal. Claire chastises Frank and Tom for making too much noise and quietly tells Frank she doesn't like Tom being up here, in "our private space."
Tom, emboldened by booze and maybe just by his "I'm a devil-may-care novelist, this season's answer to the devil-may-care photographer that was Adam" attitude, asks Frank why he and Claire don't sleep in the same room. Frank starts to resist acknowledging that anything is wrong but ultimately he caves. He seems exhausted. "We don't fight often, but this one, scabs keep coming off. We said things, things you just can't take back." Fighting with the people you love is so much more dangerous than fighting with people you hate. You know just what weapons to deploy. You can never unsay what you said. How many relationships require that certain unassailable truths go unspoken, that certain questions never be asked? What happens when you say that truth—"I should never have made you president"—or ask that question?
At ease, Underwoods: Tom is the first human in the history of humanity to have "no interest in the salacious."
We do learn a surprising secret from Tom, though, in his I'll-show-you-mine-so-you-show-me-yours method of getting Frank to open up: Tom didn't even write his most famous book. His friend, the one who committed suicide, wrote the first half. He instructed Tom to destroy it. Then he died, and Tom did the opposite: He finished the novel and claimed the entire work as his own. (Explains why Frank assumed "the hustler" was Tom, not Tom's friend; it probably read like the person who did the writing related most to that character, but the person who did the writing wasn't Tom.) "It was too good," is Tom's excuse. It's all very "forgive me, they were delicious" as defenses for theft go.
In the midst of this marital unrest, Frank and Claire have to pose for their official portrait. Claire is wearing a light blue dress — is this the first time all season we've seen her in a color, not white, black, or gray? — and, though she told Frank she'd be smiling, she needs to be encouraged by the photographer to do so. No teeth for this one. Frank has no smile at all. Maybe because he thinks Claire flinched at his touch; maybe Claire did flinch at his touch.
Then again, maybe Frank exploded at her in a cabinet meeting. Claire is the one doing all the work in this reconciliation, it seems; you could say she's the one who did all the work to spark this conflict in the first place, but I don't think that would be fair. He accuses her of making it too personal. "It is personal," she says. "I think you're searching for things that aren't there and you're ignoring the things that are." Frank goes for an emergency cigarette, an especially cold thing to do considering cigarettes have always been a vice he and Claire shared. This time, he uses it to keep her at a distance, standing outside to keep the smoke out of the office, and his body away from her.
"You think you made me," he says, clearly an allegation that is haunting him. "No, I don't. I think we're a team," she says. Claire, an exceptional human, cannot believe how ordinary her spousal troubles are. "I can't believe we've become this," she says. "Like everyone else." Frank is summoned into a meeting, saved by the presidential bell. He just needs a minute to "let the smoke clear."
Frank is pushing forward with AmWorks and, after some time to reflect, tells Claire he'll authorize whatever money she needs (convoluted U.N. thing that isn't all that important to follow, but basically, Claire needs Israel to stop stirring shit so the resolution can get passed; the accidental beneficiary of this international pissing contest is Zimbabwe, soon-to-be recipient of millions of aid dollars from a one United States of America!). If you thought Michelle Obama's bangs were radical, brace yourself: Claire is going brunette, her natural color, "like when I first met Francis." It looks amazing because it is scientifically impossible to make Robin Wright look un-amazing. She is wearing heels while she gets her hair colored. DOES CLAIRE EVEN OWN FLATS? Does she wear flip-flops to the beach? Or is she like Taylor, wearing heels on nature hikes despite their impracticality? I must know.
The end result of all this back-and-forth is that Claire and Frank resolve their differences because they decide to. It's that simple, really: They have too much history, their loves are too entwined, and the connection they have is too deep. I don't know that what actually takes place in this episode proves they would wind up at that chapel in Gaffney; the performances of Kevin Spacey and Robin Wright carry the story here.
We get a little more of a glimpse into the Underwood marriage when Frank takes Tom to their first home, which Claire's father bought. Claire's father paid for Frank's first campaign, too, "but that's politics. You take money where you can get it." Then he says, "I've always, from day one, been ashamed she said yes when I asked her to marry me. I didn't think I deserved her. I can tell you this, though, there would've been no White House without Claire." It's almost like Frank can forgive Claire for saying she "made" him president because he knows that there is an essential truth there, but it isn't intended to be a hurtful one.
In New York, we are treated to another round of If You Cross Claire Underwood She Will Crush You. She tells the Israeli ambassador to get in line: "I'm not soliciting, I'm demanding." And when this foe dares to tell Claire that she "feels sorry" for her because Frank "turned his back" on her in Russia, Claire buries her: Frank "is the bravest and most resolute man I know … You held a gun, and somebody told you where to stand. Don't confuse that with the burden the commander-in-chief faces … Every day he wakes up bearing responsibilities you can't possibly imagine."
A dispatch of Doug news: still stalking Rachel, still promising to get Gavin's passport lock lifted, though it's hard to imagine Doug will ever have the sway to do so. Doug, improbably, hooks up with his hot physical therapist; the morning after, she tells him he "seemed sad" last night, because this guy brings the Doug Stamper Sadness Cave with him everywhere he goes.
This episode is punctuated with scenes of Tibetan monks engaged in the Sand Mandala, a ritual of creating and then destroying a religious work of art made from colored sand. The excuse for their presence in this episode is that they are "part of a cultural exchange." It's just more art-as-sloppy-metaphor, even though it's beautiful, and I guess it helps us keep track of where we are in time. Feels like someone thought this was just a super-clever way of showing how all beautiful things fall apart or nothing is permanent or it takes patience and teamwork to build something remarkable or whatever. Pretty sure we could've figured that out from just Frank and Claire's interactions, though.
Back in D.C., Claire finds a framed photograph of the Sand Mandala with a note from Frank: "My Love, Nothing is forever — except us." For the first time in months, she and Frank sleep in the same bed.