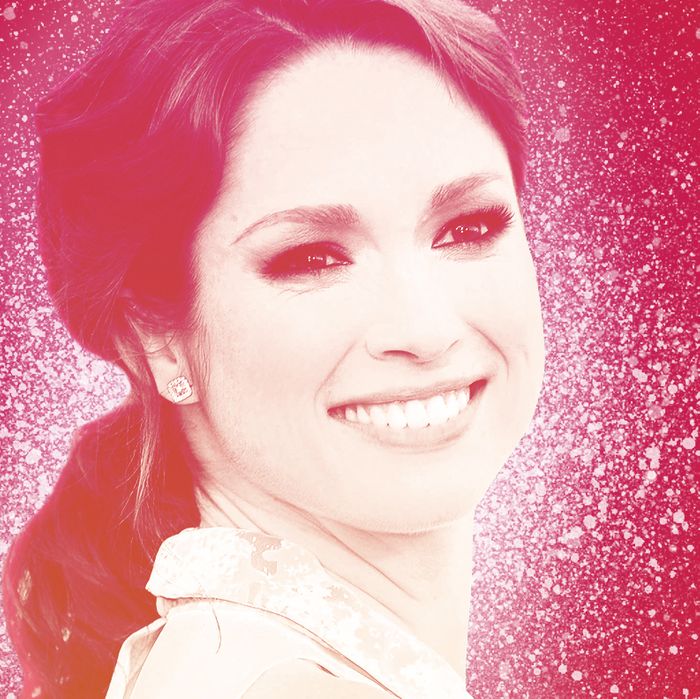 Photo: Maya Robinson and Photo by Gregg DeGuire/WireImage
Ellie Kemper, the star of Tina Fey and Robert Carlock's Unbreakable Kimmy Schmidt, is having quite a month. With seemingly effortless aplomb, Kemper has found fast, widespread success by playing an upbeat, happy-go-lucky ingenue, ready to grab life by the horns and vanquish the evils of the world with her unfailing optimism and kindness. People love it, and they love her. Of course, Kemper's rise to the top this year was easier said than done — she's played this part many times before, just in much smaller capacities, and with less recognition. Below, we trace Kemper's many steps to stardom.
***
Kemper grew up in a humor-filled, suburban St. Louis household. Her father was the CEO of a bank holding company, and her Princeton-educated mother stayed at home to look after Ellie and her three siblings. From an early age, she and her sister Carrie (now a writer in Hollywood) took an interest in comedy. They penned shorts together and performed for their family and friends. Here's an early homemade horror hit, "The Man Under the Stairs," that features a very cute young Ellie:
1994: Kemper attends the John Burroughs School, where she balances field-hockey domination with more performing. At age 14, while a freshman at Burroughs, Kemper takes her first-ever improv class with none other than Mad Men's Jon Hamm, an alumnus of the school who briefly taught acting after he graduated. "She was easily one of the youngest (and smallest) in the class, but on stage was clearly miles ahead in confidence and ability," Hamm tells Vanity Fair.  
1998: Kemper enrolls at Princeton University, where she plays field hockey for one year, before dropping the sport to focus on theater. She joins Quipfire!, an improv troupe, and the Princeton Triangle Club, a musical-comedy group, as a sophomore to hone her chops. "This is enjoyable, and I feel like I have a handle on it," she recalled for Princeton Alumni Weekly. Near the end of her college career, she takes a summer introductory improv class with comedian T.J. Jagodowski at the iO Theater in Chicago, where she's first exposed to the true rigors of making it in the funny business:
2002–2006
Shortly after graduating from Princeton, Kemper studies English for one year at Oxford before moving to New York to officially pursue comedy. She enrolls in classes at the Upright Citizens Brigade and Peoples Improv Theater. Through her involvement with UCB, she becomes a member of UCBTNY Harold teams Mailer Daemon and fwand. Here's a sketch that would later be released as a UCB Comedy Original:
She finds her first insider-industry success with a one-woman show at UCB Theater called Feeling Sad/Mad With Ellie Kemper, which is exactly what it sounds like. She also takes an unpaid internship with Conan O'Brien, snags a couple spots in commercials, and begins contributing to humor publications, including The Onion and McSweeney's. Here's one of the skits she appeared in on Conan:
And here's an early spot she did for Kmart:
2006–2009
Kemper plays small roles in a handful of TV shorts and made-for-TV movies, including Sexual Intercourse: American Style, Mister Glasses, and Redeeming Rainbow. Here she is in Sexual Intercourse with a pretty incredible crying face:
And here she is in Redeeming Rainbow, as the "nicest girl in the world":
Around this time, Kemper gets noticed for a blow job video for Derrick Comedy/College Humor; it's a hysterical tutorial on how to murder a penis, and with this clip, scads of watchers who hadn't seen her before were introduced to her hilarious persona, which we now know and love (this is just a little dirtier than what most are now used to):
2008: Kemper auditions for a part on Greg Daniels and Michael Schur's then-forthcoming series Parks & Recreation. Instead, she gets a callback for a small part on The Office. Kemper moves to L.A. to play Erin Hannon, a role that would eventually catch Fey's eye. "My first impression was, 'that girl's funny,' but maybe she's too pretty to be on The Office," Fey tells Vanity Fair. "But she grew on me because she's good at downplaying her prettiness."
2009: Variety names Kemper, now a series regular on The Office, one of the year's top ten comics to watch. "I'm the most comfortable when I'm playing a naturalistic character," Kemper tells the trade. "I auditioned for Saturday Night Live, and when I was doing the biggest characters, I felt the least comfortable. I'm just more comfortable when it's some version of myself." Case in point, Kemper also has a couple self-inspired appearances on Comedy Central's Important Things With Demetri Martin:
2009–2012
Kemper never got SNL or Parks, but thanks to The Office, she does find her first small parts in a few pretty big movies, such as Get Him to the Greek and Sofia Coppola's Somewhere. Here's a brief snippet of her in Greek, where she played one of Diddy's Pinnacle executives:
2011: Kemper nabs a bigger, albeit still supporting, part in Bridesmaids:
Here's Kemper doing a TEDx Talk about what she thinks about women in comedy, and why Bridesmaids, which raked in almost $170 million worldwide, worked so well:
2012: Her next big-project, small-role gig comes in 21 Jump Street — and similar to other projects in this timeframe, she's able to broadcast her hilariously naïve, innocent persona on a stage that's gradually increasing:
2012–2014
Kemper's affiliation with The Office, as well as all those bubbly supporting roles, begins to truly pay off. Kemper nabs a recurring spot on The Mindy Project and appears in Laggies, They Came Together, and Sex Tape. Most importantly, though, Fey writes the Unbreakable Kimmy Schmidt pilot with Kemper in mind. Although the show doesn't find its footing at its initial home, NBC, it was later picked up by Netflix.
Kemper also hosts Ellen — the show's first-ever and only guest host — on one-day notice with incredible dance moves and nonpareil adorableness:
If she didn't woo TV- and movie-watchers with her past roles by this point, consider the world officially charmed by her Ellen stint. Basically everyone was pumped — except for her mom:
2015: Netflix rolls out Unbreakable Kimmy Schmidt, which has Kemper as its titular lead. Vulture's Margaret Lyons called the show and its star terrific, writing, "If there's a better match of performer and role than Ellie Kemper and Kimmy Schmidt, I can't think of one. Kemper is the show, and the success of the series hangs on her ability to be childlike but not idiotic, cheery but not irritating, naïve but dignified. Kemper's just about perfect, and the show's pretty damn good, too." The UKS team will shoot season two this summer, for release next year; season one is available on Netflix.
And with that, a star was born.