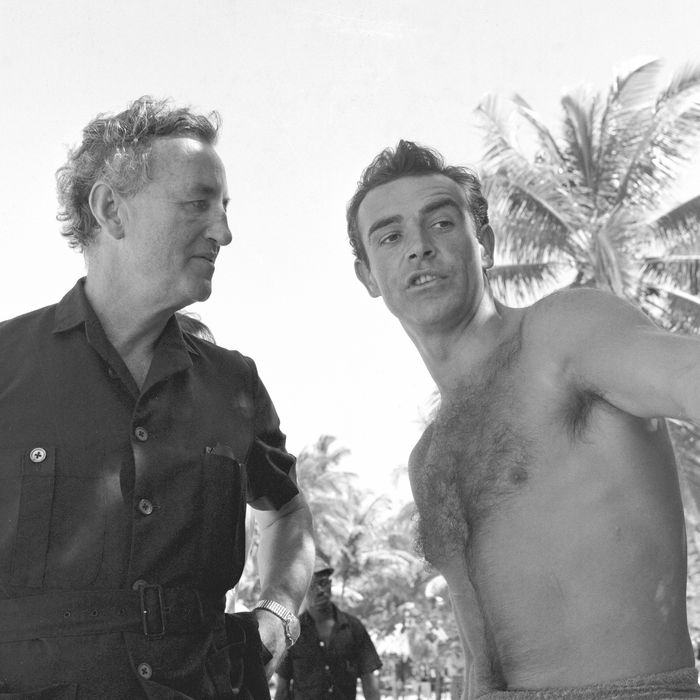 During location filming in Jamaica, Ian Fleming gives Sean Connery some firsthand pointers on his portrayal of James Bond. Courtesy of Pegasus Books and Bert Cann/United Artists Corporation.
Photo: 1962 Danjaq, LLC and United Artists Corporation. All rights reserved
James Bond, one of the most iconic characters to emerge out of the postwar wreckage of Europe, was born in Jamaica. Ian Fleming, a former intelligence officer, first visited in 1943 while the island was still under British rule and built a house he called Goldeneye on the northern coast three years after. It was here that he would write all of his James Bond novels, starting with Casino Royale in 1952, up until The Man With the Golden Gun, which was published after his death in 1964. Matthew Parker's new book Goldeneye Where Bond Was Born: Ian Fleming's Jamaica explores the complicated relationship Fleming had with the island as it moved from British colony to independent nation. Here are the ten most interesting things Vulture learned, from Fleming's terrible habits (70 cigarettes a day!) to how he felt about Sean Connery.
Goldeneye was named after a wartime operation.
Fleming was the assistant to the director of Naval Intelligence, and Goldeneye was the name of a wartime operation he had planned for the defense of Gibraltar. It also had a synergistic quality to it: The town Goldeneye was near Oracabessa, derived from the Spanish "Golden Head." The name is also a nod to Carson McCullers's novel Reflections in a Golden Eye. The design of the house was aggressively Spartan, with no cupboards or hot water, and a kitchen that simply had a stove and a sink. It was not meant to be comfortable.
Fleming smoked 70 cigarettes a day and drank like a fish.
According to a doctor's report, Fleming admitted to "smoking seventy cigarettes a day and drinking at least a quarter of a bottle of gin." He would carry on like this despite doctor's orders otherwise. His deteriorating health would appear in the later James Bond novels, as Bond suffers from "that nagging sense of morning guilt that one is slowly wrecking one's body" (Thunderball). In his notebook, he wrote something from another writer: "Death is like any untamed animal. He respects a scornful eye." He died at the age of 56.
James Bond's love for animals comes from Fleming.
Fleming was an avid ornithologist and general nature lover. In the books, if someone kills a bird, James Bond will kill you: "the Robber" in Live and Let Die, Von Hammerstein in "For Your Eyes Only," Scaramanga in The Man With the Golden Gun. Bond himself doesn't kill an animal unless it's a fish. Oh, or a human.
Goldeneye was an artistic hotspot.
In the 1950s, Jamaica became a hotspot for celebrity tourism, owing in large part to Fleming. Marilyn Monroe, Errol Flynn, Vivien Leigh, Audrey Hepburn, and many others passed through. A journalist for the national paper the Daily Gleaner wrote that this was where people "drank, idled and committed adultery in the sunshine." Goldeneye in particular saw a number of artists and writers pass through, including Lucien Freud (whom Fleming hated because he suspected he was having an affair with his wife, Ann), Evelyn Waugh, Truman Capote, Graham Greene, and even the prime minister, Anthony Eden. He was closest, for better or worse, with the playwright Noël Coward, who also incorporated the island into his work (as a fictional one called Samolo) and created characters based on Fleming in numerous works like Pomp and Circumstance and Volcano.
JFK's endorsement made James Bond a big deal in the U.S.
An article from Life magazine on March 17, 1961 listed John F. Kennedy's favorite books, which placed Fleming's From Russia With Love at No. 9. Fleming and Kennedy would dine together, and Kennedy asked Fleming what Bond would do to get rid of Fidel Castro. Fleming joked that Bond would drop leaflets saying that the fallout from nuclear tests would make any bearded man sexually impotent. The revolution would be quashed once Castro shaved his beard.
He loved Jamaica because it didn't show any signs of rebelling.
Fleming was kind to his staff, but deeply paternalistic: He required them to address him as "Commander," for one. His views on race become blatantly unconscionable in Live and Let Die, and his final novel, The Man With a Golden Gun, depicted black people — both American and Jamaican — reduced to stereotypes and with little to no agency. Basically, Jamaica remained a kind of exotic repository of British nostalgia for its former imperialist self in the Bond books. Eldridge Cleaver, one of the early Black Panther leaders, called the books an example of a white "fantasy world."
Yes, James Bond is supposed to save America all the time.
While Fleming was impressed by America's size, scale, and technological achievements, he believed that the nation had a "total unpreparedness to rule the world that is now theirs." This bias would appear in his books, where Americans would appear as rude and jealous of Bond's style and panache. The books were popular in postwar Britain largely because they portrayed a strong Britain at odds with its real-world decline.
Dr. No was made on a shoestring budget, but it launched a franchise.
Dr. No was the first feature film adapting Fleming's sixth novel. Financing the film was tricky at first, with the budget set at $1 million. The deal Fleming inked got him an initial $50,000 at signing and $100,000 for each subsequent movie. The film would become a box-office sensation in the U.K., and eventually grossed £60 million worldwide. Overall, the franchise has raked in over $5 billion at the box office.
Bond didn't want Sean Connery for the role at first.
Fleming wanted David Niven, whereas the producers were testing out Cary Grant, who ultimately proved to be too expensive. Their last resort was to go to an unknown: Sean Connery, whom they chose because he looked like the Express cartoon version of Bond. It wasn't until after dinner with Connery at the Savoy, where a female guest called him "very attractive," that he came around. Basically, even Fleming couldn't deny Connery's hotness. After meeting him, Fleming later said that while Connery was "not quite the idea" he had of Bond, but "he would be if [he] wrote the books over again."
Bob Marley was rejected for a bit part in Dr. No.
For a scene requiring musicians, they interviewed Bob Marley but decided against him because he was "very untidy and crude." Instead, the job went to Byron Lee and the Dragonaires, a legendary ensemble that played on the northern coast and in Kingston since the 1950s.