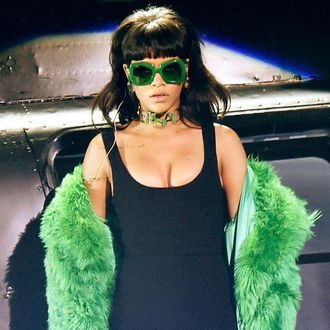 Rihanna performs "Bitch Better Have My Money."
Photo: Kevin Mazur/Getty Images
Missed the iHeartRadio Music Awards? Pat yourself on the back! For a show that's about as haphazard as YouTube's Music Awards were in their inaugural year, it has somehow made it into its second year. At last night's ceremony, hosted by Jamie Foxx, Taylor Swift walked away the big winner (no surprise there), picking up awards for Artist of the Year, Song of the Year for "Shake It Off," and Best Lyrics. Another big winner? Justin Timberlake, who received the Innovator Award (a.k.a. the award that networks bribe legacy artists with when they're in desperate need of high-profile faces not named Taylor Swift to cut to during performances and things).
But, like any awards show, the night was all about the performances, unfiltered moments, and, of course, Taylor Swift dancing in the audience. Let's run through the highlights first.
Rihanna: For the debut performance of her new single, "Bitch Better Have My Money," Rihanna served up Lil' Kim–circa-1997 realness, channeling Kim's "Crush on You" video in a lime-green ensemble. She stepped out of a chopper, too, in case you forgot what bossing up looks like.
Madonna and Taylor Swift: Oh, you know, just Taylor Swift performing with one of her "friends" — who so happens to be Madonna. Here she is playing Paul Simon to Madonna's Art Garfunkel for "Ghost Town" (which includes lots of Angelina Jolie–level leg action from Swift at the end).
Justin Timberlake: As previously mentioned, JT got the You're Officially an Old Innovator award last night, and decided to make a long-winded speech that both insulted the show's catering and quoted Steve Jobs and (impressively) Theodore Roosevelt. But the awwww moment, of course, was his shout-out to his wife, Jessica Biel, and their "greatest creation yet," their soon-to-be-born child.
Taylor Swift: What would an awards show be without Taylor Swift in the front row? Here she is getting her best awkward-white-girl dance on during Snoop Dogg and Charlie Wilson's performance of "Peaches and Cream."
And now, for the bad: Jamie Foxx. As a host, Foxx is generally hit or miss (though you have to give him credit for consistently inserting race jokes meant to make white audiences uncomfortable whenever he's on broadcast TV). Unfortunately, last night, he veered off into the mostly terrible spectrum of awards-show hosting.
Foxx pretty much jinxed himself with his opening monologue, which included an offensive joke at Bruce Jenner's expense regarding his reported gender transition. How did this joke even make it through a table-read?
More Jamie Foxx: And then there was Foxx beating a dead horse with a running joke involving O.T. Genasis's "CoCo," which he used to (kind of hilariously) mock country music's American Sniper ethos.