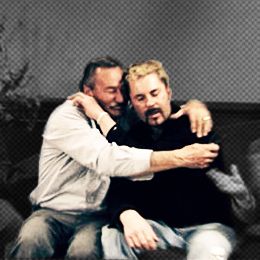 Season four, episode 67 of Intervention.
Photo: A&E
A&E's reality show Intervention hinges on a classic bait-and-switch: Participants are told they're being filmed for a documentary about addiction, only to later discover they're the subject of a well-orchestrated intervention. By the time it was canceled in 2013 after 13 seasons, Intervention's premise was widely familiar. Its three main interventionists — Ken Seeley, Jeff VanVonderen, and Candy Finnigan, all former addicts themselves — were recognizable to viewers; its opening sequence elicited Pavlovian excitement from its dedicated fans, who made YouTube homages to its most famous subjects and ran online forums where commenters could dissect recent episodes. Last year, in what show creator and former producer Sam Mettler calls a "very rare" occurrence, Lifetime, an affiliate of A&E, purchased new episodes of the show, only for A&E to take it back. A&E premiered the first episode of its 14th season Sunday night.
With a now-iconic premise, Intervention is increasingly facing a dilemma: Can a show that relies on the addict's obliviousness to the overall conceit survive its own ubiquity?
One of the show's longtime producers, Jeffrey Weaver, admits the reboot has been significantly harder to cast than the original version. "It's been incredibly more difficult to find subjects," he says. "People's families are sabotaging and telling them about the intervention before we can go out and shoot. People are catching on to us early and eliminating the effectiveness of the intervention."
Back in the early days of Intervention, producers couldn't have envisioned such a problem. Mettler describes the casting process then as an arduous guerrilla operation. "At the beginning, I was going to 12-step meetings every day," he told Vulture. "I actually met our very first subject, Gabe, a compulsive gambler, at a 12-step meeting. I was on a ton of phone calls, trying to make them understand that we really honor and respect every family and every subject that would appear on the show."
Once the show premiered to good ratings (it pulled 2.9 million viewers at its peak), A&E allowed producers to put a card at the end of each episode directing those in need of help to visit an Intervention-specific website. The number of submissions shot up, with another additional bump when a new episode aired. Over the course of the first eight years, former casting director Anne Touchette estimates the show received around 25,000 submissions, which a dedicated group of four staff members evaluated and responded to. Subjects were chosen for, among other things, their "high loss potential," as Touchette told BuzzFeed in 2013, as in, "What have they lost so far?" Mettler, who disapproves of the word casting in the context of a docu-series, says that the addict's ability to be open was paramount.
"We're not looking for the best-looking people. It's the folks that are really good at telling their stories." In order to gauge who would be at ease in front of the camera, the producers would instruct family members to videotape themselves and their addicted loved one talking about their lives. The crew pursued stories from the snowy Minnesotan suburbs to the back alleys of downtown Baltimore and profiled former stockbrokers, compulsive hitters, even a former member of the band City High.
But by as early as the third season, flaws in the system were beginning to appear. As the show's ratings grew, so did its reputation. This newfound fame threatened its ability to operate using the Johnson Method of intervention, which relies heavily upon the element of surprise. Perhaps the first sign of trouble was when Dillon, a crystal meth addict profiled in April 2007, guessed correctly that his family was planning an intervention for him.
"He was just such a meth addict that paranoia had him questioning everything," Mettler says, "and in this case, his paranoia just happened to be right."
Crew members had to develop increasingly clever ways to throw the subject off the scent, though they never flat-out denied they were filming Intervention. Still, it's difficult to find someone living in a vacuum, however isolating his or her addictive behaviors may be. According to the network, a good portion of the viewership are addicts, and the families of addicts, given the response the show gets to the card at the end of the episode. With increasing frequency, addicts were introduced to the interventionists only to say, "I know who you are." In season seven, an alcoholic and exercise bulimic named Marquel, one of just two addicts over the course of the show's run to entirely refuse treatment, hears about Intervention and asks her roommate to watch an episode with her (the whole thing doesn't end well). Two seasons later, Cassie, a pill addict and prostitute living in a Florida motel, screams through tears during the show's denouement, "I already knew this was Intervention the whole time!"
By the final season, many subjects were fluent in Intervention-ese. Kaila, a college student and severe anorexic, greeted Ken Seeley unenthusiastically by parroting another interventionist's standard opening line. "If you had asked me what my favorite show was [at the time], I probably would have said Intervention," says Kaila, now 21 and set to graduate from college in December.  "I've seen the show enough times to know Jeff's opening lines by heart, and in all my shock it just seemed like the only thing to say, even though it was Ken. There was even a point when my mom told me that since she knew Intervention was my favorite, she thought if she got me on the show that I would get help." Kaila did accept the help regardless. She went to treatment for 12 weeks before leaving against the advice of her treatment team. (Kaila notes she probably wouldn't be here if it weren't for the intervention.)
Producers of the new version say they still receive plenty of leads for good stories, mostly submitted by family members, and more often when the show is airing on television. And while the show's conceit is more familiar now than it was in the early years, they still think it's possible to surprise addicts (and viewers). For one, Intervention spawned something of a subgenre of reality TV on networks like Bravo and Discovery. As Weaver puts it, "There is more than one documentary about addiction out there," which means a participant wouldn't immediately assume they're on an intervention-driven show.
This season, we see the families themselves interfere with interventions, often because they've lost hope in the efficacy of rehab. The first addict profiled in the new version, Katie, is a 28-year-old crack and heroin addict. Katie had already been to 13 rehabs by the time her sister submitted her to the show. Her struggle had been so draining on the family, a few members were against the intervention for fear she would disappoint them yet again. "The family was very divided," Weaver says. "We encounter a lot of that this season."
Weaver points to a larger shift he's noticed since the show's early days: the severity of addiction itself. "We've discovered family members that have been selling drugs that won't let us film. We've gotten death threats," Weaver says. "We've encountered that level of desperation in the past, but not as consistently as we do now," he said. "I just feel like we're dealing with a new generation of addiction."