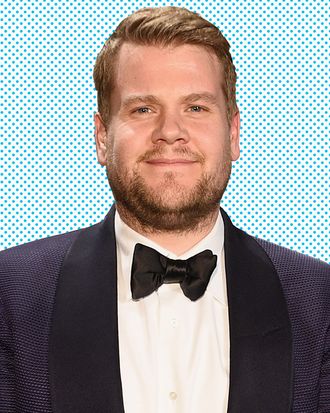 Photo: Michael Buckner/Getty Images
Starting tonight, moderately famous Brit James Corden will succeed Craig Ferguson to become the fourth host of The Late Late Show on CBS. Corden, who has balanced TV rom-coms and Broadway in his 15-year career, spoke with Michelle Lanz and Cameron Kell of Southern California Public Radio's arts and entertainment show "The Frame" about how his show will be different, why he made Reggie Watts his bandleader, and Google Earth–ing himself. (Listen to part of this interview below, and subscribe to "The Frame" at iTunes or Stitcher.)
[The set of The Late Late Show] feels a bit to me like Cabaret meets pub. How would you describe the feel of the set? What was it you were after?
When we talked about it, myself and Ben Winston and Anton, who's the set designer, we talked about it in terms of atmosphere rather than talking about actual color palettes or things. You see, we want it to feel like it's an intimate place where it's somewhere that you'd want to be at 12:30. And we were also very conscious that this show is on after a talk show which is performed in 560-seat theatre, and that's the show that's on at 11:30 in the Ed Sullivan Theater, and we have to be somewhere that feels different. We have to earn our place on TV — it's not enough to say just because there's always been a show there that there should be a show there.
You mean like more chamber orchestra following the symphony.
I guess so, yeah. Or, you know, Stephen Colbert's brother with ADHD.
When you're thinking about how you're designing the look and feel of the show, how conscious are you of what has been done in the past, and are you able to kind of divorce yourself from that kind of institutional memory of all the talk shows over all the years and try to create something that's both reverent and new?
Well, that's a very important thing to think about, because your first thought is, "Oh, let's rip up the book and do it all in a white box." And then you think, "Well, this is stupid, let's … " so we want to honor and acknowledge the traditions of late night, which is why we're looking now at a skyline of Los Angeles and there's a couch and there's a desk, but then we're like, "but how can we put a twist on that to make it feel fresh and original somehow?" So one way is that when we do our interviews, I'm gonna sit here where I am right now. I'm not gonna sit behind a desk; it seems odd to me. We're gonna bring all our guests out at the same time, so all of our guests will sit together for all of the chat segments of the show.
And they have to be interested in what the other people are saying, or at least pretend to be.
That doesn't matter. They can do whatever they want on our show.
But that it's a conversation, that everybody is over at a dinner party, basically.
Yeah, we want it to feel — exactly. Like a talk show ends, and then our show starts. And nowhere else in the spectrum of television would that ever happen. No one would say, "Oh, from nine to ten we've got a hospital drama, and then ten to eleven, we're gonna have another hospital drama with the same diseases." You know? So it's very much a late-night talk show, in so many senses — in no way is this going to be a radical thing, we just want to put our own spin and take on it.
I want to talk about the process of coming here. Not just in creating the show, but you reference the Los Angeles skyline, of you actually moving to Los Angeles, relocating your family to Los Angeles, trying to figure out traffic, how to get around, I suspect trying to find a pub where you can find West Ham United fans. What have been the great challenges of moving to southern California?
Well I mean the biggest challenge for us, for my wife and I, is that my wife gave birth to our daughter 14 weeks ago, so that in itself is pretty much the biggest thing you can ever do, and then when she was 7 weeks old, to move to California with our 3-year-old son … I owe it to them for this show to be a success, I owe it to my wife for taking the plunge and going, "yes, this is an adventure that we should go on as a family." And we just came to the conclusion that like —  it's thrilling for me to just visit America; I didn't grow up in a family that was very wealthy, we never really came on holiday anywhere abroad really. We'd occasionally go to the south of France, once or twice, but mostly we'd be in a caravan in the U.K., which is not a pleasant place to spend your summer … I never got to come to America until I was 26 in a play called the History Boys, which we did in New York. And from the second I got here, I just fell in love with the optimism of the place and the positivity of the place and the feeling amongst people of wanting you to do well, and that is an infectious thing if you are a performer. And so to come here and just even have a job here is thrilling. To have your own show on CBS, like if I could tell my 12-year-old self that this is what my life would be like, his head would explode, you know?
[This show is a little] like doing live theater. You don't know what's going to happen, you go out there, everybody is working toward the curtain, you do the show, and then you start the new day all over again. In that way, is theater almost the best preparation mentally for what this show requires?
Yeah. I mean people kept saying to me, "Oh my goodness, you're gonna be so tired doing this job." And I would sort of go, "Well, we did 497 performances of One Man, Two Governors in a year and a half, and that was three hours a night, sometimes two shows a day, of the single most physically demanding thing I've ever done." The only difference between this and that, is that this is a new show every day. So every day we've got to wake up and create an hour of television. But I mean, if I ever get to 497 of these shows, I'll be well into like my sixth year, which I hope would mean we'll have done okay.
You're about to launch, but you've had probably weeks, if not months, of run-throughs and of practice sessions of kind of going through what you want the show to be. What has that process been like as kind of the co-creator of the show, and what have you learned that you enjoy, and what are the kinds of things that you felt you want to try to do more of and experiment more with?
The whole notion of prepping these shows is just constantly asking questions of it and yourself. Constantly saying, "is this the best use of me?" "Is this something that guests would want to do?" "Is this a viable game?" And so much of it comes down, often, to the budget restraints of a show in this time slot, and you know, don't get me wrong — almost every day I think, "Ugh, imagine if we had the budget of The Tonight Show, imagine being able to compete on the level," but we have to just try and make positives of all of those things. Ultimately, I just keep thinking we've got to have a good time, because I feel like if we're having fun, if we're having a great time, then we're halfway there to it being a good show. I feel like in the time slot that we've got, it's a more relaxed place. I think if we were doing this show at 11:30, it'd be talking about the tent poles and home comforts of things that people want, need, and require in that slot, and I don't know that that requires at 12:30, and I think we will be able to have a little more fun.
Does that mean that you are intentionally gonna try to get different kinds of guests, or have different conversations with the same kinds of guests who might be on earlier in the evening on other shows?
We're just gonna try and make it a fun place to be. I mean, in terms of the conversation with guests, I would love it to feel in some way organic. My predecessor on this show, Craig, I think his greatest strength was his ability to have an interesting and seemingly unrehearsed, organic conversation and that is something I hope so much that I can develop. But I'm only going to develop that in time. I hope we can use the audience, I hope we can use the space for fun, I hope we can play games and bring a sense of old-time variety to it in a way. I hope that's something we'll be able to do. But we'll see, you know?
If you had more resources, would you be doing more skits, more production outside of the studio? I mean, if there were a blank check, what kinds of things — when the show is incredibly successful — would you be able to do?
Well, I never realized how expensive music is. At home, when you make shows for the BBC, there's like a blanket agreement with artists where you can use their songs for the same thing every single [time]. Like, I always just thought "History of Rap" was a brilliant performance; I never realized quite how expensive it is to do such a bit.
Just to license it, not to have bands.
That's what I mean, the publishing and everything. So there was a lot of steep learning curves we've gone on. But we're gonna have a lot of fun here. We have some games, which I really believe in, that have worked. We've only done four test shows and No. 5 is gonna be our first show, but we have some really fun things. I'm gonna try and do something with Tom Hanks on Monday night, which I hope works, and if it's as good as I hope it is, it's gonna be great.
What in your past has prepared you the most for doing this show, and what have you learned where you are a little bit more under-prepared than you would have thought?
Mostly, the thing I've learned in my career to this point is that the harder I work, the luckier I seem to get. And that's it, really. Like, I can't control how many people watch this show, and I can't control if they like it or if they like me, but what I can control is the amount of effort that I put into it, and I'm absolutely determined to make this show a success and for it to be a relevant piece of the conversation when people talk about last night's television, and that's all I can really do. Past that, it's too much for me to think about the kid in Ohio or the family in Nebraska or the grandparents in Michigan, like how can I just talk to them immediately. Because the very notion of these shows is that they're bred on familiarity — there's your host, there's your show. So that's why very often the change feels that it's a negative as opposed to a positive, because you're saying to people — you're asking them to let you into their homes every night and that's gonna take a long time to formulate and find and build that relationship. But for me — it won't be enough for CBS — but for me, just for one person, one kid, one student, one aunt, one parent to be sat somewhere and go, "oh, I get this guy and I like it," that's enough for me. If you're from the town that I'm from in the U.K., which is a town that most people in England have never even heard of, the whole thing is ridiculous. It really is. It's absurd that I would be here and people are gonna watch the TV and go, "how did this guy get this show?" And I'm thinking the same thing and have been for months.
You talked about music. How did you meet Reggie Watts and why did you feel he was the perfect companion for you on this show?
I just couldn't get it out of my head that he wasn't the single best person for this job. I mean, he was on a list of one, and that was it. Him and a band, a band that he picked, he chose, he went to all four corners of the globe looking for this band, like I feel like if you're trying to create a show where what you want people to say is, "I don't know what it will be tonight" — which is all we want people to say about the show, we don't want it to follow a regimented form and structure — that if people say, "I don't know what it's gonna be tonight," then he is the single greatest comedian for that because when you go and see him and buy a ticket you don't know which Reggie is gonna turn up. So for him, I feel like the luckiest guy in the world. I have the best seat every night to watch him and this amazing band perform, and as the show goes on and people get to know me — like I'm very conscious of the fact that we have to introduce audiences to me — and then, like, Reggie's just gonna fly, man, he's just gonna fly. It's gonna be a shining light in our show, no question. He is the best comedic musical performer, I think not just in the country, possibly in the world.
How did you first meet him and how did you pitch your show?
I just sought him out. I said, "Reggie, I've been given this job and I want you to be part of it." And he, in the same way that I was about taking this job, felt very reticent because his career was on a path that he didn't feel this was necessarily what it was going to be, and nor did I. But as we talked about the show and I just said, "look, all of the things that you are concerned about are the same things that I'm concerned about. So we're just gonna have fun. That's it. Our job is going to be fun, and it's going to be like a poker game of fun with the audience, where fun is the currency and we're gonna go, 'we're gonna have fun,' and the audience will go, 'we're gonna have fun and we're gonna raise you some more fun,' and we're gonna say, 'well, we see your fun, and now we're gonna do this.' And that's how I want it to feel." And as soon as we started talking about it like that, and talking about it in atmosphere and the audience being this close and the way that the set would feel and his elements, where I would say to him, "this show can be whatever you want it to be; you can run the band, or if you say to me, 'I want to take a camera, and I don't wanna show you what it is but I want four minutes on tonight,' it's yours. It's done. It's in." Like that's what I want the show to feel like.
I want to ask about the philosophy of booking. A show's character is determined not only by its host but also by the people that that host brings onto the show. And there is sometimes a radical difference between someone who is a celebrity or popular and someone who is entertaining and interesting. Sometimes they're the same, but not always. But as you're weighing guests, where is your finger on the scale? Is it pushing down on celebrity, or pushing down on entertaining and interesting?
Well, right now, we'll take any guest that could come on the show. I don't think it's our choice; we're not even on the air yet. So I don't think we can be in any way to be saying, "Oh, I'm not sure about him." Like, genuinely, we'll take anyone. Like we're very, very lucky that we have a great list of bookings in our first week. Our first show is Tom Hanks and Mila Kunis, our second show is Kerry Washington and Chris Pine, our third show is Will Ferrell and Kevin Hart, our fourth show is David Beckham, Claire Danes, and Bob Odenkirk. Like, these are just dreams for me. To sit and chat with Bob Odenkirk while he sat next to Claire Danes and David Beckham, it's inconceivable to me that this isn't something that's interesting to watch. So the three of them sat together on a couch — what's that gonna be like? I don't know, but I'm intrigued to see.
In terms of the butterfly quotient — butterflies in the stomach — how does it compare to, say, the opening of a Broadway show, singing in front of Stephen Sondheim in Into the Woods. What is the comparison, or if you had a comparable experience in your life?
Well, they're all very similar. It feels very similar to being in One Man, Two Governors where I would stand on the other side of a door on my own and would wait for a cue and walk out. And you feel incredibly on your own in those moments. But then you just have to remember that this is the very thing that you signed up for, and this is what you wanted and you knew this would be the case. You've just got to take a deep breath and ultimately you've got to Google Earth yourself and realize this doesn't matter. Like, if this show doesn't work — which it might not — it doesn't mean I'm bad. It doesn't mean my career nor life is over, and it's gonna pale into insignificance when you get those phone calls at three in the afternoon or they wake you in the middle of the night and something's actually gone wrong, something actually has happened. And you've got to just know that there is a whole world of people, not even outside of this building, inside this building who don't know that this show is happening and most of all don't care. And so how can it be that important? The more you can think about that, the more you can Google Earth these moments and go, "oh man, the very thing you're stressing about is so irrelevant in what is actually important in your actual life," it just means I'm gonna have a bad day at work. That's the worst-case scenario: My work wasn't good today. This is not my wife, or my children, or my parents, or my friends, and that's what you have to do. And then you've got to take a deep breath and go, "I've just got to enjoy it. I've got to enjoy this so much." And the harder I work, the better this show's gonna be, and I'm gonna stop at nothing to make this show the single greatest show that has ever existed in this time slot.