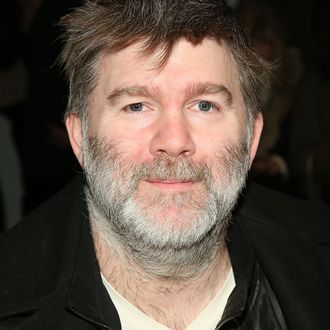 Photo: Mireya Acierto/Getty
Noah Baumbach should ask James Murphy to score all of his films, because, at this point, the duo can do no wrong. Their latest collaboration is the soundtrack for While We're Young, a film about old couples who can't remember what life was like before it became terminally boring, starring Ben Stiller, Naomi Watts, Amanda Seyfried, Adam Driver, and Ad-Rock.
Murphy selected songs from artists like Haim, Paul McCartney, and A Tribe Called Quest for the album, but the real joy is hearing the original music he wrote for the score. The beautiful "We Used to Dance," released today, is a gorgeous instrumental that sounds like it could have been plucked from Brian Eno's Another Green World (or an early Human League album). Murphy recorded two other songs for the soundtrack, including another original, "Only the Stars Above Welcome Me Home," and his take on David Bowie's 1976 classic "Golden Years." Milan Records will release the full soundtrack on Tuesday. The film is in theaters next Friday.