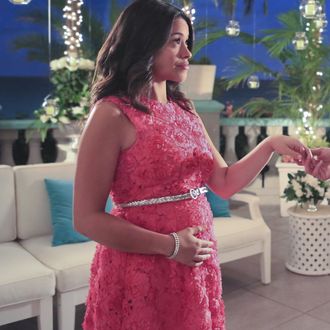 If there's one thing we know for sure about the Jane the Virgin season finale, it's that Jane (Gina Rodriguez) will be giving birth. What we do not know about this highly anticipated birth is exactly how Rafael and Jane's bundle of joy will make its TV arrival. According to the cast members we polled on the subject at the show's PaleyFest panel in Los Angeles on Sunday, the TV birth will be: "well-done," "emotional," "funny," possibly inexplicable, and "hopefully nice and clean."
Jaime Camil (Rogelio) revealed that the season's climactic scene still only exists on the page. "We haven't shot it yet," he said. "We're shooting seven more days, we have this week to go. I hope they don't show the birth. When my wife gave birth I was respecting the window of exit, I was not going down there, no, no. I kept up sideways, nice and clean. Hopefully it will be the same for television [Laughs]."
Cast members Andrea Nevado (Xiomara) and Brett Dier (Michael) predicted an emotional roller-coaster for the audience. "I don't know how to explain it," Nevado said. "It's well-done; it's funny and it's heartfelt and emotional. It's definitely good."
"You know this show is going to bring the emotions," added Dier. "It's going to bring the tears. It's going to be an emotional scene."
The most reliable source on the subject was showrunner Jennie Urman, who promised that we won't be subjected to the formulaic and all-too-familiar onscreen birth scene we've seen too many times.
"I said when we started this, what I don't want is a scene where the woman is screaming at her husband, 'I hate that you did this to me!' That's not what it is," said Urman. "I'm a mom, and Jane has been preparing for the birth. Part of becoming a mom is realizing that you can't prepare for everything and letting go a little bit, which isn't an awesome feeling, but you have to do it. It will happen unexpectedly because you want drama around her birth, right? It's a TV show, and it's a fun one, but you're not going to be seeing that straightforward narrative that we've seen before — and it's going to connect back to Jane's birth and her mom. You'll see a little baby Jane."
In the meantime, Jane's baby bump will continue to be viewed as a hilarious prop by her cast members. According to Nevado, Camil "drums it, he likes to slap it out of nowhere."
"There's always drum-playing, there's lots of belly-bump dancing, there's rapping on the belly bump," Rodriguez added. "But it gave me a huge appreciation for mothers. To have that physically on your body every day and to see yourself transform, to get bigger and to not recognize yourself in the mirror … Not only is it this beautiful thing growing inside you … but also what you look like as a woman, accepting yourself and accepting your body. So, for me, stretching the idea of beauty norms, of women having to look a specific way in order to be considered beautiful, specifically to be on the cover of a magazine, I was going through that journey with Jane and with myself."
That said, what does she plan to do with the heavy, hollow prosthetic bump once Jane gives birth?
"Burn it. Burnin' it. We're burnin' it," Rodriguez said. "No, no. We may have to keep it. No spoilers, but maybe a spoiler, but maybe no spoilers, but maybe a very exciting tidbit I just gave you."