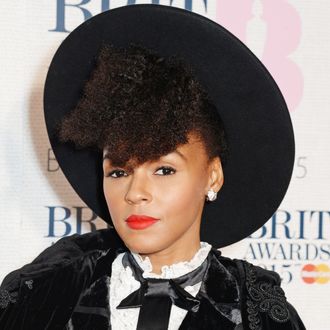 You'll wish Janelle was your yogi.
Photo: David M. Benett/Getty Images
Janelle Monáe, android queen and James Brown reincarnated, has a new compilation EP coming out for her own label (because she's that much of a boss), which means we're finally getting new music from her. Forget Kanye's "The New Workout Plan": Next time you're in a Bikram yoga session, about one more warrior pose away from fainting, bump Monáe's "Yoga" and get empowered by lines like, "you cannot police me, so get off my areola," and kill it! Can NBC just use this as Monáe's audition for Dorothy or Glinda in The Wiz live musical and call it a day?