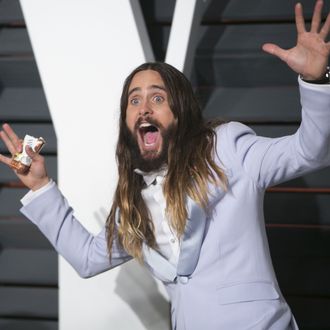 Say good-bye to those ombréd locks.
Photo: ADRIAN SANCHEZ-GONZALEZ/AFP/Getty Images
We all know the Joker's hair isn't nearly as long and luscious as Jared Leto's. So when he took on the role for David Ayer's Suicide Squad, his ombréd locks inevitably had to go. Ayer teased the big chop on Twitter earlier today, and now he's finally revealed what Leto as the Joker will look like. (Spoiler: a hell of a lot like Jordan Catalano, with even shorter hair!)
Ayer also gave fans a small teaser of what to expect from Leto's Joker.