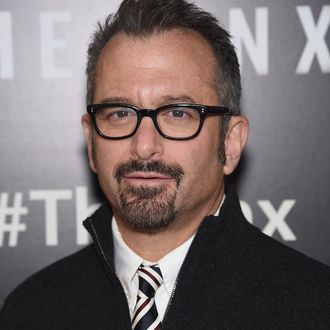 Andrew Jarecki.
Photo: Dimitrios Kambouris/Getty
You couldn't ask for better timing: Real-estate heir and suspected murderer Robert Durst was arrested Saturday, the day before the final episode of HBO's The Jinx appeared to show him accidentally confessing on a live microphone to the murders of his wife Kathleen Durst, friend Susan Berman, and neighbor Morris Black. Now Jinx director Andrew Jarecki is making the media rounds to address speculation that the timing was a little too perfect.
"We don't have that kind of power," Jarecki told Good Morning America when asked if he had made a deal with police over the date of Durst's arrest. "We're not in charge of the arrest timing, and we had no idea of the arrest timing."
Durst was arrested Saturday at a New Orleans hotel, which he had checked into under a false name, and police say they feared he was on his way to Cuba. The arrest was instigated by the appearance of a letter from Durst to Berman, which turned out to be a handwriting match with an anonymous letter sent to the LAPD about her murder, right down to the misspelling of "Beverley Hills." The letter was discovered by Berman's stepson, who handed it over to the Jinx team after their initial interview with Durst. When confronted on-camera about the similarities in a second interview in 2012, Durst dissembled, then headed to the bathroom, where — microphone on — he asked himself, "What the hell did I do? Killed them all, of course."
According to the New York Times, Jarecki and the rest of the Jinx team were conflicted over when to share the results of their investigations with police: "If they did so too soon, their lawyers told them, they could be considered law enforcement agents in the event of a prosecution, possibly jeopardizing the material's admissibility in court … They also wanted to preserve a journalistic privilege not to disclose sources or testify in court." The show's producers finally began working with law enforcement in 2013.
In a post-finale interview with the Times, Jarecki says the incriminating tape wasn't discovered until June 12, 2014.
"We had an editor listening to material that we had left behind, thinking, Now we have to listen to everything we got," he recalled to CBS This Morning. "We're about to finish the series, and we discovered that we had this shocking piece of audio."
It's still not apparent how long after this discovery Jarecki waited before turning the tape over to police. As he told the Times, it was months before Sunday's finale: "We provided the relevant evidence to law enforcement some months ago, and it's been in their court."
Still, he told CBS, he had no input on the timing of Saturday's arrest. "The truth is we hoped that Robert Durst would be arrested as soon as possible, and we were sort of amazed ourselves that he hadn't be been arrested for so long."
Finally, on Monday afternoon, Jarecki and his partner Marc Smerling released a final statement through their representative: "Given that we are likely to be called as witnesses in any case law enforcement may decide to bring against Robert Durst, it is not appropriate for us to comment further on these pending matters. We can confirm that evidence (including the envelope and the washroom recording) was turned over to authorities months ago."
This post has been updated throughout.